Watch Quentin Tarantino and John Carpenter Sing the Praises of Rio Bravo
As we get ready to present a 35mm print of Rio Bravo at New York's Roxy Cinema next weekend I've been thinking a lot about the anecdote, once oft-told by the man himself, that any girl Quentin Tarantino just started dating would be shown Howard Hawks' Rio Bravo as acid test: love it or leave me. As a kid Rio Bravo was as much about Tarantino (whose work I knew) as Howard Hawks (take a guess), and some two decades hence––with enough experience under my belt that I might prefer El Dorado––it's fun hearing him actually praise the film at length, passionately, with the personal lens that defines his criticism in Cinema Speculation.
This video comes from a special screening Tarantino hosted at the 2007 Cannes Film Festival, in only four-and-a-half minutes the filmmaker cramming enthusiasms. More than his own, it's what he hopes and expects the audience will take from it: the ability to hang out with each character, develop profound understandings of them as real people, and through this rewatchability essentially render them friends. But in even deeper, more personal terms Tarantino feels Hawks helped him, a fatherless child, adopt a surrogate parent.
Meanwhile there's John Carpenter, whose fandom for Howard Hawks has been the seeds of an entire career and cinephilia. It's fascinating to observe both directors have their distinct youthful attachments to Rio Bravo: while Tarantino took it as a story of friendship and vision of fatherhood, for 10-year-old John Carpenter this film's vision of professionalism––in terms characteristically his, being good enough not to "let the demons drag you down" while fighting great evil––sparked creative instincts. No surprise to fans that, without Rio Bravo, the likes of Assault on Precinct 13 or Prince of Darkness simply wouldn't exist, but knowing this interest began so young emboldens the film's power threefold.
Watch both videos below, and read more details about our 35mm Rio Bravo screenings presented with the Francis Ford Coppola's The Rain People, making its New York premiere in a new 4K restoration.
John Wayne Was 'Disappointed' He Didn't Get an Oscar Nomination For His 'Best Achievement'
John Wayne made it to the Academy Awards three times over the course of his career. However, he only ultimately won a single golden statue. Wayne was "disappointed" that he didn't get an Oscar nomination for She Wore a Yellow Ribbon, which he considered his "best achievement" over the course of his career. Here's a look at how that impacted the legendary Western star.
John Wayne played Capt. Nathan Cutting Brittles in 'She Wore a Yellow Ribbon'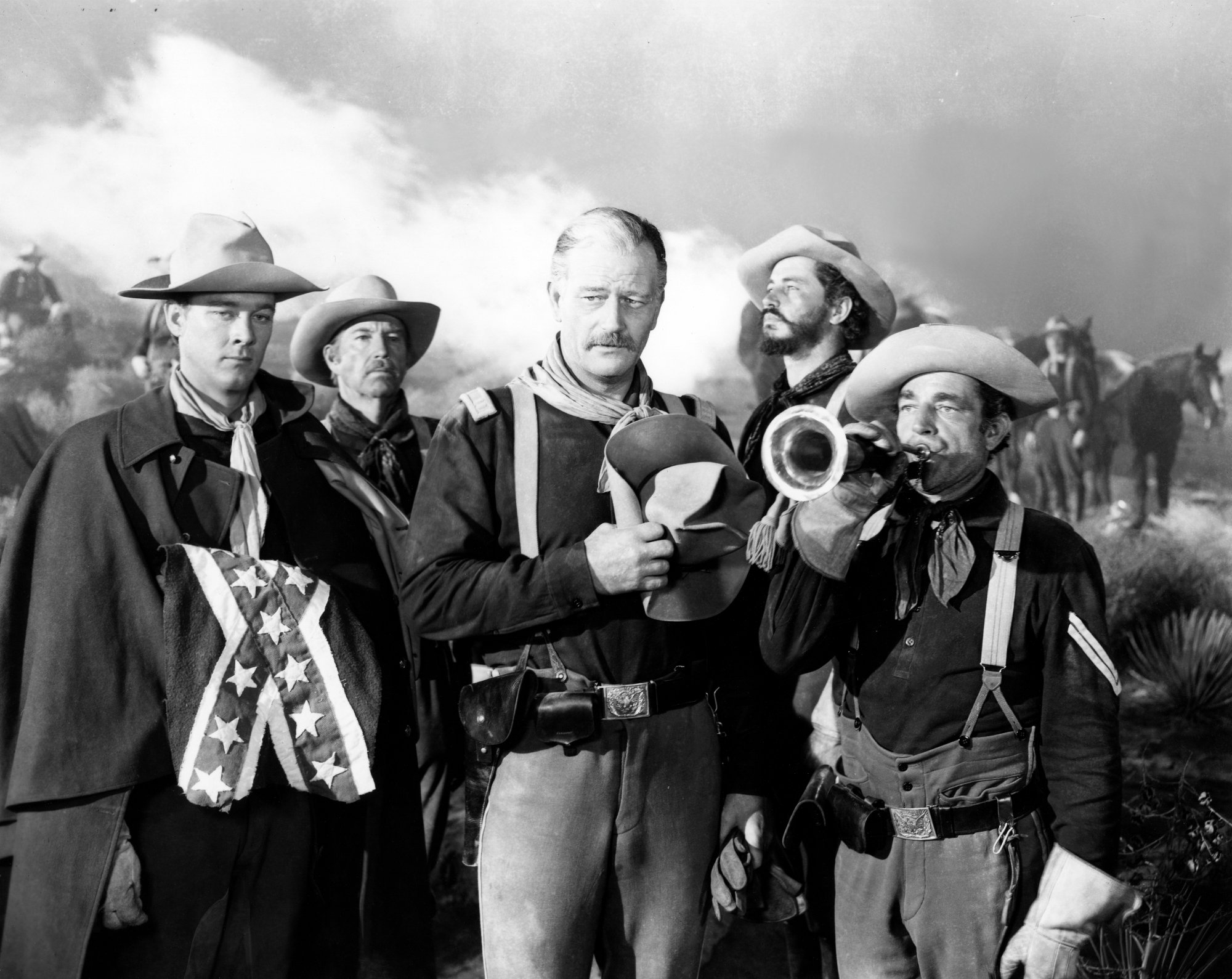 Ben Johnson as Sgt. Tyree and John Wayne as Capt. Nathan Cutting Brittles | Sunset Boulevard/Corbis via Getty Images
She Wore a Yellow Ribbon follows Cavalry Captain Nathan Brittles (Wayne) through the final job of his career before he retires. He seeks to settle an intense situation between the Cheyenne and Arapaho. However, he's also busy transporting the wife (Mildren Natwick) and niece (Joanne Dru) of his superior. Brittles must do all that he can to stop an all-out war from taking place and get them to safety.
John Ford directs a screenplay written by Frank Nugent and Laurence Stallings. It's the second installment in Ford's Cavalry Trilogy, which also contains Fort Apache and Rio Grande. It was one of the most expensive Western movies of its time. Wayne plays a character much older than he was in real life, but Ford trusted him with bringing the character to life.
John Wayne was 'disappointed' that he didn't get an Oscar nomination for 'She Wore a Yellow Ribbon'
John Farkis' Not Thinkin' … Just Rememberin' … The Making of John Wayne's 'The Alamo' walks readers through the iconic actor's career. Wayne wasn't afraid to call out a bad film when he had them, but he also openly talked about the films that he was proud of. His performance as Brittles in She Wore a Yellow Ribbon remains a huge fixture of his career. However, he wasn't the only one singing praises of his own performance.
"I feel strongly that Duke should have been nominated for an Academy Award for his role in She Wore a Yellow Ribbon," co-star John Agar said. "He was just brilliant. Remember, too, I have a lot of scenes with him. He played a guy 20 years older. To me, Yellow Ribbon was the best thing Duke ever did."
Public audiences even felt a similar way. The movie brought in a stunning $9.15 million at the worldwide box office, making it a huge hit. As a result, Wayne knew that he had something special here that kept him involved in acting.
"For the first time, Pappy was treating me like an actor, and he showed me great respect, which I appreciated," Wayne said. "I felt that I'd worked hard and long to reach the stage of my career, having been thinking of giving it up."
Wayne continued: "I was disappointed at not even being nominated for Yellow Ribbon. I had played a man 60 years old, which was 17 years older than I was. I have always believed that this was my best achievement in pictures."
'True Grit' won an Oscar for Best Actor in a Leading Role
She Wore a Yellow Ribbon won an Oscar, but Wayne didn't even get a nomination. Rather, the film won for Best Cinematography. However, the Academy Awards wouldn't ignore Wayne forever. He would get two nominations and the eventual win.
Wayne earned his first Oscar nomination for Sands of Iwo Jima. Next, he got another nomination for The Alamo in the Best Picture category. Finally, he won his only Oscar for Best Actor in a Leading Role for his legendary performance in True Grit. However, he would prove to have a bigger effect on Hollywood than its top award, influencing fight sequences forever.
John Wayne Once Explained Why He Turned Down so Many 'Petty, Mean' Movies
Actor John Wayne is one of Hollywood's most iconic figures to ever work in movies. However, he was very specific about the roles he would accept and the ones that he refused to involve himself in. Wayne once explained why he turned down so many potentially big movies that he described as "petty," "small," and "mean" through the evolution of Hollywood.
John Wayne played particular movie roles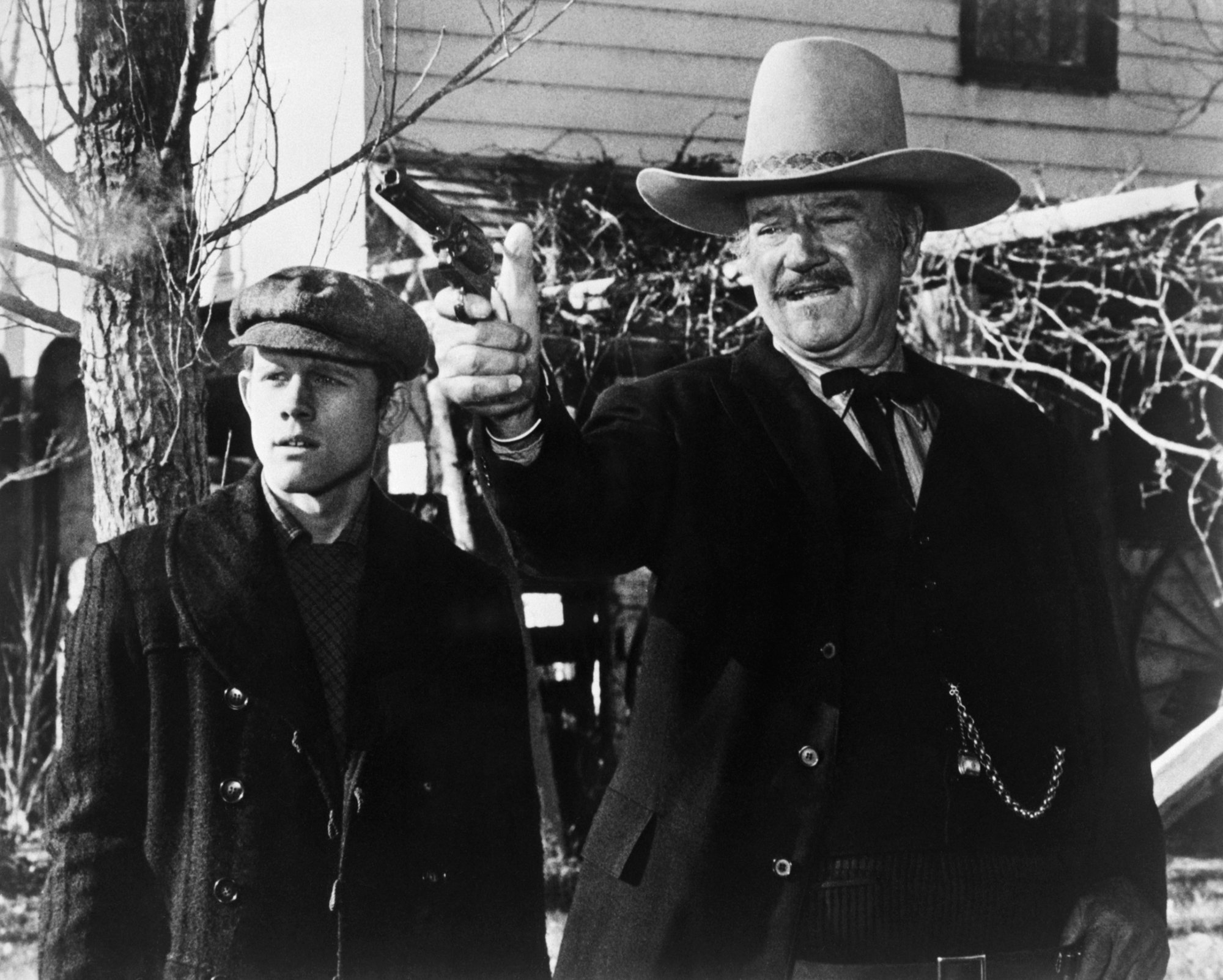 L-R: Ron Howard and John Wayne | Bettmann / Contributor
Wayne has over 180 acting credits to his name, spread across movies and television shows. He became a household name for the Western and war genres, ultimately contributing huge star power to the projects later in his career. However, Wayne also wasn't afraid to speak up when he didn't like something about the movies that wanted him involved. This held true for both prospective projects and ones that he already signed on for.
The actor ultimately turned down projects that earned attention at the Academy Awards, including High Noon. However, it wasn't always because he didn't like the roles themselves. Rather, Wayne was a patriot, who didn't want anything to do with movies that he deemed insulting to the American image.
John Wayne explained why he turned down so many 'petty, mean' movies at the time
Duke, behind the scenes on the set of The Shootist, discussing how he chose his movie roles 💪🏽 What did John Wayne's values mean to you? pic.twitter.com/Fd75E4BKHC

— John Wayne Official (@JohnDukeWayne) April 24, 2018
The official Wayne Twitter account shared a behind-the-scenes look at one of his movies, The Shootist. He talked about the state of violence in cinema, but he also touched on how he chose what to star in. The film hit theaters in 1976, so it's worth taking the time period in mind for what he has to say about "modern" filmmaking.
"The whole idea of our business is illusion and they're getting away from that," Wayne said. "They're putting electric squibs in livers and blowing them up in slow motion and then having blood all over everything. I mean, it's not that there's more violence in pictures today. It's that it's done with such bad taste that people turn their stomachs, not their emotional insides are affected. It turns their stomach. I just don't want to play anything petty or small or mean. I don't mind being rough and tough and cruel, but in a big way, no little petty things."
The actor believed that cinema should be family-friendly
Wayne had a very firm stance when it came to violence in the movies. The rating board once even reached out to the actor to get his input. However, Wayne didn't want any part in it because he didn't think a rating system was necessary. He believed that Hollywood should make motion pictures aimed at the whole family.
Wayne starred in a wide variety of movies that included violence, but they never reached the extremes of what he talked about while filming The Shootist. Today's filmmaking would certainly give him a shock if he were to see how much some movies push the boundaries and make audiences squirm.
John Wayne Once Confessed the 'Stupidest Damn Thing I Ever Did in My Life' Involving His Romance
Actor John Wayne had three wives over the course of his life. However, the couples would always go through various hardships. Wayne always publicly embraced family life and would combine his image as a father with his tough, Western one. The actor once confided in a friend and told them the "stupidest damn thing" he ever did over the course of his lifetime.
John Wayne married his second wife 3 weeks after his divorce became final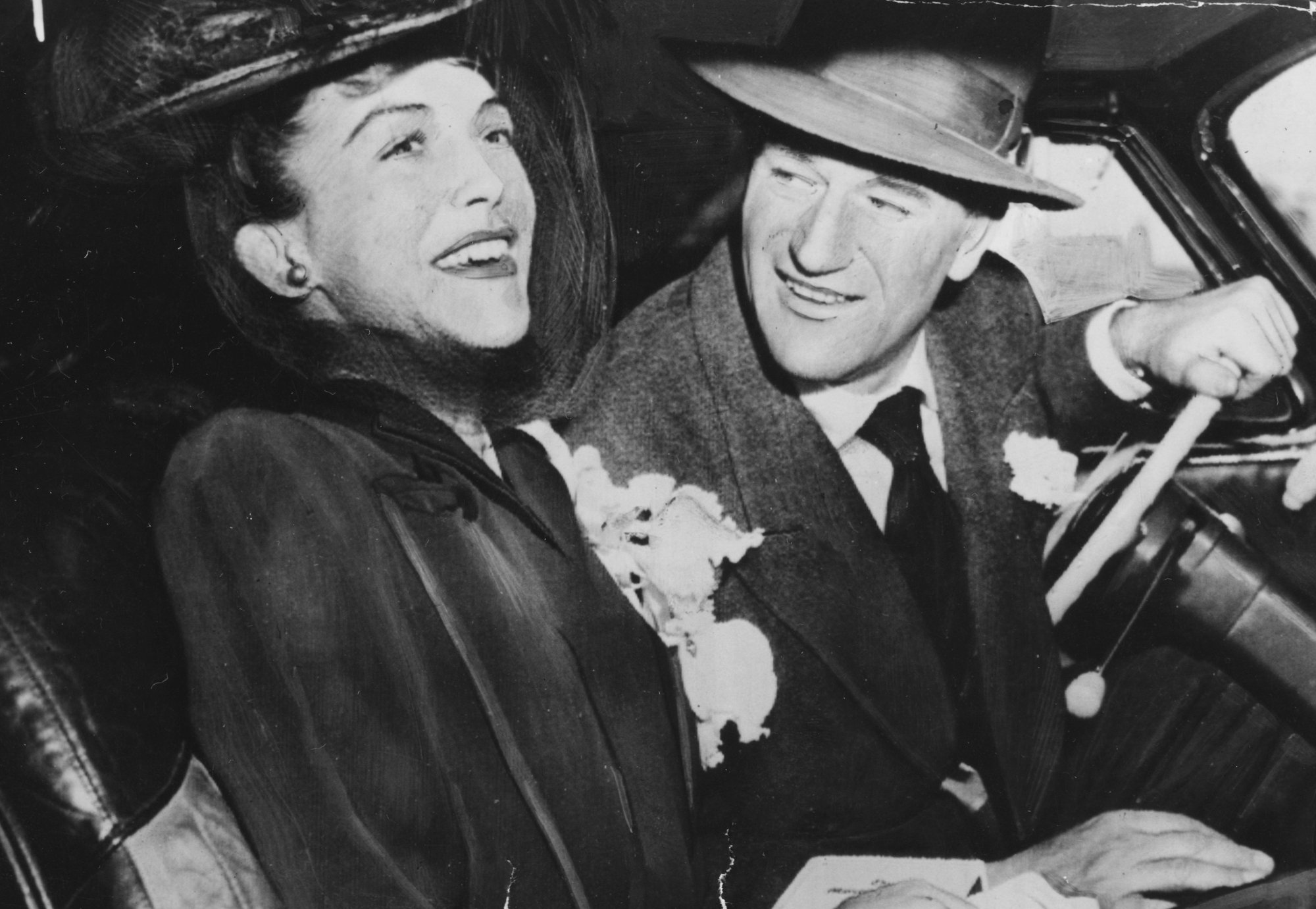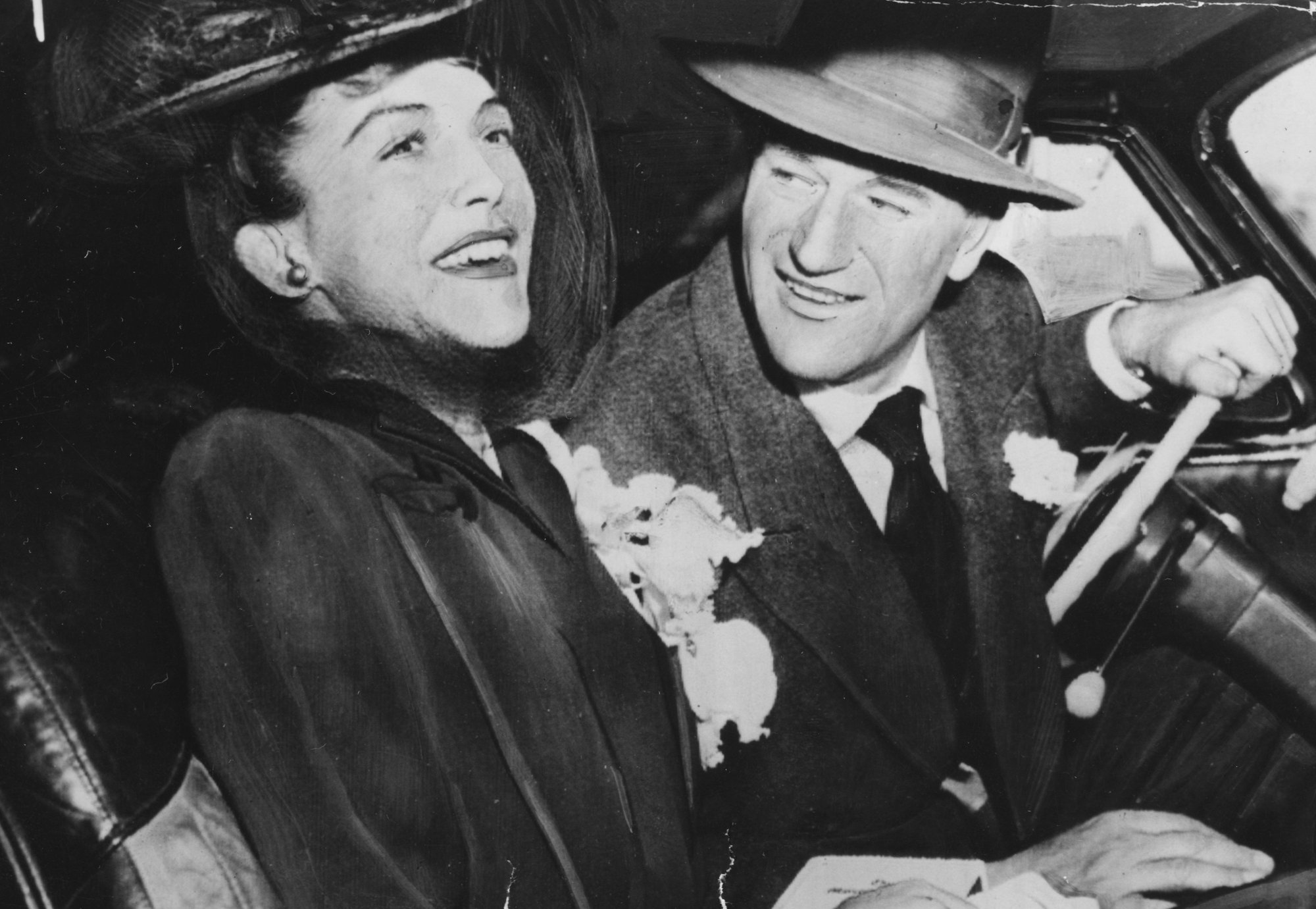 L-R: John Wayne and Esperanza 'Chata' Baur | Keystone/Hulton Archive/Getty Images
Marc Eliot's American Titan: Searching for John Wayne touched on personal and professional aspects of the actor's life. The divorce from his first wife, Josephine, was finalized on December 26, 1945. However, that certainly didn't stop the actor from jumping into another relationship soon after. Wayne married Esperanza Baur, also called Chata, exactly three weeks after his divorce in the Unity Presbyterian Church of Long Beach, which is where his mother married her second husband, Sidney Preen. Actor Ward Bond was Wayne's best man.
However, everything in Wayne's life would change when he returned to Los Angeles after his honeymoon with his new wife. They purchased a new home in Van Nuys, California, and made sure to have a separate room for his mother-in-law. As a result, the newly-married couple started to have some difficulties.
John Wayne said that marrying Chata was the 'stupidest damn thing I ever did in my life'
American Titan: Searching for John Wayne mentioned that Chata wanted to get a real role in a movie, but Wayne didn't want her to have the life of a movie star. As a result, he told her that she belonged at home. Chata didn't take this very well and turned to alcohol, developing an addiction.
Wayne ultimately turned to Bond to complain about Chata and his mother-in-law speaking Spanish and their desire for a bigger home. His new wife and her mother would often sleep in the same bed, forcing the actor to sleep on the couch in the living room.
Eliot wrote that Wayne took pride in his physical appearance and kept it in a specific condition for the camera. His ex-wife also took care of her physical appearance, but Chata refused to remove her facial hair, as she had a bit of a mustache. She also wouldn't bathe very often and refused to shave her legs, which would make Wayne angry. Their arguments became increasingly frequent, which Wayne told Bond.
"Our marriage was like shaking two volatile chemicals in a jar," Wayne said, admitting that marrying Chata was "the stupidest damn thing I ever did in my life!"
The actor would marry one final time
Wayne's life moved on past Chata, as they divorced in 1954. Tragically, she died from a heart attack in 1961. Wayne married one final time to Pilar Pallete in the same year that he divorced Chata. They would ultimately remain married until the actor died in 1979, although they no longer lived together. The couple separated, but it was never legally so.
Meanwhile, Wayne became romantically involved with his former secretary, Pat Stacy, until his death.