Daniel Day-Lewis explains why he doesn't like John Wayne
Award-winning British actor Daniel Day-Lewis, admired for his immersion in character and transformative roles, once opened up about his experiences with cinema and his opinions on iconic actors of the 20th century. A three-time Oscar winner with notable performances in My Left Foot and There Will Be Blood, the actor recounted his experiences of marathon cinema screenings – particularly his affinity for the films of Clint Eastwood.
"I used to go to all-night screenings of his movies," the actor said, recalling his years as a young artist engrossed in cinema, eager to learn and absorb from the work of his predecessors. Eastwood, who has since become a highly regarded director in his own right, with a film currently in production, was particularly famed in the 1960s for his performances in the spaghetti westerns of Sergio Leone and the action flicks of Don Siegel.
Speaking to the New York Times back in 2007, Day-Lewis remembered how he would "Stagger out at 5 in the morning, trying to be loose-limbed and mean and taciturn". Day-Lewis also admitted his admiration for the Naked Edge actor Gary Cooper, who worked prolifically throughout all the eras of cinema right up until his death in 1961. However, it was his turn in the classic Fred Zinnemann from 1952 that particularly resonated with the actor. "High Noon means a lot to me – I love the purity and the honesty," Day-Lewis said.
On the solitary endurance of Cooper's character, Marshall Will Kane, Day-Lewis continued: "I love Gary Cooper in that film, the idea of the last man standing". His love for Cooper's performance in the film, universally revered as a masterclass of acting, reveals an appreciation for nuanced and heartfelt portrayals that align with Day-Lewis' acting style. High Noon made a significant impact at the time by refusing to pander to the standard formula of gruff, macho heroes, which leads us to the actor's thoughts regarding the 'All American' hero, John Wayne.
Despite being regarded as a symbol of traditional Hollywood, Day-Lewis shared a somewhat different opinion on the True Grit actor. He stated: "I do not like John Wayne: I find it hard to watch him". Wayne, who starred in over 165 films spanning 56 years and even made an unusual cameo in Star Wars, was famed for his distinct grumbling voice, stoic demeanour and purposeful, methodical gait.
Whilst Wayne's 1956 film The Searchers is still considered one of the most remarkable pieces of cinema of all time, with films continuing to reference it to this day, the mythos surrounding the actor is slowly being eroded. We'll never know whether it's down to Wayne's performance or his obscene remarks that illuminated just what a nasty character the man was, because all Day-Lewis had to confirm was, "I just never took to him".
Watch the trailer High Noon below, featuring the actor Day-Lewis certainly did take to.
John Wayne Once Explained Why He Turned Down so Many 'Petty, Mean' Movies
Actor John Wayne is one of Hollywood's most iconic figures to ever work in movies. However, he was very specific about the roles he would accept and the ones that he refused to involve himself in. Wayne once explained why he turned down so many potentially big movies that he described as "petty," "small," and "mean" through the evolution of Hollywood.
John Wayne played particular movie roles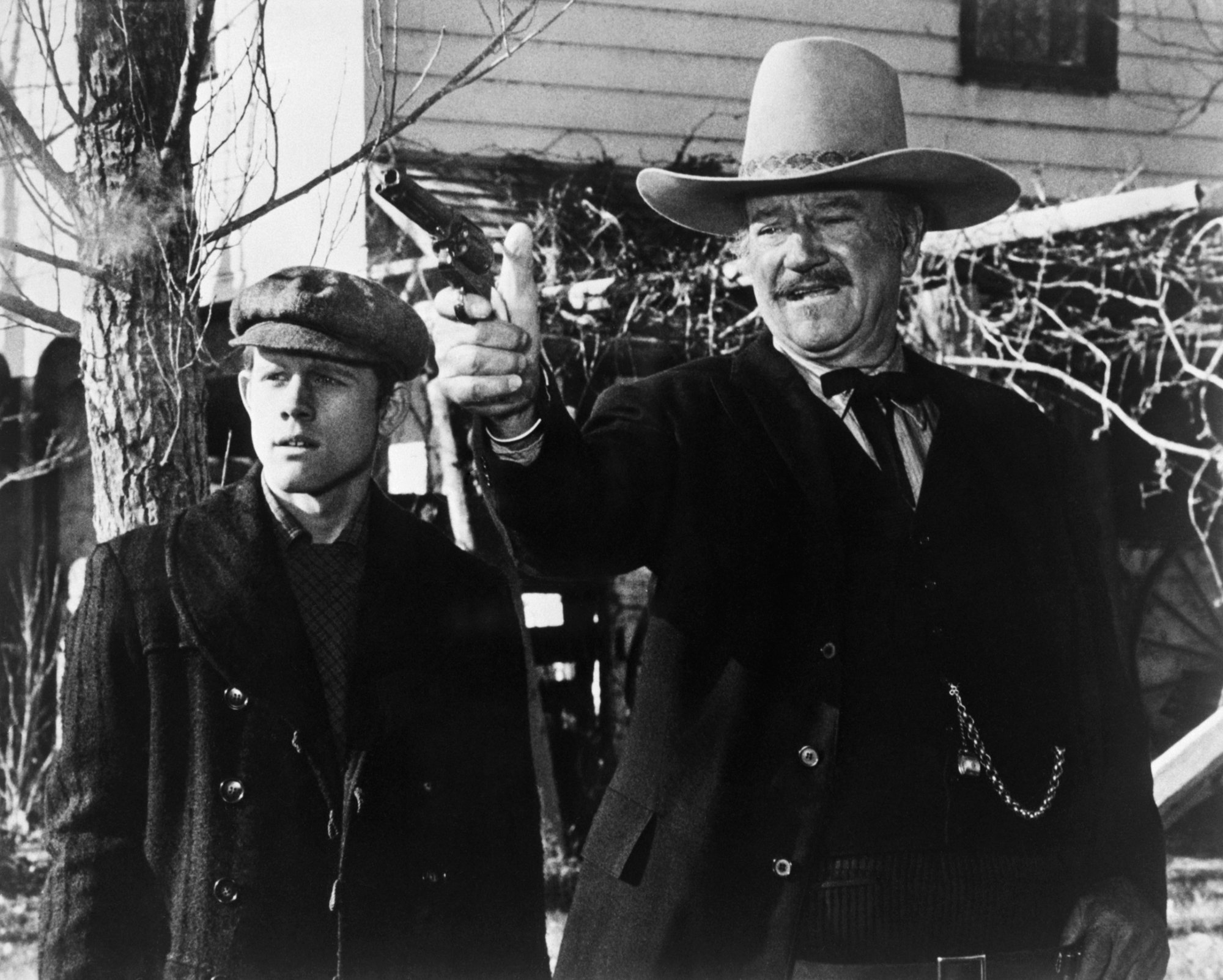 L-R: Ron Howard and John Wayne | Bettmann / Contributor
Wayne has over 180 acting credits to his name, spread across movies and television shows. He became a household name for the Western and war genres, ultimately contributing huge star power to the projects later in his career. However, Wayne also wasn't afraid to speak up when he didn't like something about the movies that wanted him involved. This held true for both prospective projects and ones that he already signed on for.
The actor ultimately turned down projects that earned attention at the Academy Awards, including High Noon. However, it wasn't always because he didn't like the roles themselves. Rather, Wayne was a patriot, who didn't want anything to do with movies that he deemed insulting to the American image.
John Wayne explained why he turned down so many 'petty, mean' movies at the time
Duke, behind the scenes on the set of The Shootist, discussing how he chose his movie roles 💪🏽 What did John Wayne's values mean to you? pic.twitter.com/Fd75E4BKHC

— John Wayne Official (@JohnDukeWayne) April 24, 2018
The official Wayne Twitter account shared a behind-the-scenes look at one of his movies, The Shootist. He talked about the state of violence in cinema, but he also touched on how he chose what to star in. The film hit theaters in 1976, so it's worth taking the time period in mind for what he has to say about "modern" filmmaking.
"The whole idea of our business is illusion and they're getting away from that," Wayne said. "They're putting electric squibs in livers and blowing them up in slow motion and then having blood all over everything. I mean, it's not that there's more violence in pictures today. It's that it's done with such bad taste that people turn their stomachs, not their emotional insides are affected. It turns their stomach. I just don't want to play anything petty or small or mean. I don't mind being rough and tough and cruel, but in a big way, no little petty things."
The actor believed that cinema should be family-friendly
Wayne had a very firm stance when it came to violence in the movies. The rating board once even reached out to the actor to get his input. However, Wayne didn't want any part in it because he didn't think a rating system was necessary. He believed that Hollywood should make motion pictures aimed at the whole family.
Wayne starred in a wide variety of movies that included violence, but they never reached the extremes of what he talked about while filming The Shootist. Today's filmmaking would certainly give him a shock if he were to see how much some movies push the boundaries and make audiences squirm.
John Wayne Once Confessed the 'Stupidest Damn Thing I Ever Did in My Life' Involving His Romance
Actor John Wayne had three wives over the course of his life. However, the couples would always go through various hardships. Wayne always publicly embraced family life and would combine his image as a father with his tough, Western one. The actor once confided in a friend and told them the "stupidest damn thing" he ever did over the course of his lifetime.
John Wayne married his second wife 3 weeks after his divorce became final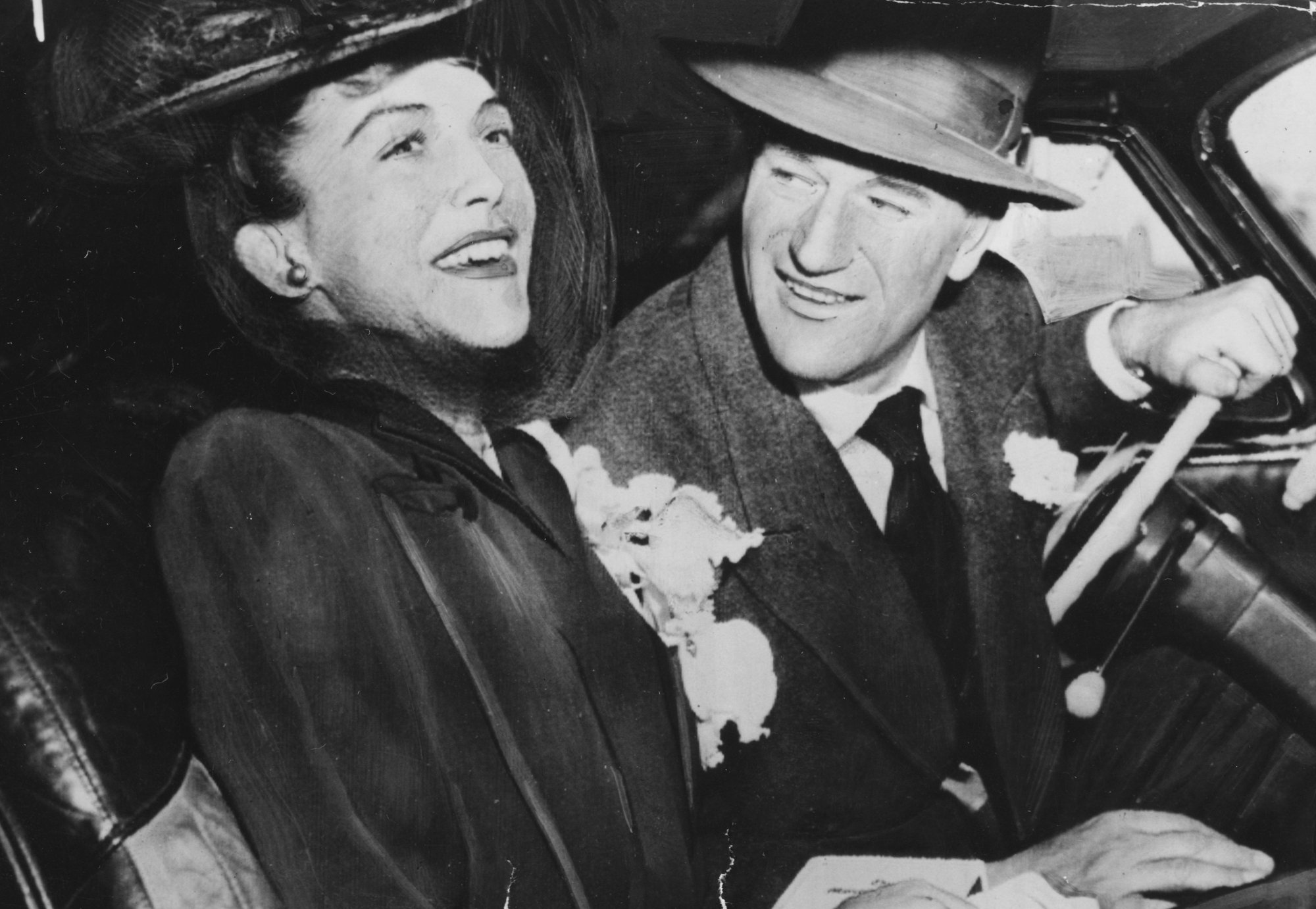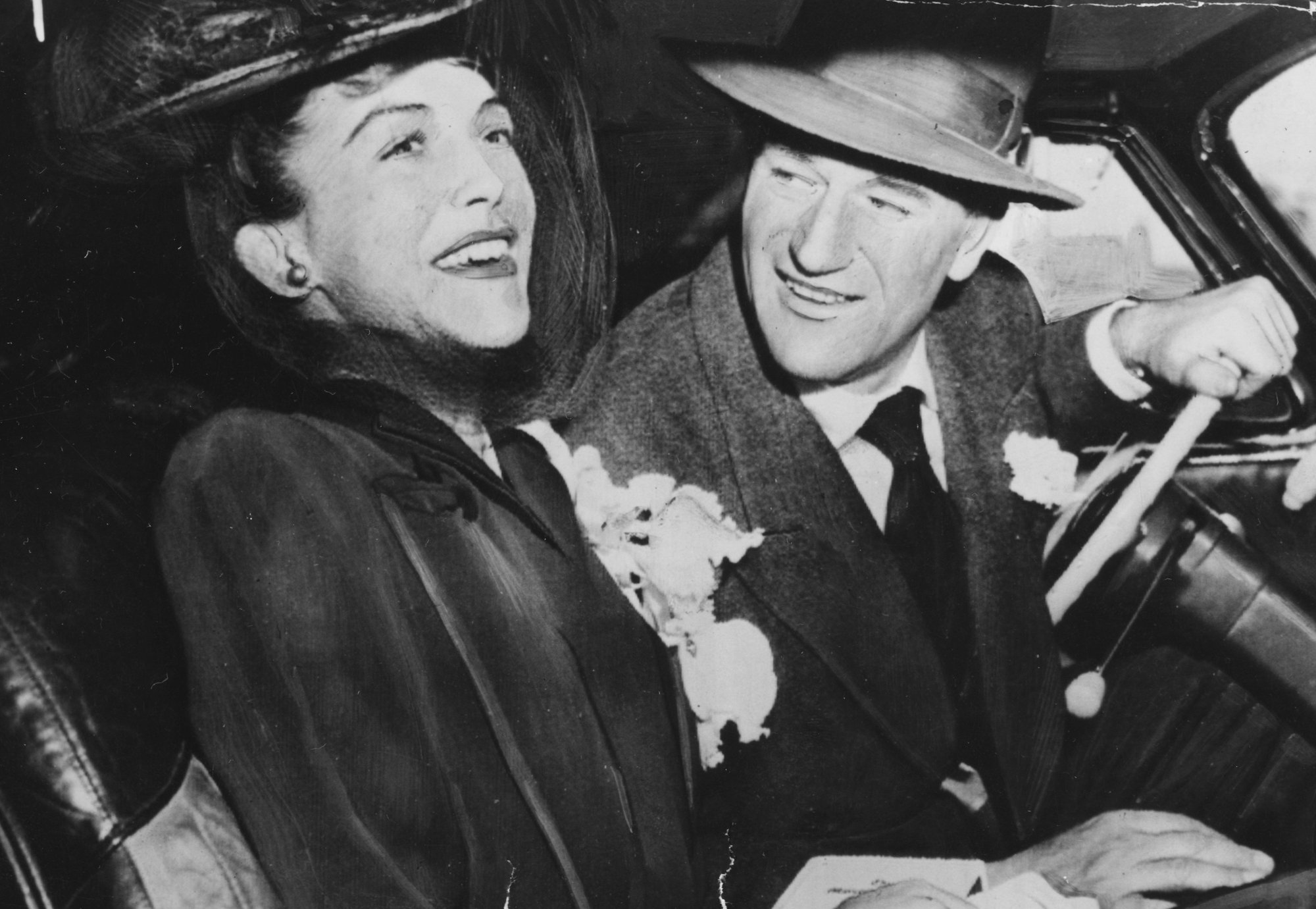 L-R: John Wayne and Esperanza 'Chata' Baur | Keystone/Hulton Archive/Getty Images
Marc Eliot's American Titan: Searching for John Wayne touched on personal and professional aspects of the actor's life. The divorce from his first wife, Josephine, was finalized on December 26, 1945. However, that certainly didn't stop the actor from jumping into another relationship soon after. Wayne married Esperanza Baur, also called Chata, exactly three weeks after his divorce in the Unity Presbyterian Church of Long Beach, which is where his mother married her second husband, Sidney Preen. Actor Ward Bond was Wayne's best man.
However, everything in Wayne's life would change when he returned to Los Angeles after his honeymoon with his new wife. They purchased a new home in Van Nuys, California, and made sure to have a separate room for his mother-in-law. As a result, the newly-married couple started to have some difficulties.
John Wayne said that marrying Chata was the 'stupidest damn thing I ever did in my life'
American Titan: Searching for John Wayne mentioned that Chata wanted to get a real role in a movie, but Wayne didn't want her to have the life of a movie star. As a result, he told her that she belonged at home. Chata didn't take this very well and turned to alcohol, developing an addiction.
Wayne ultimately turned to Bond to complain about Chata and his mother-in-law speaking Spanish and their desire for a bigger home. His new wife and her mother would often sleep in the same bed, forcing the actor to sleep on the couch in the living room.
Eliot wrote that Wayne took pride in his physical appearance and kept it in a specific condition for the camera. His ex-wife also took care of her physical appearance, but Chata refused to remove her facial hair, as she had a bit of a mustache. She also wouldn't bathe very often and refused to shave her legs, which would make Wayne angry. Their arguments became increasingly frequent, which Wayne told Bond.
"Our marriage was like shaking two volatile chemicals in a jar," Wayne said, admitting that marrying Chata was "the stupidest damn thing I ever did in my life!"
The actor would marry one final time
Wayne's life moved on past Chata, as they divorced in 1954. Tragically, she died from a heart attack in 1961. Wayne married one final time to Pilar Pallete in the same year that he divorced Chata. They would ultimately remain married until the actor died in 1979, although they no longer lived together. The couple separated, but it was never legally so.
Meanwhile, Wayne became romantically involved with his former secretary, Pat Stacy, until his death.
John Wayne Was a 'Big Prankster' With James Caan on 'El Dorado'
Actor James Caan once talked about what it was like working with legendary actor John Wayne on El Dorado. The then-young actor didn't initially get along with the Western star. However, they would ultimately develop their relationship in unexpected ways, as Wayne turned into a "big prankster" with Caan on the set. It's a whole other side to the iconic actor that the world didn't get to see very often.
John Wayne and James Caan co-starred in 'El Dorado'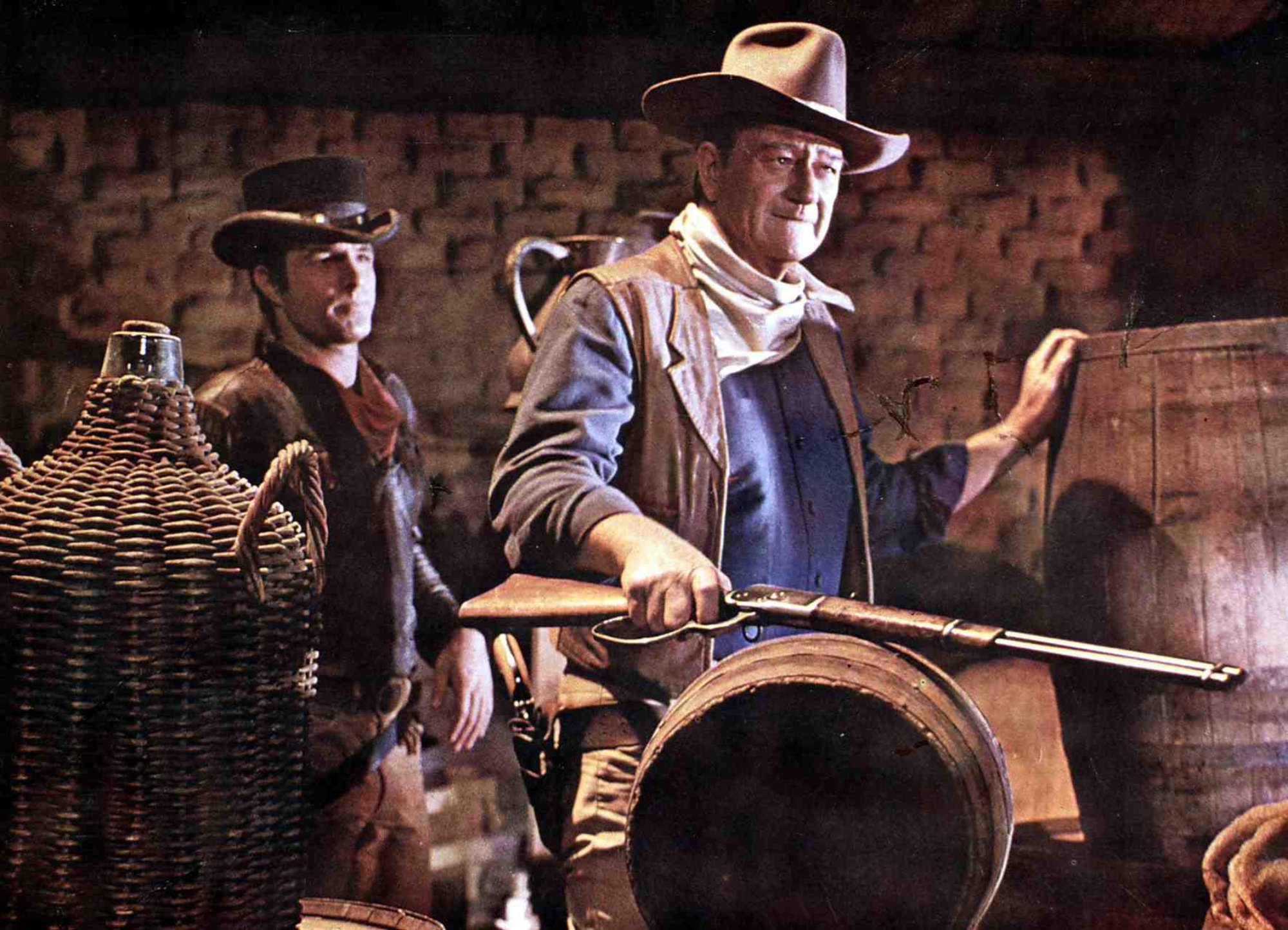 L-R: James Caan as Mississippi and John Wayne as Cole Thornton | FilmPublicityArchive/United Archives via Getty Images
Wayne and Caan co-starred in Howard Hawks' 1966 American Western called El Dorado, which was loosely based on Harry Brown's novel called The Stars in Their Courses. The story begins when a heartless tycoon named Bart Jason (Edward Asner) brings in a group of thugs to claim the MacDonald family's home right from under them. However, the town's sheriff is too drunk to lend his aid.
An elder gunfighter named Cole Thorton (Wayne) agrees to lend his aid when he hears about the situation. He makes a trip to El Dorado, but he isn't alone. Mississippi (Caan) joins to clean up the sheriff in time for the inevitable shootout to come.
John Wayne and James Caan turned into 'big pranksters' on the set
Find out what was it like working with Duke on the set of El Dorado! Spoiler: Duke was a big prankster 😂 pic.twitter.com/5HMi3YpcLB

— John Wayne Official (@JohnDukeWayne) August 25, 2021
The official Wayne Twitter account tweeted an interview with Caan, where he talked about filming El Dorado. However, the situation that unfolded is anything but expected, as the tweet referred to Wayne as a "big prankster."
"Wayne told me every time, he says, 'Take a step, turn around.' So, I do it and Hawks would yell 'Cut' and come walking, they'd reset everything, which took a half hour," Caan recalled. "He'd go, 'Look, kid, when you say the line, just go.' 'All right, coach. I'm sorry.'"
Caan continued: "Now, he walks, he does, as he's walking back to the camera, he goes, 'Now, look, kid. Don't take a whole step. Just take a half a step and then turn around and give me that look you give me.' I still have no idea what the freaking look is. I think I was smiling, just laughing at him. Action, everything starts up again, I take a half a step, turn around: 'Cut!' (Laughs). He comes up, yelling, 'What's the matter with you? Can't you just say the line and go?' 'Coach, I'm really sorry. I don't know what happened. I had a brain fart, something.'"
However, the next interaction would nearly put Wayne and Caan on very bad terms.
"He starts walking back and he goes, 'Now look, kid,' and I turn around and [Robert] Mitchum grabbed me, I was going to hit him," Caan said. "From that day, we were … he knew what he was doing, you know? He was having a good time at my expense."
The relationship between Wayne and Caan made a sudden turn for the hilarious when they started to play jokes on one another, but it clearly confused Hawks.
"But as a week went by, I'd be off camera and Hawks would be next to me, and Duke would be sitting there. Right in the middle of my scene, I'd go, (mouths) 'You stink' and he'd laugh. 'Oh, what's the matter there?' 'Oh, nothing. Sorry.' It just became who can screw up who."
Caan concluded: "Like, one day, you remember those wooden dressing rooms they had? I'd come to lunch, my dressing room's locked. I go, 'Excuse me, guys, how come it's locked? I can't get in there.' 'Well, here's the key.' Garbage just came out. He'd just pile it with garbage. He was like a 12-year-old kid."
'El Dorado' became a box office success
RELATED
John Wayne Wanted to Make His Home Alarm a Hilarious Tape Recording of His Voice: 'I See You, You Son of a B****'
El Dorado would ultimately prove to be a success for both Wayne and Caan. The film earned critical praise, but the legendary Western actor often gave off the impression that he didn't care what they had to say. Wayne would prefer for the audience to enjoy what he put up on the silver screen. Luckily, he would be in luck with El Dorado, which was a commercial success.
This particular Western would become one of Wayne's more iconic genre pieces. Even his final movie, The Shootist would incorporate footage from it.