The Western has always been a genre for women, too
When we think of movies set in the Old West, we probably think of the images that have become the backbone of the genre over decades. Two men standing before each other, ready to draw, and interrupted only by the invasion of a lone tumbleweed.
Or perhaps you think of a man disguised in shadow, silhouetted in the doorway of a saloon as he prepares to enter, usually with the intention of fighting or drinking — often both.
These are the iconic visuals that have come to craft many of the best Westerns. But this aesthetic of masculinity might have given birth to the misconception that the Western is a man's genre, both in audience and in essence.
Of course, many of the greatest stars associated with Westerns have also become known as the paradigm of successful masculinity. The likes of John Wayne and Clint Eastwood have long been considered to be deities of manhood.
The effects of this have rippled down through cinematic generations, accumulating onto the small screen in the form of a sun-beaten Kevin Costner on Yellowstone. Leathery men with whiskey-stained voices and stony expressions are who we expect to see in the saddle.
But to filter the Western down to this exact formula and to dub it a 'genre for the guys' would be a disservice, and, most importantly, it would be wrong. The Western is a genre that lends itself not only to the feminine mentality, but way of being too.

This evolution can be most notably tracked in the more modern takes on the genre, particularly within the neo-Western subculture. With the hardened grit of modern Western tales comes fierce and fresh female characters, such as that of Jane Banner in Wind River, Cornelia Locke in The English, Beth Dutton in the aforementioned Yellowstone, and the entire cast of Netflix's Godless.
The Netflix series develops its story around the premise of a town in which all the men have been wiped out in a horrific mining accident. A few male characters remain, but for the most part, the adventure rests on the shoulders of its female inhabitants.
Half of them seem to crave the assistance of men, and even go so far as to try and source funding from neighboring towns and their male leaders. The other half have no interest in such pursuits, and are determined to stick it out on their own. Crucially, neither party is shown to be entirely in the right.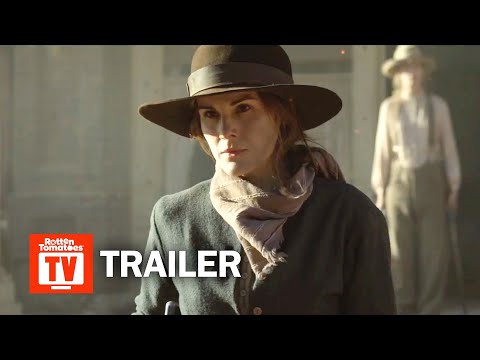 Another Western that turns its focus to the female mindset is actually in the form of a story that has long existed; True Grit, which was adapted from the novel of the same name in both 1969 and 2010. The story follows Mattie, a 14-year-old girl who goes on a quest to hunt down the man who killed her father.
Plenty of bloodshed and darkness exist across all three versions of the story, but it is Mattie that remains the most constant element. Even the original novel, penned by Charles Portis, is from her point-of-view.
And while singular-minded viewers might point the finger and reference the film's end, in which Mattie succumbs to a snakebite and has to be carried to safety by the bounty hunter Rooster Cogburn, they would be missing the point entirely. It is Mattie who begins the journey, and Mattie who ends it by both coming across the very person she sought to seek out, and living out the rest of her life in peace.


Looking back even further, we can see a lineage of movies that resulted from an intersection of Western movie culture and femininity. Calamity Jane and Johnny Guitar are the two most obvious examples here, combining the rough and tumble nature of the Western with more dazzling flamboyant sensibilities.
Calamity Jane allowed the genre to be shaken up by the musical format and swapped the usual stoicism for camp, while Johnny Guitar sees Joan Crawford pull on the pants and crack her voice through rooms like a whip. Mind you, neither film tries to hide their womanly hearts, with both movies highlighting romantic plot points.
There have been instances where female influence has buried itself so deeply into the film's core that it becomes the story itself, particularly in modern movies clearly influenced by the genre. For example, Quentin Tarantino's Django Unchained was a love story at heart.


The violence and bloodshed in the film all stem from this basic drive to be reunited with the woman he loves. Equally, George Miller's Mad Max, a punk-Western, finds focus in its female subjects rather than its titular male hero.
When High Noon was released in 1952, controversy grew at its almost anti-Western schema. The town marshal, Will Kane (played by Gary Cooper), is torn between facing off against an oncoming gang of killers, or ditching town with his pacifist wife (played by the paragon of femininity, Grace Kelly).
In fact, John Wayne himself rejected the role, calling the movie "un-American," and noted Western director Howard Hawks didn't agree with the premise at all.


"I didn't think a good town marshal was going to run around town like a chicken with his head cut off asking everyone to help," Hawks said [via John Wayne: The Man Behind the Myth by Michael Munn]. "And who saves him? His Quaker wife. That isn't my idea of a good Western."
And yet nowadays, High Noon is regarded as one of the best movies ever to come from the genre.
There is inherent romanticism in the spirit of the Western, no matter how gritty. And even when we strip it down to its bare bones, where even the slightest notion of femininity is absent — like The Good, The Bad, The Uglys, and the Unforgivens of the world — it can't be denied that women have just as much a taste for the genre as their male counterparts.
Let's not forget, the Western world was built upon the backs of women just as much as it was from men. With legends such as Annie Oakley and the real-life Calamity Jane in the history books to prove it, it's true to say that there have always been women wandering in the West.
If the frontier calls to you, check out everything we know about the release dates for Yellowstone season 5 part 2, 6666, and Horizon. You can also discover how John Wayne was actually in Star Wars.
Plus, find out how Dallas ran so Yellowstone could fly, and check out our list of all the new movies coming out this year.
John Wayne heartbreak after pleading for one last film before death: 'Hope to hell I do'
The crowning moment in his acting life came in 1970, when he earned his only Academy Award for Best Actor, as a result of his role in True Grit.
But one project that sadly never made it to life was Beau John, a film Wayne hoped would be his last.
Author Scott Eyman, who wrote 'John Wayne: The Life and Legend', discussed what Wayne wanted the project to be like, as well as the confession he made before he sadly passed away.
Eyman noted that Wayne's wish was made at the end of 1978, just under a year before the western icon died in June.
Wayne reportedly felt directionless without any film work as he'd spent the last years in recovery with health issues as opposed to being behind the camera.
That year, Wayne received the Utah Film Festival's John Ford Medallion, though he was unable to travel due to his health.
Instead, friend and director Peter Bogdanovich went to accept the award on his behalf, and when the pair were reunited Wayne asked if he'd consider the film he proposed.
Bogdanovich said: "It's kind of a half-western thing, it's not cowboys and Indians, you know, it's — oh, the humour and the wonderful relationship between this grandfather and the son and the son-in-law and the grandson.
JUST IN: John Wayne was buried at unmarked grave with a beautiful message
"Wayne said, 'I hope to hell I live to do it. Just a wonderful story'."
His friend reassured Wayne he'd do the project, were he alive long enough to commit to it, and in his later life it became the Oscar winner's main focus in life.
As he grew even more ill, Wayne then proposed the project to director Ron Howard, though he didn't want anyone but the dying star to be in it.
According to the book, Wayne told Howard: "I found a book. I think it's a movie. It's you and me or it's nobody."
John Wayne died in 1979 (Image: GETTY)
But sadly for Wayne, he died before anything could be done to start the movie.
Howard added: "It never got past the verbal stage.
"And at that point, he was showing signs of not being well. I was a little doubtful."
Wayne passed away in 1979 as a result of stomach cancer, and was buried in the Pacific View Memorial Park Cemetery in Corona del Mar, Newport Beach.
His legacy was secured when the American Film Institute chose him as one of the greatest male stars of classic American cinema.
He was among a select group of stars who managed to negotiate their way from the silent film era of the Twenties, into the talkies that followed.
He had seven children in total, and was married three times.
John Wayne battled crippling injuries and heartbreaking loss on Rio Lobo set
The sight of The Duke thundering across The West on horseback remains one of cinema's most indelible images.
Meanwhile, "Get off your horse and drink your milk" has frequently been attributed as one of John Wayne's most famous 'quotes.'
Despite some claims that it came from an advert he shot, it is actually almost certainly an urban myth, most likely started by comedians doing drawling impressions of the Hollywood Westerns legend.
Sadly, though, by the time the star came to film 1970's Rio Lobo (a blatant remake of Rio Bravo) towards the end of his career, he was in so much pain struggled to get on and off his horse.
In fact, the entire film shoot was surrounded by personal tragedies for the actor.
DON'T MISSJohn Wayne revealed his own three favourite films from his career
John Wayne on horseback in Rio Lobo (Image: GETTY)

John Wayne was in agony in Rio Lobo (Image: GETTY )
It was director Howard Hawks' final film and the third film he made with John Wayne about a beleaguered sheriff standing against outlaws.
In a 1971 interview Hawks said of Rio Lobo: "The last picture we made, I called him up and said, 'Duke, I've got a story.' He said, 'I can't make it for a year, I'm all tied up.' And I said, 'Well, that's all right, it'll take me a year to get it finished.'
"He said, 'Good, I'll be all ready.' And he came down on location and he said, 'What's this about?' And I told him the story. He never even read it, he didn't know anything about it."
Famously, when Wayne realised it was a remake of Rio Bravo and El Dorado, he quipped: "Yes, he said, 'Do I get to play the drunk this time?"
Hawks was less jocular after the film bombed and blamed it on 63-year-old Wayne being too old and out of shape for the role.
Critics and audiences agreed and the film took just over $4million against a production budget of $6million plus all the extra promotional costs which are often the same again.
Wayne's physical difficulties were not due to his age, however. He had piled on weight for 1969's True Grit and then while filming The Undefeated the same year, The Duke fell from his horse and fractured three ribs, leaving him unable to work for two weeks.
Later in the shoot, he tore a ligament in his shoulder. With no movement in one arm, he had to be filmed only from the other side.

John Wayne with a rifle in Rio Lobo (Image: GETTY)
Wayne came into Rio Lobo in considerable pain, out of shape from True Grit and still suffering from a torn shoulder.
Most of his fight scenes had to be filmed with stand-ins or carefully from restricted angles. Some fights even happened off-camera. And he struggled greatly getting on and off his horse.
He also suffered two devastatimg personal blow when his mother died during filming and then his younger brother Robert E. Morrison lost his battle with lung cancer the month after filming ended.
But there was one shining moment of happiness also.

John Wayne in True Grit (Image: GETTY)
Always a dedicated workhorse on set, no matter the physical injuries or personal pains, Wayne took a rare break from filming.
He had a very good reason, since it was to attend the 1970 Academy Awards. After exactly 40 years on screen, The Duke finally won the Best Actor Oscar for True Grit.
Touchingly, when he returned to the Rio Lobo set, he was greeted by the cast and crew all wearing eye patches like True Grit's Rooster Cogburn.
Ann-Margret recalls 'gentle' and 'welcoming' John Wayne who did her a big favour
Legendary actress Ann-Margret turns 80-years-old today on April 28, 2021. The singer, dancer and performer made quite the name for herself in Hollywood in a number of films during the early 1960s, including Bye Bye Birdie and State Fair. She is perhaps best known for her epic performance in 1964 hit Viva Las Vegas alongside Elvis Presley, with whom she shared a passionate love affair. Shortly after working with the King, she joined wild west star John Wayne in his 1973 movie The Train Robbers.
Ann-Margret played the lead in the movie – one of her first lead roles – Mrs Lowe.
The story followed her character after her husband had been killed, leaving her half-million dollars.
Mr Lowe had acquired this money from robbing banks in the wild west, however, she was keen to return it to the government to clear her name. John's character, Lane, had different ideas. He wanted her to help find the money and claim a reward for it.
Ann-Margret recently gave an interview about her time on the silver screen, where she touched upon working with the legendary John.
Ann-Margret continued: "He was so great with my parents. So absolutely welcoming and gentle with them. And anybody who was great to my parents was on a throne in my eyes.
"I was friends with him forever. He was never [pretentious]. He had so many friends and every single person loved him."
Ann-Margret also previously praised John for doing her an enormous favour in her time of need.
During the filming of The Train Robbers, Ann-Margret was up for an Oscar alongside her co-star Ben Johnson.
However, considering Ann-Margret was filming in Mexico she was struggling to find a way to attend the ceremony.
Without a second thought, John gave her and Ben his own private plane to allow them both to attend the ceremony.
Ann-Margret said later: "The next day, we were back on the set, and Ben had won and I hadn't.
"I don't know what Mr Wayne said to Ben, but he got me in a corner, and he just said some wonderful things to me."
Ann-Margret also spoke candidly about her relationship with Elvis.
The pair enjoyed a relationship together for just over a year while filming Viva Las Vegas.
Speaking in the same interview, Ann-Margret said: "Just thinking about Viva Las Vegas, or anytime someone mentions it, I smile.
"It was one of the happiest times of my life. George Sidney, who directed Bye Bye Birdie also directed Viva Las Vegas. And believe it or not, I had never seen [Elvis] perform."