John Wayne Could Only Film 'Rio Lobo' Using 1 Side of His Body
John Wayne is a Western film icon and starred in many notable films during the Hollywood Golden Age. For over 30 years, fans saw his name attached to Westerns and war movies and couldn't wait to see what he was filming next. But that doesn't mean filming came easy for the superstar, especially in regard to injuries. Wayne suffered numerous physical difficulties through the years, and while filming Rio Lobo, he couldn't use one side of his body. Here's why.
John Wayne had difficulty filming 'Rio Lobo' due to a torn shoulder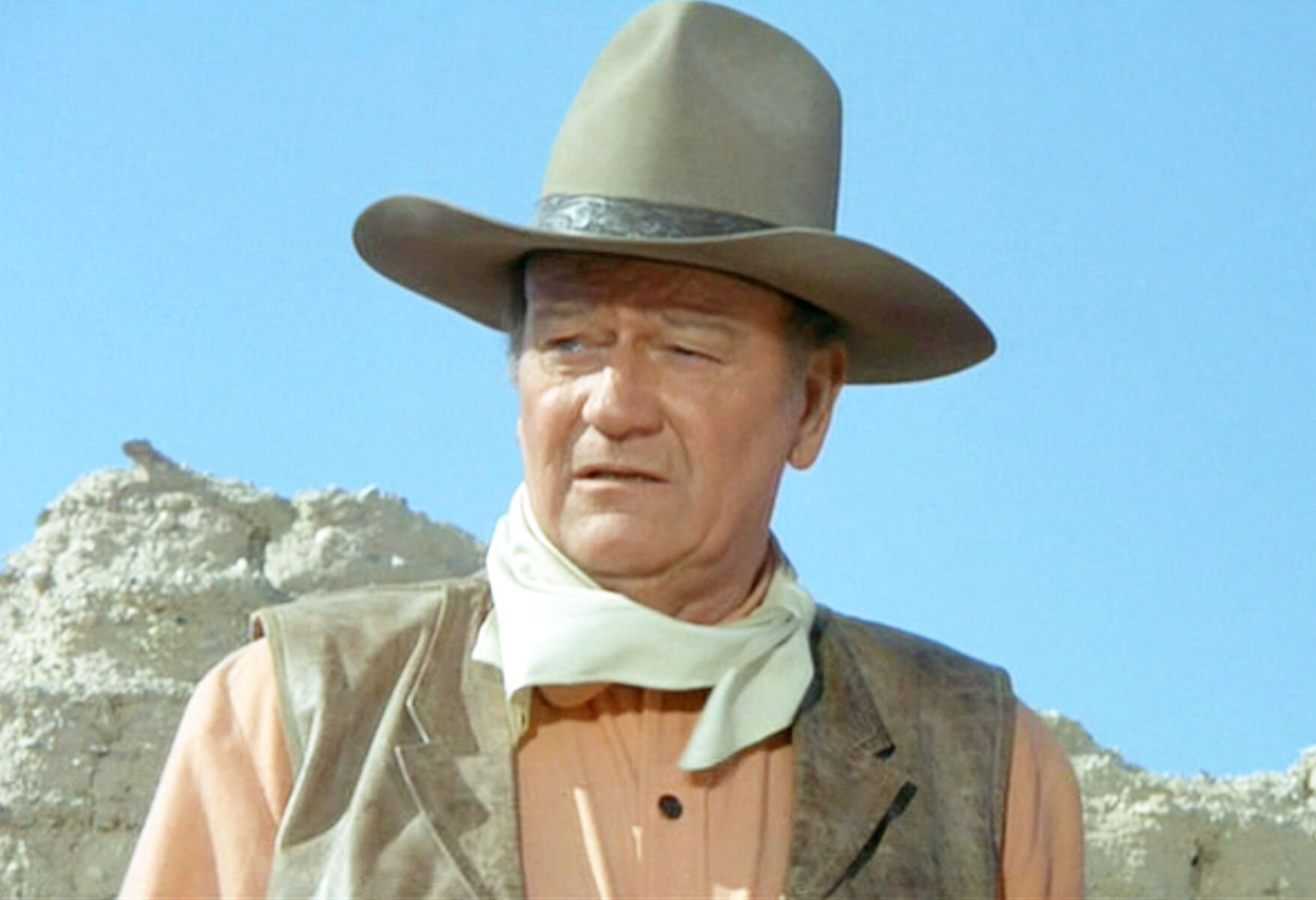 John Wayne in 'Rio Lobo' | CBS via Getty Images
Rio Lobo, a remake of Rio Bravo and El Dorado, came out in 1970 and featured John Wayne as the lead. Wayne played Cord McNally, a Civil War veteran searching for two traitors who caused McNally's unit to go down. McNally travels to the town of Rio Lobo to unearth a shocking discovery.
Rio Lobo was director Howard Hawks' last film, and it was far from the first time he worked with Wayne. "The last picture we made, I called him up and said, 'Duke, I've got a story,'" Hawks said in 1971, according to Express.co.uk. "He said, 'I can't make it for a year, I'm all tied up.' And I said, 'Well, that's all right, it'll take me a year to get it finished.' He said, 'Good, I'll be all ready.' And he came down on location and he said, 'What's this about?' And I told him the story. He never even read it, he didn't know anything about it."
Ultimately, Rio Lobo bombed, and Hawks blamed it on Waynes being too old and out of shape for the movie to succeed. But Waynes had other difficulties on set. Before filming, he fractured three ribs while filming The Undefeated and gained weight for True Grit. He also tore a ligament in his shoulder. Filmmakers had to film only one side of Wayne's body because he couldn't move one arm.
Wayne's torn shoulder was particularly difficult when it came to navigating the fight scenes in the film. Hawks had to utilize stand-in actors, and Wayne could only be seen from certain angles. Mounting and getting off of the horse smoothly also proved near impossible.
John Wayne had just previously gained weight for 'True Grit'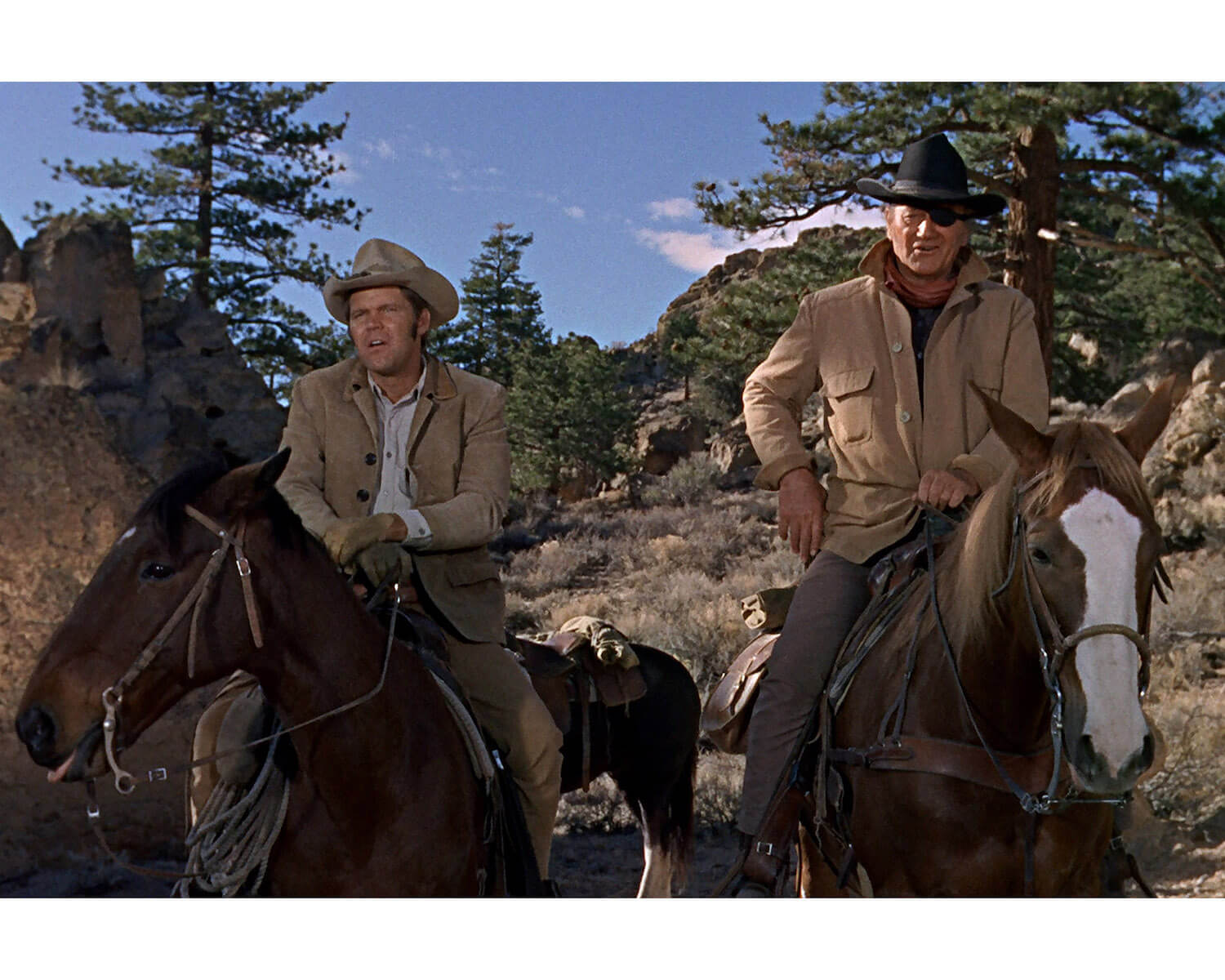 John Wayne and Glen Campbell in 'True Grit' | Silver Screen Collection/Getty Images
RELATED
John Wayne Introduced 1 Legendary Comedian as Having 'True Grit' at the 1970 Oscars
As stated before, John Wayne was asked to gain weight for True Grit before filming Rio Lobo. Producer Hal Wallis hired Henry Hathaway to direct True Grit, and Hathaway requested that Wayne gain weight for the role of Marshal Reuben J. Cogburn. Wayne was reportedly overjoyed with the request.
The role came with another request that Wayne didn't want to give into, though — and that was the eye patch. Wayne worried that an eye patch would have his fans turn against him, as it wasn't the image they were used to seeing. But Wallis requested the eye patch remain.
However, Wallis and Wayne did compromise on one other aspect of Wayne's appearance as Cogburn, though. They both agreed that Wayne didn't have to have a mustache to play the character.
He didn't understand why filmgoers wanted to watch 'tough and bleak' Westerns
While John Wayne is known for filming classic, gritty Westerns, he reportedly didn't understand their appeal.
"I was getting anxious because there was this young guy called Clint Eastwood making Westerns in Italy and having tremendous success with them," Wayne said at the end of the 1960s. "All of a sudden, the studios all wanted Eastwood to come and make Westerns for them, but they were not the kind of Westerns I'd been making. They were tough and bleak. I don't get it. What do people see in these films?"
With that said, True Grit won Wayne Best Actor at the Academy Awards in 1970. Unfortunately, Rio Lobo didn't win him the same accolades.
John Wayne heartbreak after pleading for one last film before death: 'Hope to hell I do'
The crowning moment in his acting life came in 1970, when he earned his only Academy Award for Best Actor, as a result of his role in True Grit.
But one project that sadly never made it to life was Beau John, a film Wayne hoped would be his last.
Author Scott Eyman, who wrote 'John Wayne: The Life and Legend', discussed what Wayne wanted the project to be like, as well as the confession he made before he sadly passed away.
Eyman noted that Wayne's wish was made at the end of 1978, just under a year before the western icon died in June.
Wayne reportedly felt directionless without any film work as he'd spent the last years in recovery with health issues as opposed to being behind the camera.
That year, Wayne received the Utah Film Festival's John Ford Medallion, though he was unable to travel due to his health.
Instead, friend and director Peter Bogdanovich went to accept the award on his behalf, and when the pair were reunited Wayne asked if he'd consider the film he proposed.
Bogdanovich said: "It's kind of a half-western thing, it's not cowboys and Indians, you know, it's — oh, the humour and the wonderful relationship between this grandfather and the son and the son-in-law and the grandson.
JUST IN: John Wayne was buried at unmarked grave with a beautiful message
"Wayne said, 'I hope to hell I live to do it. Just a wonderful story'."
His friend reassured Wayne he'd do the project, were he alive long enough to commit to it, and in his later life it became the Oscar winner's main focus in life.
As he grew even more ill, Wayne then proposed the project to director Ron Howard, though he didn't want anyone but the dying star to be in it.
According to the book, Wayne told Howard: "I found a book. I think it's a movie. It's you and me or it's nobody."
John Wayne died in 1979 (Image: GETTY)
But sadly for Wayne, he died before anything could be done to start the movie.
Howard added: "It never got past the verbal stage.
"And at that point, he was showing signs of not being well. I was a little doubtful."
Wayne passed away in 1979 as a result of stomach cancer, and was buried in the Pacific View Memorial Park Cemetery in Corona del Mar, Newport Beach.
His legacy was secured when the American Film Institute chose him as one of the greatest male stars of classic American cinema.
He was among a select group of stars who managed to negotiate their way from the silent film era of the Twenties, into the talkies that followed.
He had seven children in total, and was married three times.
John Wayne battled crippling injuries and heartbreaking loss on Rio Lobo set
The sight of The Duke thundering across The West on horseback remains one of cinema's most indelible images.
Meanwhile, "Get off your horse and drink your milk" has frequently been attributed as one of John Wayne's most famous 'quotes.'
Despite some claims that it came from an advert he shot, it is actually almost certainly an urban myth, most likely started by comedians doing drawling impressions of the Hollywood Westerns legend.
Sadly, though, by the time the star came to film 1970's Rio Lobo (a blatant remake of Rio Bravo) towards the end of his career, he was in so much pain struggled to get on and off his horse.
In fact, the entire film shoot was surrounded by personal tragedies for the actor.
DON'T MISSJohn Wayne revealed his own three favourite films from his career
John Wayne on horseback in Rio Lobo (Image: GETTY)

John Wayne was in agony in Rio Lobo (Image: GETTY )
It was director Howard Hawks' final film and the third film he made with John Wayne about a beleaguered sheriff standing against outlaws.
In a 1971 interview Hawks said of Rio Lobo: "The last picture we made, I called him up and said, 'Duke, I've got a story.' He said, 'I can't make it for a year, I'm all tied up.' And I said, 'Well, that's all right, it'll take me a year to get it finished.'
"He said, 'Good, I'll be all ready.' And he came down on location and he said, 'What's this about?' And I told him the story. He never even read it, he didn't know anything about it."
Famously, when Wayne realised it was a remake of Rio Bravo and El Dorado, he quipped: "Yes, he said, 'Do I get to play the drunk this time?"
Hawks was less jocular after the film bombed and blamed it on 63-year-old Wayne being too old and out of shape for the role.
Critics and audiences agreed and the film took just over $4million against a production budget of $6million plus all the extra promotional costs which are often the same again.
Wayne's physical difficulties were not due to his age, however. He had piled on weight for 1969's True Grit and then while filming The Undefeated the same year, The Duke fell from his horse and fractured three ribs, leaving him unable to work for two weeks.
Later in the shoot, he tore a ligament in his shoulder. With no movement in one arm, he had to be filmed only from the other side.

John Wayne with a rifle in Rio Lobo (Image: GETTY)
Wayne came into Rio Lobo in considerable pain, out of shape from True Grit and still suffering from a torn shoulder.
Most of his fight scenes had to be filmed with stand-ins or carefully from restricted angles. Some fights even happened off-camera. And he struggled greatly getting on and off his horse.
He also suffered two devastatimg personal blow when his mother died during filming and then his younger brother Robert E. Morrison lost his battle with lung cancer the month after filming ended.
But there was one shining moment of happiness also.

John Wayne in True Grit (Image: GETTY)
Always a dedicated workhorse on set, no matter the physical injuries or personal pains, Wayne took a rare break from filming.
He had a very good reason, since it was to attend the 1970 Academy Awards. After exactly 40 years on screen, The Duke finally won the Best Actor Oscar for True Grit.
Touchingly, when he returned to the Rio Lobo set, he was greeted by the cast and crew all wearing eye patches like True Grit's Rooster Cogburn.
Ann-Margret recalls 'gentle' and 'welcoming' John Wayne who did her a big favour
Legendary actress Ann-Margret turns 80-years-old today on April 28, 2021. The singer, dancer and performer made quite the name for herself in Hollywood in a number of films during the early 1960s, including Bye Bye Birdie and State Fair. She is perhaps best known for her epic performance in 1964 hit Viva Las Vegas alongside Elvis Presley, with whom she shared a passionate love affair. Shortly after working with the King, she joined wild west star John Wayne in his 1973 movie The Train Robbers.
Ann-Margret played the lead in the movie – one of her first lead roles – Mrs Lowe.
The story followed her character after her husband had been killed, leaving her half-million dollars.
Mr Lowe had acquired this money from robbing banks in the wild west, however, she was keen to return it to the government to clear her name. John's character, Lane, had different ideas. He wanted her to help find the money and claim a reward for it.
Ann-Margret recently gave an interview about her time on the silver screen, where she touched upon working with the legendary John.
Ann-Margret continued: "He was so great with my parents. So absolutely welcoming and gentle with them. And anybody who was great to my parents was on a throne in my eyes.
"I was friends with him forever. He was never [pretentious]. He had so many friends and every single person loved him."
Ann-Margret also previously praised John for doing her an enormous favour in her time of need.
During the filming of The Train Robbers, Ann-Margret was up for an Oscar alongside her co-star Ben Johnson.
However, considering Ann-Margret was filming in Mexico she was struggling to find a way to attend the ceremony.
Without a second thought, John gave her and Ben his own private plane to allow them both to attend the ceremony.
Ann-Margret said later: "The next day, we were back on the set, and Ben had won and I hadn't.
"I don't know what Mr Wayne said to Ben, but he got me in a corner, and he just said some wonderful things to me."
Ann-Margret also spoke candidly about her relationship with Elvis.
The pair enjoyed a relationship together for just over a year while filming Viva Las Vegas.
Speaking in the same interview, Ann-Margret said: "Just thinking about Viva Las Vegas, or anytime someone mentions it, I smile.
"It was one of the happiest times of my life. George Sidney, who directed Bye Bye Birdie also directed Viva Las Vegas. And believe it or not, I had never seen [Elvis] perform."