10 Famous Movies That Almost Starred John Wayne
John Wayne is one of the defining movie stars of the 20th century, but his career is filled with missed opportunities. "The Duke" had a signature swagger and commanding presence that saw him star in numerous iconic roles across Wayne's impressive movie career. However, the same decisive character and spirited beliefs that allowed Wayne to resonate with film-going audiences also caused the star to turn down some of the most memorable film roles in history.
John Wayne was a fervent patriot, a staunch traditionalist, and a stubborn holder of grudges. While The Duke turned in memorable performances in many films that speak to fairly straightforward values and themes, his reluctance to embrace some of the more subversive filmmaking that began to emerge in the latter part of the 20th century, as well as his own interpersonal issues, led to his missing out on some of the most significant films of the era. However, Wayne's instincts sometimes served him well, saving the actor from appearing in historic failures that would have left a blot on his filmography.
10Lonesome Dove (1989)
The miniseries Lonesome Dove began as a film script in 1972 when Last Picture Show collaborators Larry McMurtrey and Peter Bogdanovich were given the green light to develop a Western. The project, following a group of retired Texas Rangers on a cattle drive in the closing years of the West, was then titled Streets of La Toredo; it would have starred Wayne alongside two other legendary 20th-century actors, James Stewart and Henry Fonda. However, Wayne turned down the role, and the film soon fell apart. Lonesome Dove was a hugely successful miniseries starring Robert Duvall and Tommy Lee Jones, winning seven Emmys in 1989.
91941 (1979)
When Steven Spielberg was making the war comedy 1941, about a mass of hysterical Californians preparing for a Japanese invasion following Pearl Harbor, the director personally approached John Wayne for the part of the gentle-hearted General Stillwell. However, the day after receiving the script, Wayne reportedly phoned Spielberg, urging him not to make the film. Wayne called the film "un-American" and told Spielberg, "Don't joke about World War II" (via Outsider). Spielberg went on to make the film, casting Wayne's High and Mighty co-star Robert Stack in the role. Yet Wayne may have had a point; 1941 was poorly reviewed and is now considered one of Spielberg's worst movies.
8Heaven's Gate (1980)
Wayne was originally offered the lead role of Sheriff James Averill in Heaven's Gate, which would eventually go to the much younger Kris Kristofferson. The film is loosely based on the Johnson County War, a real historical event touched upon in another John Wayne film, Chisum. Whatever Wayne's reasons for refusing the role, he certainly made the right decision, with the disastrous production apparently plagued by numerous reshoots, cost overruns and the dictatorial streak of its director, Michael Cimino. Heaven's Gate was a notorious box office disaster, sinking its studio, United Artists, and considered a fatal blow to auteur-driven studio projects in Hollywood.
7The Gunfighter (1950)
This acclaimed classic Western follows a haunted gunslinger who seeks out his estranged wife in a small town, only to find violence around every corner. The role of the titular gunfighter, Jimmy Ringo, was written with John Wayne in mind, but Wayne's attachment fell apart when rights to the film were purchased by Columbia Pictures, with whose president Wayne had an ongoing feud. Ironically, the script would eventually be released from Columbia Pictures, purchased by Twentieth Century Fox, where Gregory Peck was cast in the lead. John Wayne's last film, The Shootist, shares several thematic and narrative elements with The Gunfighter.
6All The King's Men (1949)
The film adaptation of a Pulitzer Prize-winning novel, All The King's Men, tells the story of a corrupt politician's rise and fall. Wayne was offered the lead role of politician Willy Stark. However, as he would later do with Spielberg's 1941, Wayne turned down the film for being unpatriotic. In a searing letter to his agent, who sent Wayne the script, The Duke stated the film "smears the machinery of government for no purpose of humor or enlightenment" (via Cheatsheet). The role eventually went to Broderick Crawford, who would win the 1949 Academy Award for best actor, beating out John Wayne in The Sands of Iwo Jima.
5Dr. Strangelove (1964)
In Stanley Kubrick's satirical Cold War masterpiece Dr. Strangelove, the part of B-52 bomber pilot Major T.J. "King" Kong – responsible for the iconic visual in which a man straddles an atomic bomb, waving his hat as it sails into Russian territory – was initially offered to John Wayne. Screenwriter Terry Southern initially wrote the part with Wayne in mind, but when Kubrick reached out to The Duke, he never heard back. Wayne was already committed to three films in 1963-4 and Kubrick, who was not yet the universally acclaimed director, was apparently not worth Wayne's time. The part of Kong would eventually go to another Western actor, Slim Pickens.
4The Dirty Dozen (1967)
This World War II film sees an army major charged with leading a group of convicted murderers on a suicide mission ahead of the Normandy landings. The starring role of Major John Reisman was offered to John Wayne. Wayne objected to the character being an adulterer, so that section of the script was removed. However, The Duke still passed, likely due to the film's shooting dates running too close to the due date of his pregnant wife, Pilar. Lee Marvin played Major Reisman, and Wayne starred in another war picture, the extremely financially successful The Green Berets.
3Dirty Harry (1971)
The title role of the gritty San Francisco cop Harry Callahan in Dirty Harry was initially offered to Frank Sinatra, who passed. Wayne was then offered the role but also refused because he didn't wish to take a part that Sinatra had turned down. However, the film's eventual massive success with star Clint Eastwood caused Wayne to regret his decision, with The Duke even telling his biographer (via Far Out), "I made a mistake with that one." Wayne's regret would push him to star in two Dirty Harry rip-offs in subsequent years without much success.
2Blazing Saddles (1974)
Widely considered the greatest Western comedy of all time, Blazing Saddles' story of a black sheriff hired to run a racist frontier town was miles ahead of its time. The crude, subversive, self-aware film initially sought to cast John Wayne; conflicting reports suggest that Wayne was intended for either the role of gunslinger Jim, eventually played by Gene Wilder, or for the henchman Taggart, played by Slim Pickens, who had replaced Wayne once before in Dr. Strangelove. While The Duke refused the role, he nevertheless endorsed the script, stating (via Yukon-News): "I can't be in this picture. It's too dirty, but I'll be the first in line to see it".
1High Noon (1952)
High Noon's tense real-time drama follows a town marshal's increasingly desperate pleas for help fighting the gang of killers who have promised to shoot him dead at noon. John Wayne was initially offered the leading role of marshal Will Kane, but turned it down with a vicious, familiar rebuke, calling it (via The Guardian) "the most un-American thing I've ever seen in my whole life." Now considered one of the greatest Westerns of all time, High Noon won its eventual star Gary Cooper an Oscar. Cooper, unable to attend, asked Wayne to accept the award on his behalf.
John Wayne Once Explained Why He Turned Down so Many 'Petty, Mean' Movies
Actor John Wayne is one of Hollywood's most iconic figures to ever work in movies. However, he was very specific about the roles he would accept and the ones that he refused to involve himself in. Wayne once explained why he turned down so many potentially big movies that he described as "petty," "small," and "mean" through the evolution of Hollywood.
John Wayne played particular movie roles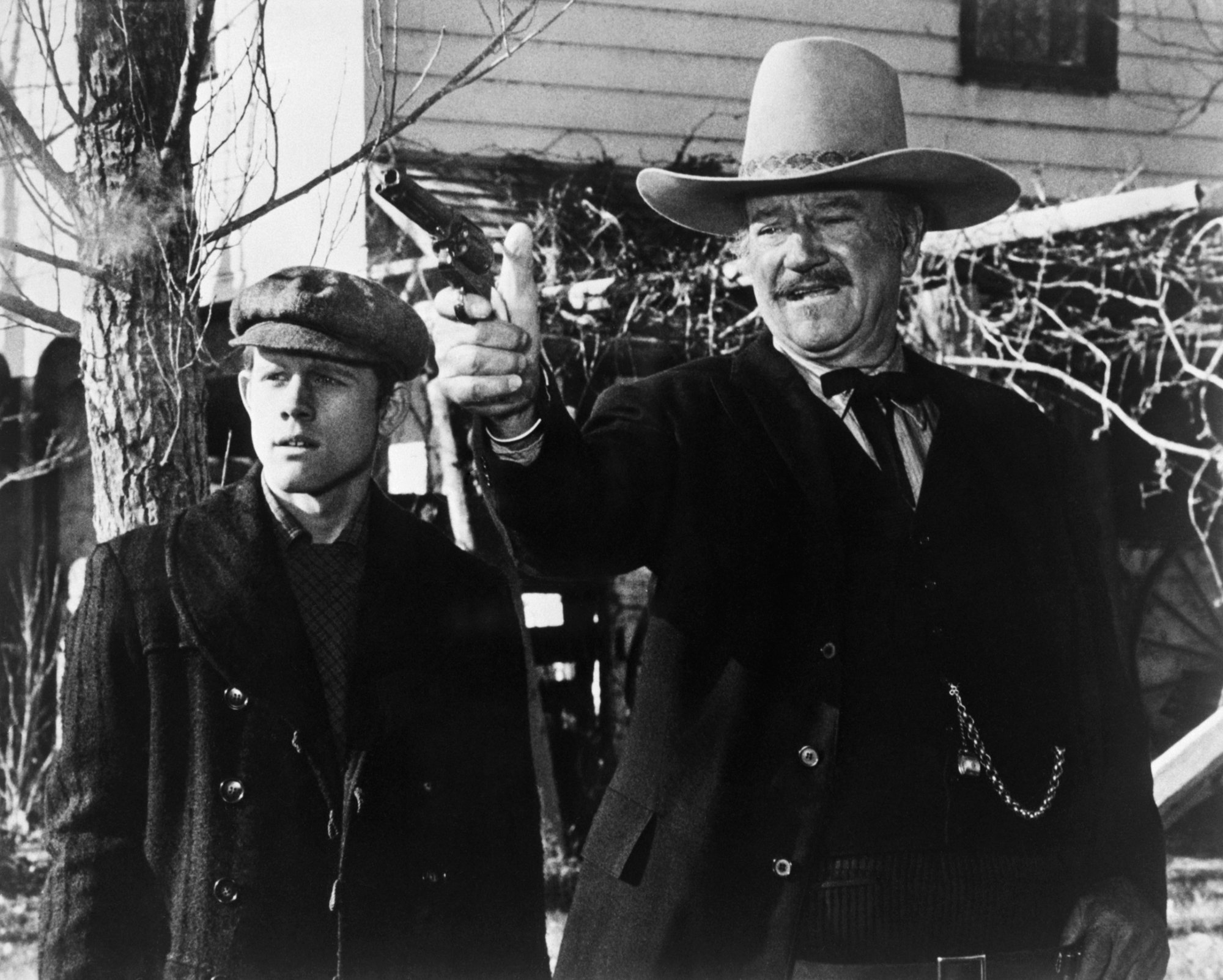 L-R: Ron Howard and John Wayne | Bettmann / Contributor
Wayne has over 180 acting credits to his name, spread across movies and television shows. He became a household name for the Western and war genres, ultimately contributing huge star power to the projects later in his career. However, Wayne also wasn't afraid to speak up when he didn't like something about the movies that wanted him involved. This held true for both prospective projects and ones that he already signed on for.
The actor ultimately turned down projects that earned attention at the Academy Awards, including High Noon. However, it wasn't always because he didn't like the roles themselves. Rather, Wayne was a patriot, who didn't want anything to do with movies that he deemed insulting to the American image.
John Wayne explained why he turned down so many 'petty, mean' movies at the time
Duke, behind the scenes on the set of The Shootist, discussing how he chose his movie roles 💪🏽 What did John Wayne's values mean to you? pic.twitter.com/Fd75E4BKHC

— John Wayne Official (@JohnDukeWayne) April 24, 2018
The official Wayne Twitter account shared a behind-the-scenes look at one of his movies, The Shootist. He talked about the state of violence in cinema, but he also touched on how he chose what to star in. The film hit theaters in 1976, so it's worth taking the time period in mind for what he has to say about "modern" filmmaking.
"The whole idea of our business is illusion and they're getting away from that," Wayne said. "They're putting electric squibs in livers and blowing them up in slow motion and then having blood all over everything. I mean, it's not that there's more violence in pictures today. It's that it's done with such bad taste that people turn their stomachs, not their emotional insides are affected. It turns their stomach. I just don't want to play anything petty or small or mean. I don't mind being rough and tough and cruel, but in a big way, no little petty things."
The actor believed that cinema should be family-friendly
Wayne had a very firm stance when it came to violence in the movies. The rating board once even reached out to the actor to get his input. However, Wayne didn't want any part in it because he didn't think a rating system was necessary. He believed that Hollywood should make motion pictures aimed at the whole family.
Wayne starred in a wide variety of movies that included violence, but they never reached the extremes of what he talked about while filming The Shootist. Today's filmmaking would certainly give him a shock if he were to see how much some movies push the boundaries and make audiences squirm.
John Wayne Once Confessed the 'Stupidest Damn Thing I Ever Did in My Life' Involving His Romance
Actor John Wayne had three wives over the course of his life. However, the couples would always go through various hardships. Wayne always publicly embraced family life and would combine his image as a father with his tough, Western one. The actor once confided in a friend and told them the "stupidest damn thing" he ever did over the course of his lifetime.
John Wayne married his second wife 3 weeks after his divorce became final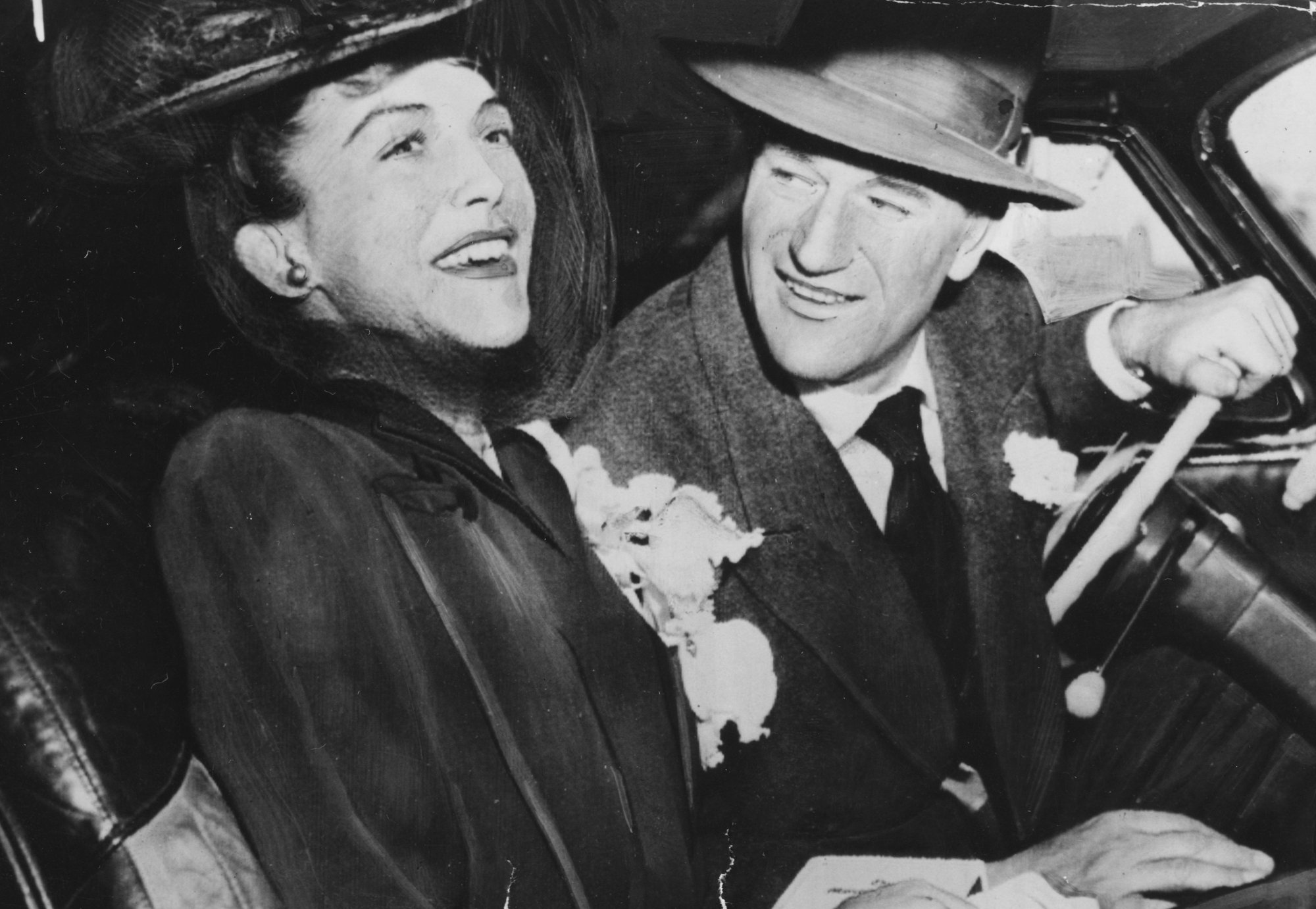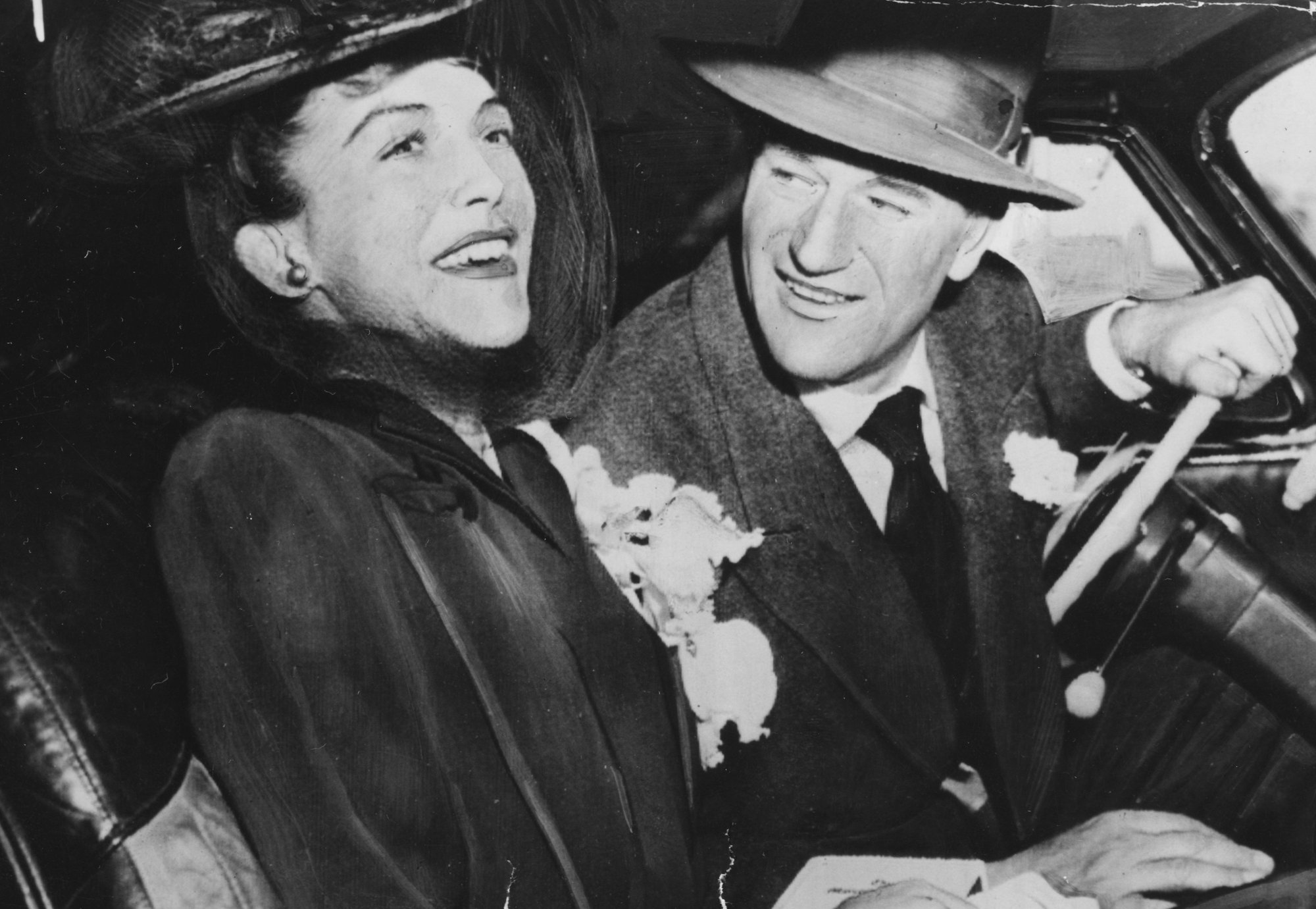 L-R: John Wayne and Esperanza 'Chata' Baur | Keystone/Hulton Archive/Getty Images
Marc Eliot's American Titan: Searching for John Wayne touched on personal and professional aspects of the actor's life. The divorce from his first wife, Josephine, was finalized on December 26, 1945. However, that certainly didn't stop the actor from jumping into another relationship soon after. Wayne married Esperanza Baur, also called Chata, exactly three weeks after his divorce in the Unity Presbyterian Church of Long Beach, which is where his mother married her second husband, Sidney Preen. Actor Ward Bond was Wayne's best man.
However, everything in Wayne's life would change when he returned to Los Angeles after his honeymoon with his new wife. They purchased a new home in Van Nuys, California, and made sure to have a separate room for his mother-in-law. As a result, the newly-married couple started to have some difficulties.
John Wayne said that marrying Chata was the 'stupidest damn thing I ever did in my life'
American Titan: Searching for John Wayne mentioned that Chata wanted to get a real role in a movie, but Wayne didn't want her to have the life of a movie star. As a result, he told her that she belonged at home. Chata didn't take this very well and turned to alcohol, developing an addiction.
Wayne ultimately turned to Bond to complain about Chata and his mother-in-law speaking Spanish and their desire for a bigger home. His new wife and her mother would often sleep in the same bed, forcing the actor to sleep on the couch in the living room.
Eliot wrote that Wayne took pride in his physical appearance and kept it in a specific condition for the camera. His ex-wife also took care of her physical appearance, but Chata refused to remove her facial hair, as she had a bit of a mustache. She also wouldn't bathe very often and refused to shave her legs, which would make Wayne angry. Their arguments became increasingly frequent, which Wayne told Bond.
"Our marriage was like shaking two volatile chemicals in a jar," Wayne said, admitting that marrying Chata was "the stupidest damn thing I ever did in my life!"
The actor would marry one final time
Wayne's life moved on past Chata, as they divorced in 1954. Tragically, she died from a heart attack in 1961. Wayne married one final time to Pilar Pallete in the same year that he divorced Chata. They would ultimately remain married until the actor died in 1979, although they no longer lived together. The couple separated, but it was never legally so.
Meanwhile, Wayne became romantically involved with his former secretary, Pat Stacy, until his death.
John Wayne Was a 'Big Prankster' With James Caan on 'El Dorado'
Actor James Caan once talked about what it was like working with legendary actor John Wayne on El Dorado. The then-young actor didn't initially get along with the Western star. However, they would ultimately develop their relationship in unexpected ways, as Wayne turned into a "big prankster" with Caan on the set. It's a whole other side to the iconic actor that the world didn't get to see very often.
John Wayne and James Caan co-starred in 'El Dorado'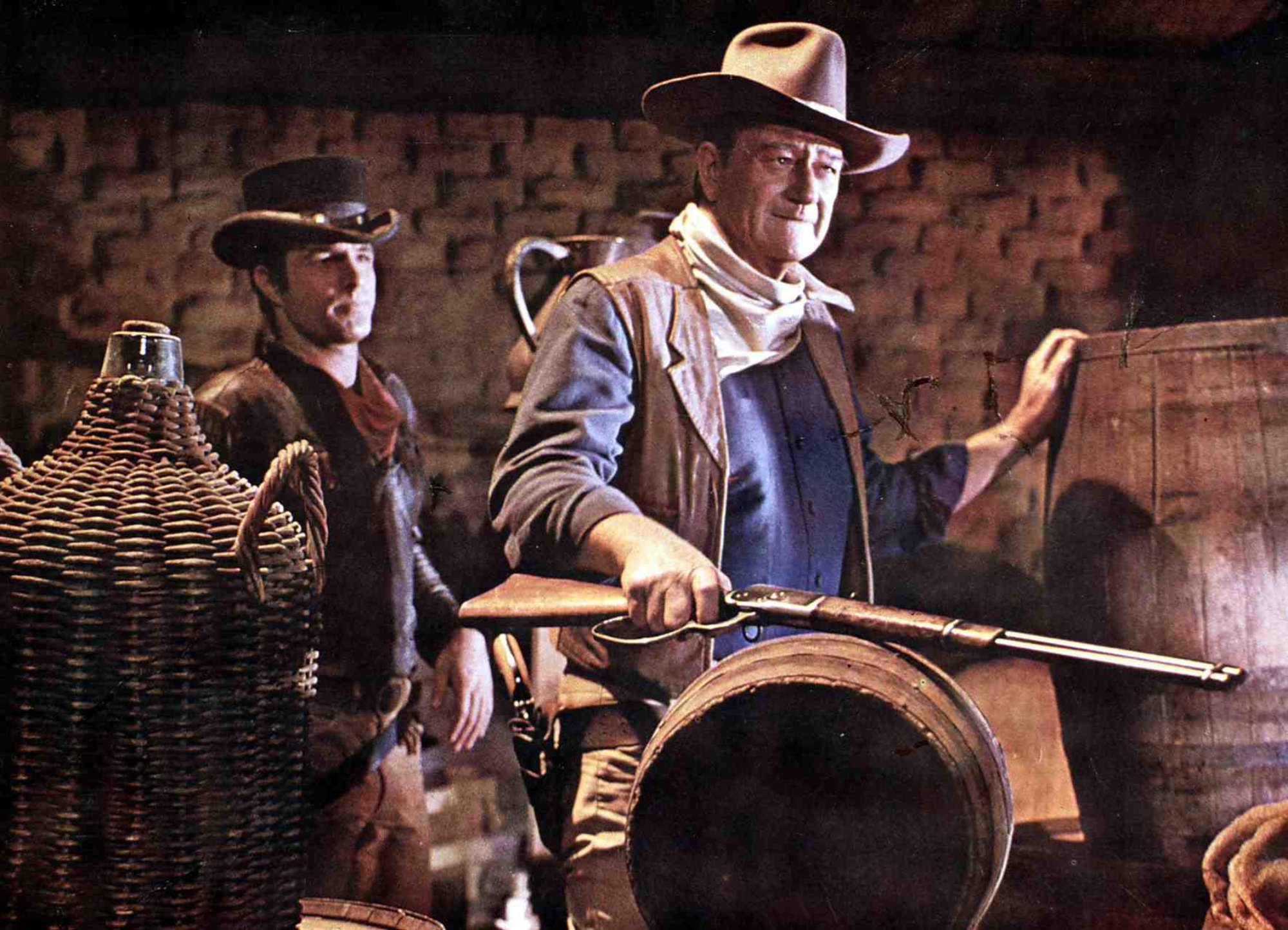 L-R: James Caan as Mississippi and John Wayne as Cole Thornton | FilmPublicityArchive/United Archives via Getty Images
Wayne and Caan co-starred in Howard Hawks' 1966 American Western called El Dorado, which was loosely based on Harry Brown's novel called The Stars in Their Courses. The story begins when a heartless tycoon named Bart Jason (Edward Asner) brings in a group of thugs to claim the MacDonald family's home right from under them. However, the town's sheriff is too drunk to lend his aid.
An elder gunfighter named Cole Thorton (Wayne) agrees to lend his aid when he hears about the situation. He makes a trip to El Dorado, but he isn't alone. Mississippi (Caan) joins to clean up the sheriff in time for the inevitable shootout to come.
John Wayne and James Caan turned into 'big pranksters' on the set
Find out what was it like working with Duke on the set of El Dorado! Spoiler: Duke was a big prankster 😂 pic.twitter.com/5HMi3YpcLB

— John Wayne Official (@JohnDukeWayne) August 25, 2021
The official Wayne Twitter account tweeted an interview with Caan, where he talked about filming El Dorado. However, the situation that unfolded is anything but expected, as the tweet referred to Wayne as a "big prankster."
"Wayne told me every time, he says, 'Take a step, turn around.' So, I do it and Hawks would yell 'Cut' and come walking, they'd reset everything, which took a half hour," Caan recalled. "He'd go, 'Look, kid, when you say the line, just go.' 'All right, coach. I'm sorry.'"
Caan continued: "Now, he walks, he does, as he's walking back to the camera, he goes, 'Now, look, kid. Don't take a whole step. Just take a half a step and then turn around and give me that look you give me.' I still have no idea what the freaking look is. I think I was smiling, just laughing at him. Action, everything starts up again, I take a half a step, turn around: 'Cut!' (Laughs). He comes up, yelling, 'What's the matter with you? Can't you just say the line and go?' 'Coach, I'm really sorry. I don't know what happened. I had a brain fart, something.'"
However, the next interaction would nearly put Wayne and Caan on very bad terms.
"He starts walking back and he goes, 'Now look, kid,' and I turn around and [Robert] Mitchum grabbed me, I was going to hit him," Caan said. "From that day, we were … he knew what he was doing, you know? He was having a good time at my expense."
The relationship between Wayne and Caan made a sudden turn for the hilarious when they started to play jokes on one another, but it clearly confused Hawks.
"But as a week went by, I'd be off camera and Hawks would be next to me, and Duke would be sitting there. Right in the middle of my scene, I'd go, (mouths) 'You stink' and he'd laugh. 'Oh, what's the matter there?' 'Oh, nothing. Sorry.' It just became who can screw up who."
Caan concluded: "Like, one day, you remember those wooden dressing rooms they had? I'd come to lunch, my dressing room's locked. I go, 'Excuse me, guys, how come it's locked? I can't get in there.' 'Well, here's the key.' Garbage just came out. He'd just pile it with garbage. He was like a 12-year-old kid."
'El Dorado' became a box office success
RELATED
John Wayne Wanted to Make His Home Alarm a Hilarious Tape Recording of His Voice: 'I See You, You Son of a B****'
El Dorado would ultimately prove to be a success for both Wayne and Caan. The film earned critical praise, but the legendary Western actor often gave off the impression that he didn't care what they had to say. Wayne would prefer for the audience to enjoy what he put up on the silver screen. Luckily, he would be in luck with El Dorado, which was a commercial success.
This particular Western would become one of Wayne's more iconic genre pieces. Even his final movie, The Shootist would incorporate footage from it.