The Long Voyage Home Was A Gamble That Could Have Sent John Wayne Back To B-Movies
John Wayne had finally broken free of Poverty Row B-flicks as the lead of John Ford's classic Western "Stagecoach" when he jockeyed for the lead in the filmmaker's 1940 seafaring drama "The Long Voyage Home." Like "Stagecoach," this World War II-set yarn about a tramp steamer wending its way from the West Indies to Baltimore and then on to England is an ensemble work. It is also one of Ford's most formally considered features, bolstered by expressive cinematography from the great Gregg Toland (who was one year away from changing the filmmaking game forever alongside Orson Welles with "Citizen Kane").
Wayne had made his name on Westerns, and with World War II on the horizon — which would take some of his stiffest movie star competition, most notably James Stewart and Henry Fonda, out of the country for four years — he had an opportunity to become one of the biggest names in the industry. Wisely, he kept busy, booking one Western after another with Republic Pictures. But he was keen to stay in Ford's good graces, and sought the part of Swedish seaman Ole Olsen in "The Long Voyage Home." The director, who famously joked about his star's lack of acting ability, surprisingly capitulated. Wayne was to play a provincial Scandinavian with a Swedish accent.
How did this work out for the newly minted star?
The less John Wayne acts, the better

United ArtistsWayne was a tad shocked that Ford gave him the role, but it made basic box office sense. The Duke had connected with rank-and-file moviegoers, so his name and image on the poster might drive folks to take a chance on a moody drama based on a series of one-act plays by Eugene O'Neill.
But if Wayne was hoping for more nuanced direction from Ford than he'd received in the past, he was completely out of luck. According to Randy Roberts and David Welky's "John Wayne: Treasures," the star was understandably worried about not so much nailing his Swedish accent, but getting across a semi-reasonable facsimile. Put in modern-day terms, he didn't want to come off like Kevin Costner in "Robin Hood: Prince of Thieves." Other directors might've been more attentive to their star's concerns, but the brusque Ford shrugged off Wayne's request. "Well, Jesus, all right, if you want to be a goddamn actor," he said.
"The Long Voyage Home" was a commercial dud and a critical success. Academy voters were impressed enough to give it six Oscar nominations, most of which emphasized the film's technical mastery. As for Wayne's performance, it's endearingly meek. Ole's iffy command of English allows Ford to cut way back on the star's dialogue, which forces Wayne to give a physical performance. His apprehensiveness, encouraged by Ford (to the actor's chagrin), leaves the Duke looking like a bit of a sap (à la his brief appearance as Barbara Stanwyck's prey in Alfred E. Green's "Baby Face"). When asked about the portrayal, Ford said, "Count the times Wayne talks … That's the answer. Don't let him talk unless you have something that needs to be said."
Over the next few years, Wayne would learn how to protect his image. He became a brilliant modulator. He could make small adjustments, but he would never, ever make a departure. People wanted John Wayne, and he was obliged to give this to them.  
John Wayne and Montgomery Clift Were Paid a 'Startling' Amount for 'Red River'
John Wayne and Montgomery Clift were both monumental actors that had a true impact on Hollywood and the field of cinema. However, they had contrasting images and represented an entirely different type of movie star. It played out wonderfully on the silver screen in Red River, but one of the most surprising behind-the-scenes facts is that they were each paid the same amount in a "startling" sum for a newcomer.
John Wayne and Montgomery Clift faced off in 'Red River'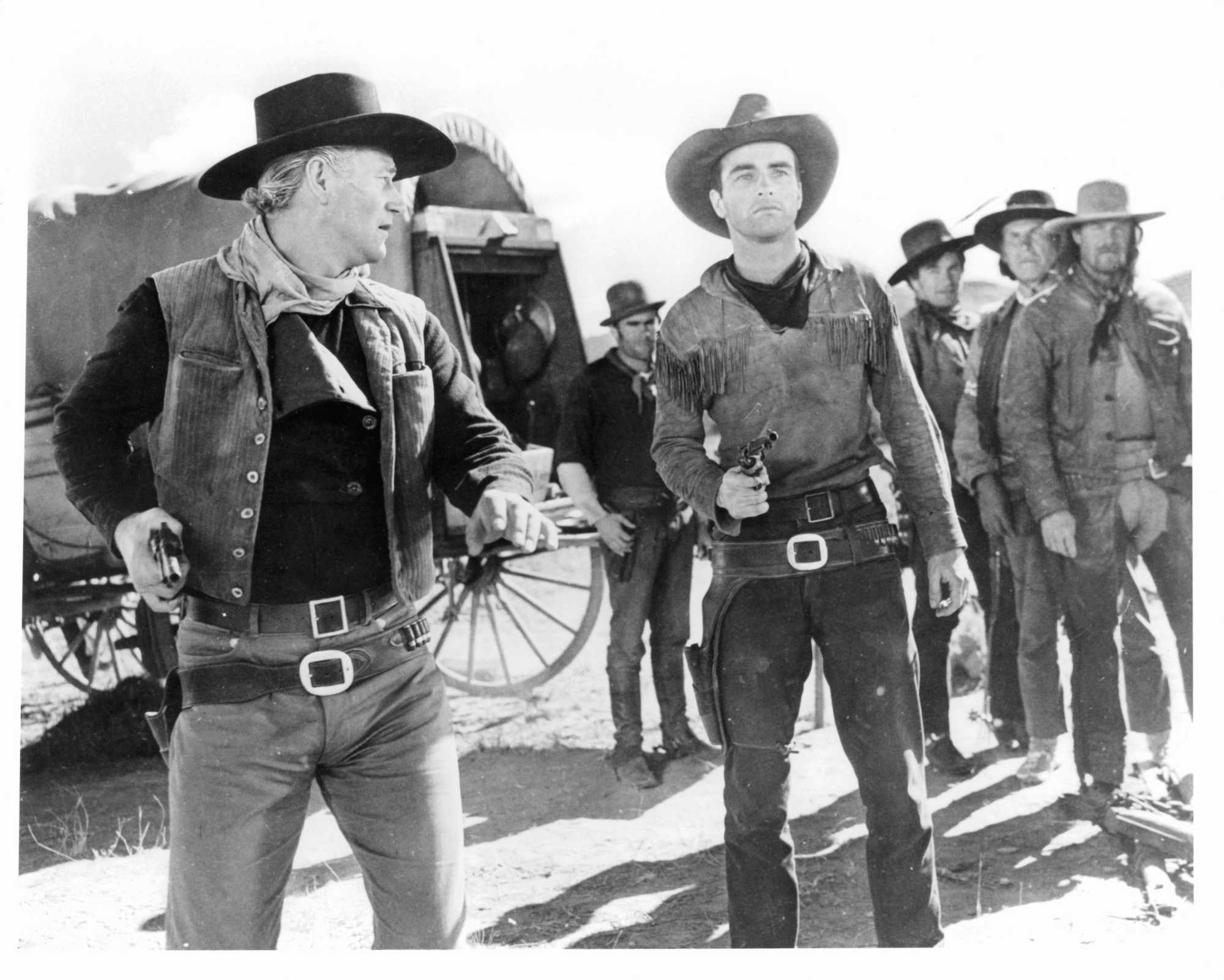 L-R: John Wayne as Thomas Dunson and Montgomery Clift as Matt Garth | United Artists/Getty Images
Howard Hawks' Red River hit theaters in 1948, putting Wayne and Clift against one another with their opposing characters. The story follows a stubborn Texas cattle ranch owner named Thomas Dunson (Wayne). He takes his job quite seriously, and has the help of his trailhand (Walter Brennan) and his protégé, Matt Garth (Clift), who Dunson raised since Matt was only a boy.
After the Civil War, Dunson struggled financially and needed to catch a break. Therefore, he comes up with the plan to lead a cattle drive headed for Missouri with the hopes of getting a better price for his sale. However, the old and young men refuse to see eye-to-eye, as they begin to butt heads along the journey, pitting them directly against one another.
John Wayne and Montgomery Clift were paid a similar amount for 'Red River'
Wayne and Clift entered the Hollywood system in different periods. The Western film star originally made his entrance into acting after working on the Fox lot in the props department. Legendary filmmaker John Ford saw something special in him, but he got his first leading role in 1930's The Big Trail. The movie bombed at the box office, but he finally found his first big box office hit with 1939's Stagecoach.
Meanwhile, Clift came from the world of theater before he made his debut in feature films. Red River marked his first Hollywood role, yet it didn't matter much when it came to the paycheck that he earned for playing Matt.
According to Todd McCarthy's Howard Hawks: The Grey Fox of Hollywood, Wayne was paid $50,000 for Red River, but he was given an additional $10,000 for every week over 12 weeks. He also earned 10% of the film's profits, which guaranteed him $75,000.
Meanwhile, Clift was offered the same amount of money as Wayne – $75,000. He was offered $50,000 at the base, but it went up considerably after adding up extra-week overages and a bonus.
The $75,000 in 1948 translates to around $936,000 in 2023. It doesn't sound like a lot compared to modern-day sums that major actors earn, but it was a lot for the time.
Wayne was already a considerable star by the time 1948 rolled around, but Clift was a new name. Hawks and others involved in production called it a "startling" sum to pay the young actor, but they knew that they found the right man for the job.
'Red River' was a monumental part of their careers
Red River proved to be a major moment in the careers of both Wayne and Clift, even though they were in vastly different positions. The Western movie star was playing a character older than his real-life age at the time, but it proved to be the role of a lifetime for him. Red River was the first time that Wayne felt like a "real actor," as he previously received an abundance of criticism for essentially playing the same character from one movie to the next.
Clift earned a lot of success off the back of Red River, earning his first Academy Award nomination for his second role in 1948's The Search. He would go on to earn another three Oscar nominations for A Place in the Sun, From Here to Eternity, and Judgment at Nuremberg, but he never won the golden statuette.
How John Wayne Got Over Being Typecast in Movies
John Wayne had a strong passion for the movies that he made. He carefully selected the roles that he accepted once he reached stardom. However, Wayne grew tired of playing the same type of characters his critics denounced his talents. The movie star once recalled the moment when he got over the fact that he kept getting typecast.
John Wayne couldn't escape Western movies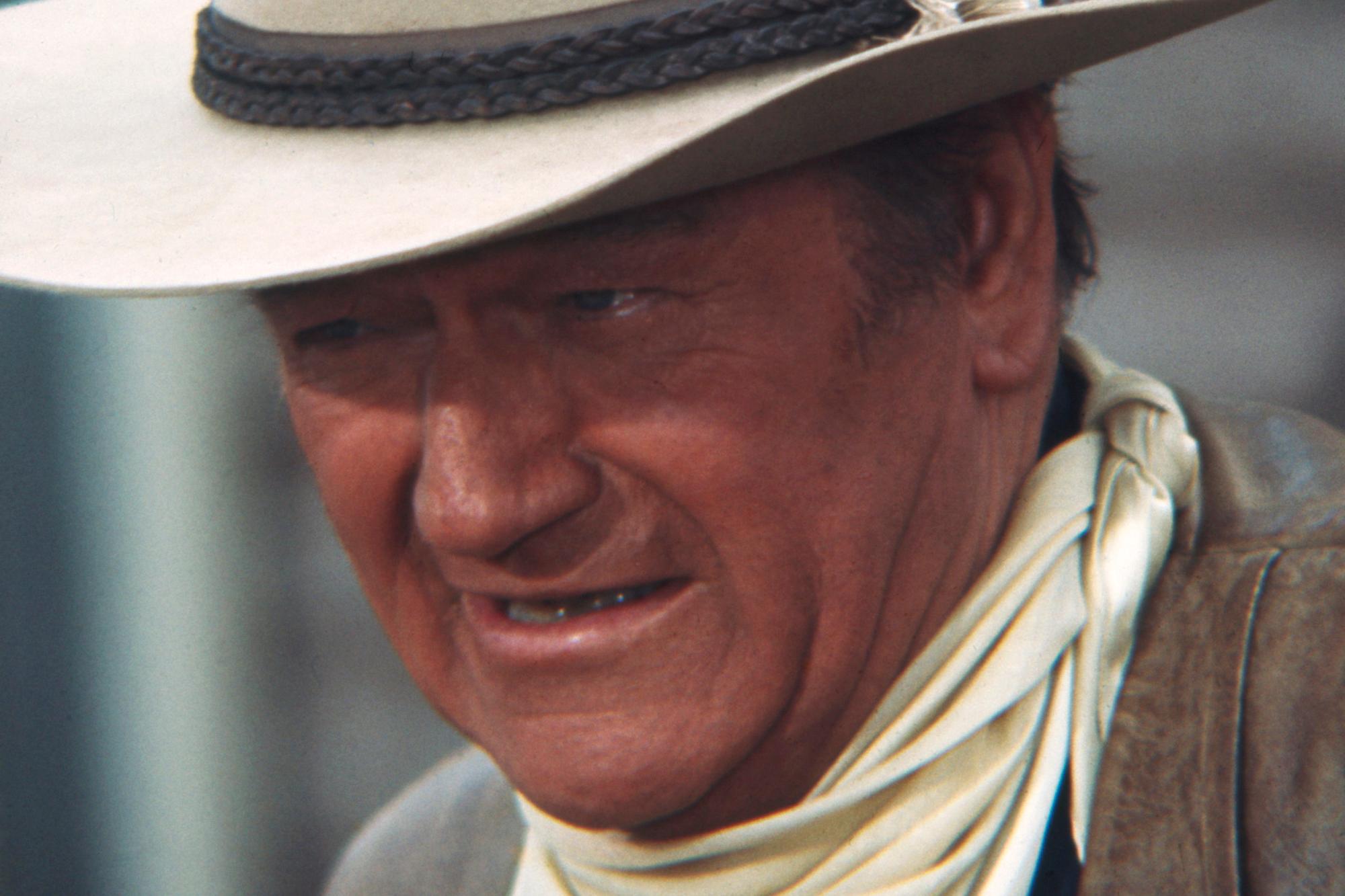 John Wayne | Silver Screen Collection/Getty Images
Wayne first made a name for himself in Western movies with 1930's The Big Trail. Raoul Walsh gave him his first shot at making it big, but the film was a box office flop. Next, he had a disappointing contract with Columbia Pictures and a line of B-movies that left him feeling unfulfilled. Wayne played Singin' Sandy Saunders, which he went as far as to call "embarrassing."
The movie star finally found his stride with 1939's Stagecoach, thanks to his mentor, director John Ford. It was an ensemble piece that allowed him to shine above all the rest, boosting his career to new heights. Wayne found a place in Western movies, but he wanted to find diversity in his roles in other types of genres, but not much else stuck.
Audiences wanted John Wayne movies played in 1 way
According to The New York Times, Wayne had his moments when he got into a bit of an emotional slump. He got caught up in his feelings, especially when it came to specific aspects of his career. Wayne confided in fellow actor Harry Carey and his wife, Olive, about the movies he was stuck making. Fortunately, this conversation allowed him to accept being typecast.
"Once I was working in a movie with Harry Carey and his wife, Olive, and was complaining about being typed," Wayne recalled. "'Duke,' Ollie said, 'look at Harry over there—would you like to see Harry Carey play any other way? 'Of course not,' I said. 'Well,' Ollie said, 'the American public doesn't want to see you any other way, either. So wake up, Duke! Be what they want you to be.'"
"See," Wayne said, "I'm not against Women's. Lib. Ollie gave me some real good advice."
John Wayne embraced Western movies
Wayne accepted that audiences wanted to see him in specific movies – Westerns and war flicks. He went on to represent nationalism in America on the silver screen, depicting masculinity. Together with iconic filmmakers, such as Ford, Howard Hawks, and Henry Hathaway. These collaborations produced classics, such as 1956's The Searchers, 1948's Red River, and 1969's True Grit.
Nevertheless, Wayne did take on roles in other movies that existed outside of the Western genre. He made quite an impact with performances in the war genre with 1949's Sands of Iwo Jima, 1952's The Quiet Man, and 1968's The Green Berets.
The actor went on to earn an Oscar nomination for his work in Sands of Iwo Jima, finally winning the gold for True Grit. His career was undoubtedly defined by the Western genre, but he demonstrated the ability to develop his character for the silver screen in a way that captivated audiences.
John Wayne Once Said What Image He Wanted to Be for You
Movie star John Wayne was very particular about his image. He wanted Hollywood and the world beyond the entertainment industry to view him in a specific way. However, Wayne encountered some difficulties along the way that made it increasingly challenging for him to achieve that. Wayne once revealed the "image" that he wanted his longtime fans to view him in.
John Wayne strived for a hero image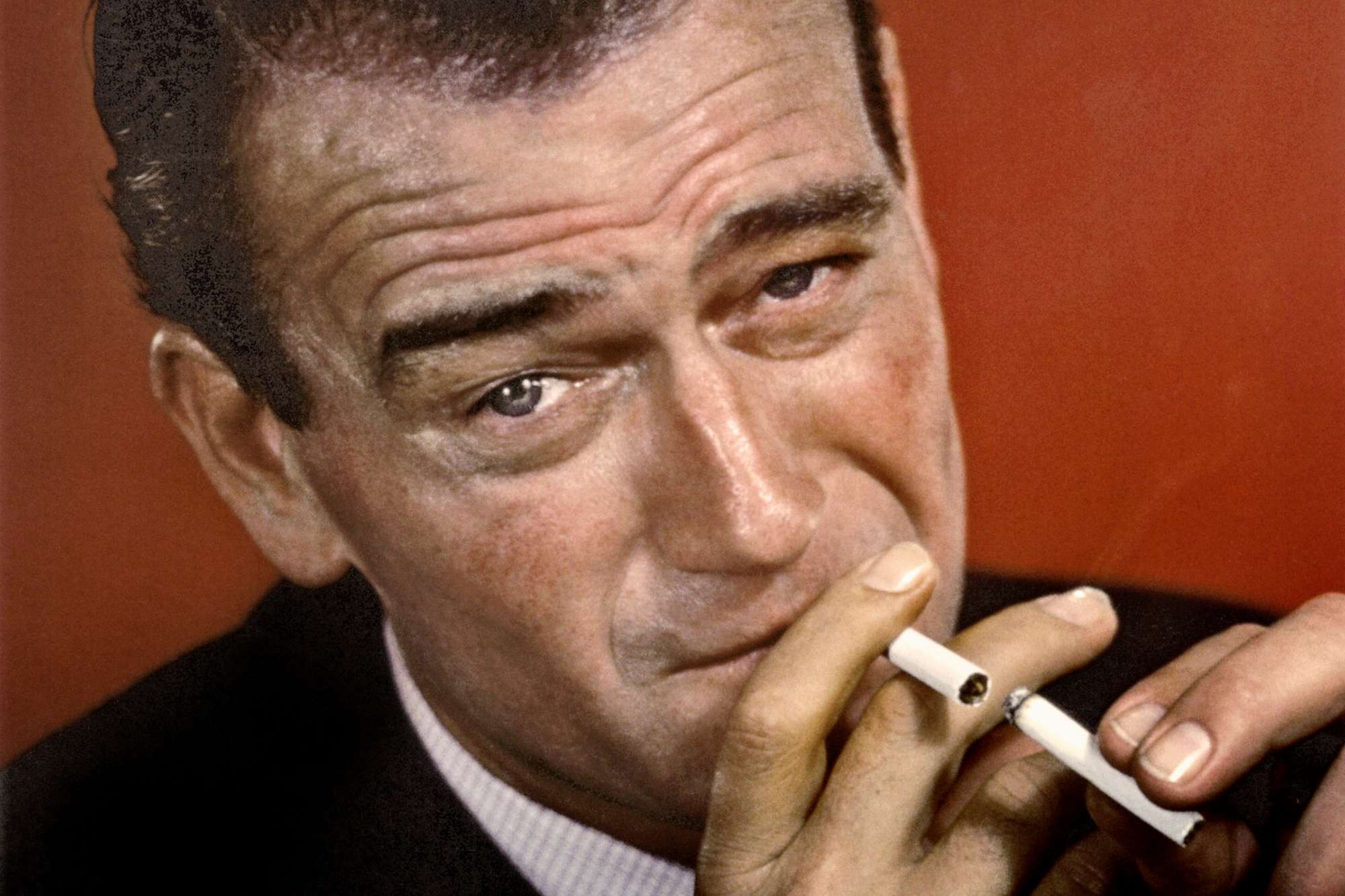 John Wayne | Michael Ochs Archives/Getty Images
Wayne considered patriotism a part of his image and identity. He regularly spoke about politics and other social commentaries, even against some industry advice to keep his mouth shut. As a result, Wayne got into some disagreements when it came to the definition of a hero.
However, his critics poked holes in his past when it was his time to stand up. Wayne didn't serve during the draft of World War II, while other leading men in Hollywood went to fight for America. He found his own way of serving through the silver screen, but that wasn't enough for some folks who thought he permanently destroyed any sense of a hero's image.
John Wayne wanted his image to remind people of 'joy'
The official Wayne Twitter account some of his most legendary and inspiring quotes, which referred back to the image that he built over the course of his life. He often pretended to the public that he didn't care what the critics thought of his work and that the audience's opinion was all that mattered. However, Wayne deeply cared about his image, especially when it came to the critics who judged his work.
The movie star once admitted what he wanted the world to associate with. It went beyond the Western and war movie image that the world learned to associate him with. Rather, Wayne wanted to bring the world "joy," rather than a reminder of what's wrong with the world.
"Let's say I hope that I appeal to the more carefree times in a person's life rather than to his reasoning adulthood," Wayne said. "I'd just like to be an image that reminds someone of joy rather than of the problems of the world."
John Wayne brought his morals into his movie roles
Wayne developed a public image as a hero on the silver screen, only playing roles that amplified his morals. He primarily stuck within the Western and war genres, but he also dipped his toes into a few dramas. His fame launched to new levels with 1939's Stagecoach, and he used that platform to make movies that he was proud of.
Sands of Iwo Jima and The Green Berets are just a couple of the war movies that involved Wayne's name, putting forth a patriotic image that he wanted to enforce. When it came to Westerns, The Man Who Shot Liberty Valance and Rio Bravo are some of the films that thematically explored a tough form of masculinity and a respectable form of honor.
Wayne also instilled his political messages into his movies, which didn't necessarily rub all audiences the right way. From The Green Berets' take on the Vietnam War to The Alamo, the actor didn't leave much to the imagination of where he stood.