How Gary Cooper Indirectly Gave John Wayne His First Big Hollywood Break
As the motion picture industry lurched into the sound era, John Wayne's career was languishing. He wasn't getting many decent roles. He wasn't impressing people when he did. He wasn't even John Wayne.
He was Marion Robert Morrison, a strapping, 6'3″, Iowa-born washout from the USC football team. Wayne found his way into Hollywood via his coach, Howard Jones, who frequently procured tickets for the silent movie star Tom Mix. The actor, along with director John Ford, took on the young Wayne as a favor to Jones, giving him steady, if unspectacular work as a prop man and extra.
Given his athletic stature and boyish good looks, Wayne had the physical makings of a future star. After plugging away throughout the second half of the 1920s in bit parts (occasionally as a member of the USC football team), he finally received his first official credit Duke Morrison in James Tinling's musical comedy "Words and Music" (one of many pre-'30s films that has been lost forever). The part was hugely unsatisfying for Wayne, but it was a much-needed foot in the door. Still, he had plenty of competition from other aspiring hunks. He had to prove he was more than just a fresh-faced ingénue, and the only way to do that was to land a lead in a quality motion picture — which was akin to winning the lottery.
Unbeknownst to Wayne, Gary Cooper held his winning ticket.
The Big Trail not taken

20th Century FoxCooper had rocketed to stardom at the end of the silent era, and broken through in a big way thanks to Victor Fleming's sound Western "The Virginian." Everyone wanted a piece of Cooper in 1930, including Raoul Walsh, who was about to helm a frontier Western called "The Big Trail." The filmmaker was keen to cast Cooper as Breck Coleman, a young fur trader seeking revenge for the murder of his friend.
Cooper was everything Wayne wanted to be: a larger-than-life hero whose chiseled visage adorned posters in movie houses all over the United States. Cooper had his pick of projects, and decided "The Big Trail" was not for him. According to Allen Eyles' biography "John Wayne," once Walsh lost Cooper, he set his sights on unknowns as a means of lowering the film's budget. He recalled a prop boy from a previous production, a towering figure with all of the physical attributes of a Western leading man. When his colleague Ford praised the struggling actor's work ethic, Walsh brought Duke Morrison in.
Per Eyles, all it took was one screen test for Walsh to cast the youngster, at which point "The Big Trail" was fast-tracked into production:
"Wayne pretended to be the wagon train leader and fielded questions about the journey improvised by other members of the cast. He lost his temper while doing this and Walsh was delighted. He soon had the part and was put into training. He took lessons in knife-throwing and handling tomahawks. He suffered at the hands of a dramatic coach from the East, assigned by the studio to improve his elocution, and hated the fancy delivery that was forced on him. With Walsh's approval, he went back to his normal manner of speech."
Would that one's rise to stardom were so simple.
The birth of John Wayne
20th Century FoxWhen it came time to figure out the billing for "The Big Trail," everyone agreed that Morrison was in dire need of a new moniker. The director suggested Anthony Wayne, after the "Mad" Revolutionary War general (largely because he'd been reading a biography of the military legend at the time). Fox deemed this "too Italian" (Wayne was incredibly Irish), at which point they settled on a compromise: John Wayne.
Despite Walsh's casting thrift, "The Big Trail" wound up being a disastrously big movie. Shot in the early 70mm format Fox Grandeur, Walsh's Western flopped because most movie houses at the time weren't equipped to project the film. Wayne could hardly be blamed for this, but it wouldn't be until 1939's "Stagecoach" that he fully captivated moviegoers in a lead performance. Still, it's unlikely he would've become a Poverty Row star in the '30s without landing "The Big Trail." Ford might've been Wayne's biggest advocate, but it was a simple "no" from Cooper that made his legendary career possible.  
John Wayne Once Revealed the 'Most Important Thing in Life'
Actor John Wayne had many famous sayings over the course of his life. He went down in history for the legacy that he left on the silver screen, but his importance extends beyond his performances. Wayne had many life quotes that he accumulated over his lifetime, many of which came from the mentors in his life, including his father. The movie star had a motivational saying that talked about the "most important thing in life."
John Wayne came from humble beginnings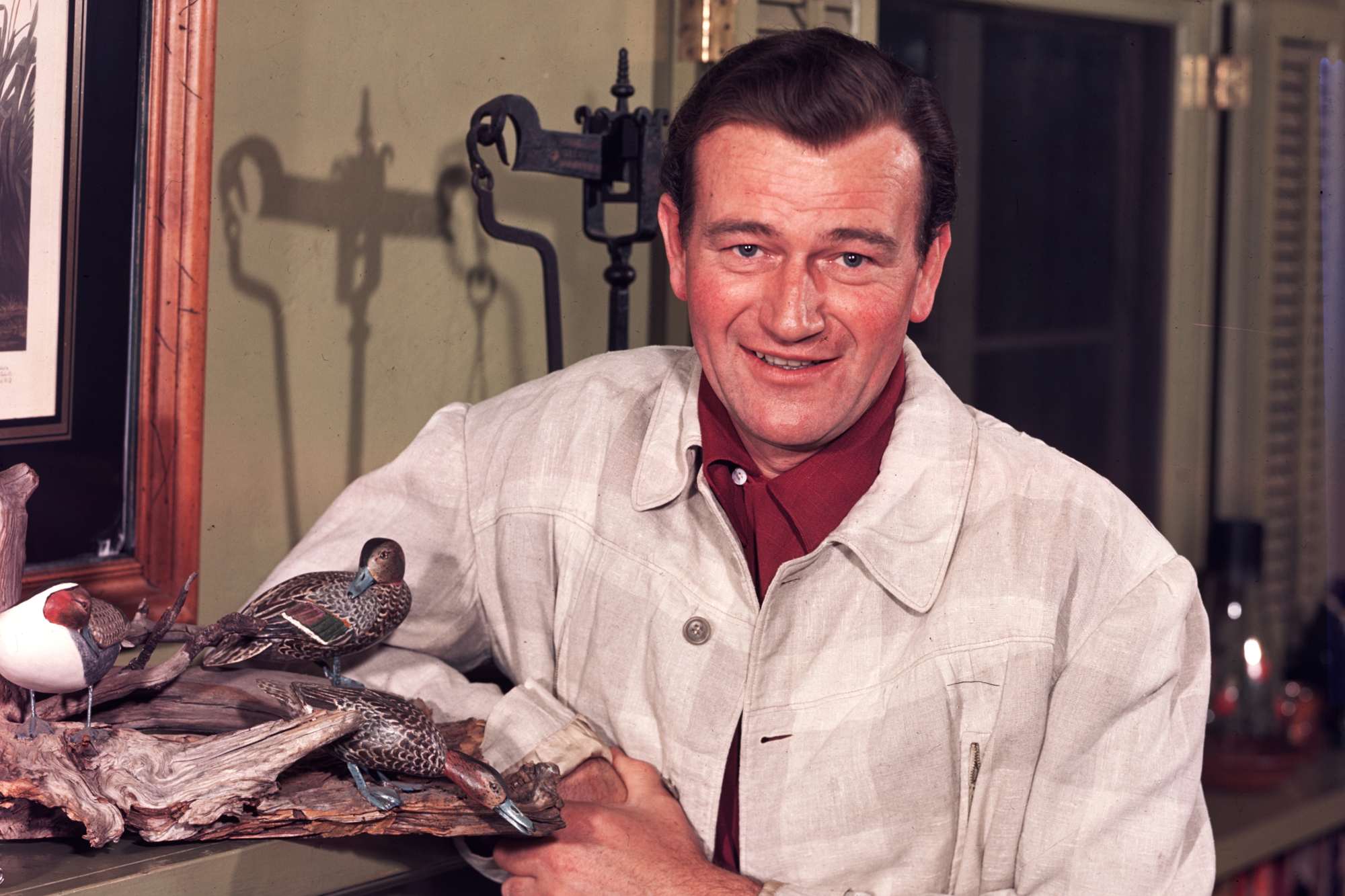 John Wayne | Hulton Archive/Getty Images
Wayne didn't always live the life of a star in Hollywood. He came from humble beginnings under the name Marion Robert Morrison from Winterset, Iowa. However, his family moved to Southern California, where he ultimately found his love for entertainment. He started as a prop man at Fox, but he had a look meant for the silver screen. As a result, he landed some minor roles.
The actor earned his first major chance in a leading role in 1930's The Big Trail. However, the Raoul Walsh-directed film bombed at the box office, which set him back. Fortunately, he managed to earn massive success with 1939's Stagecoach, marking his first leading-role collaboration with director John Ford. Despite Hollywood pressures, he always stayed true to the values, for better or worse.
John Wayne said 'tomorrow' is the 'most important thing in life'
The official John Wayne Twitter account wrote about the quotes that he said over the course of his life. These words carried his morals, but they also put his perspective into context. He always wanted to get the most out of life, always seeing opportunity and hope in the future, even though he had traditionalist values of the past.
"Tomorrow is the most important thing in life," Wayne said. "Comes into us at midnight very clean. It's perfect when it arrives and it puts itself in our hands. It hopes we've learned something from yesterday."
Wayne's fans responded to the tweet, one of which called it "One of my favorite quotes of his." Another comment said, "I just love this quote. If only we could always remember that tomorrow is a new day and we get to take what we've learned with us and do better."
He brought his morals to the silver screen
RELATED
John Wayne Never Got the Grave Engraving He Wanted, Got Playboy Interview Quote Engraved Instead
Wayne gained a lot of value throughout his life from the teachers that he had, including his father and Ford. However, he represented a masculine icon on the silver screen that many audiences looked up to. The movie star was very careful about the roles that he accepted, refusing to give up on his values, even when playing a character.
The movie star turned down big roles in movies such as High Noon because he didn't appreciate how they portrayed America. His morals represented an era that has come and gone that his longtime fans continue to hold onto, loving the heroes that he played, such as John Elder in The Sons of Katie Elder and Sgt. John M. Stryker in Sands of Iwo Jima.
John Wayne Was 'Disappointed' He Didn't Get an Oscar Nomination For His 'Best Achievement'
John Wayne made it to the Academy Awards three times over the course of his career. However, he only ultimately won a single golden statue. Wayne was "disappointed" that he didn't get an Oscar nomination for She Wore a Yellow Ribbon, which he considered his "best achievement" over the course of his career. Here's a look at how that impacted the legendary Western star.
John Wayne played Capt. Nathan Cutting Brittles in 'She Wore a Yellow Ribbon'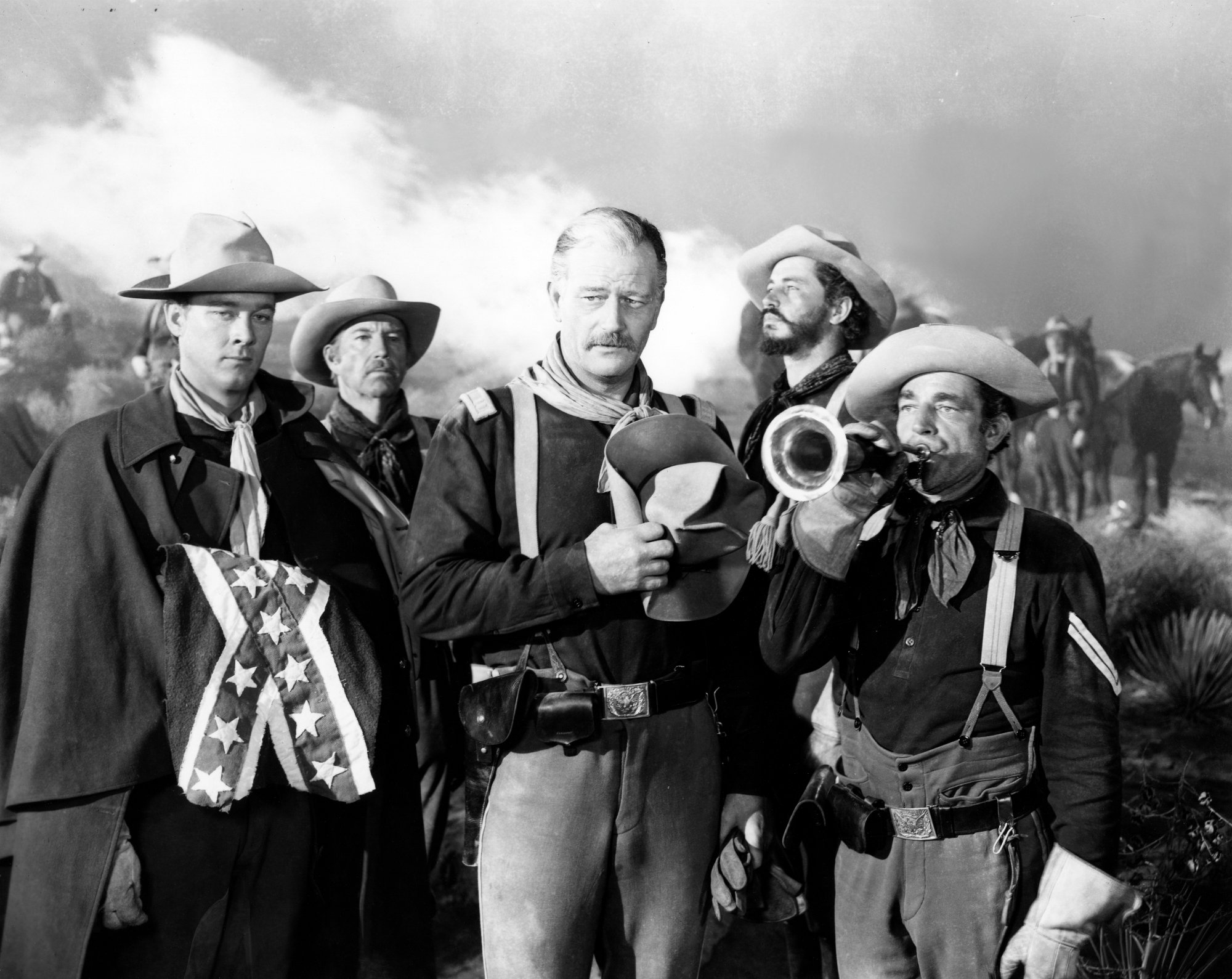 Ben Johnson as Sgt. Tyree and John Wayne as Capt. Nathan Cutting Brittles | Sunset Boulevard/Corbis via Getty Images
She Wore a Yellow Ribbon follows Cavalry Captain Nathan Brittles (Wayne) through the final job of his career before he retires. He seeks to settle an intense situation between the Cheyenne and Arapaho. However, he's also busy transporting the wife (Mildren Natwick) and niece (Joanne Dru) of his superior. Brittles must do all that he can to stop an all-out war from taking place and get them to safety.
John Ford directs a screenplay written by Frank Nugent and Laurence Stallings. It's the second installment in Ford's Cavalry Trilogy, which also contains Fort Apache and Rio Grande. It was one of the most expensive Western movies of its time. Wayne plays a character much older than he was in real life, but Ford trusted him with bringing the character to life.
John Wayne was 'disappointed' that he didn't get an Oscar nomination for 'She Wore a Yellow Ribbon'
John Farkis' Not Thinkin' … Just Rememberin' … The Making of John Wayne's 'The Alamo' walks readers through the iconic actor's career. Wayne wasn't afraid to call out a bad film when he had them, but he also openly talked about the films that he was proud of. His performance as Brittles in She Wore a Yellow Ribbon remains a huge fixture of his career. However, he wasn't the only one singing praises of his own performance.
"I feel strongly that Duke should have been nominated for an Academy Award for his role in She Wore a Yellow Ribbon," co-star John Agar said. "He was just brilliant. Remember, too, I have a lot of scenes with him. He played a guy 20 years older. To me, Yellow Ribbon was the best thing Duke ever did."
Public audiences even felt a similar way. The movie brought in a stunning $9.15 million at the worldwide box office, making it a huge hit. As a result, Wayne knew that he had something special here that kept him involved in acting.
"For the first time, Pappy was treating me like an actor, and he showed me great respect, which I appreciated," Wayne said. "I felt that I'd worked hard and long to reach the stage of my career, having been thinking of giving it up."
Wayne continued: "I was disappointed at not even being nominated for Yellow Ribbon. I had played a man 60 years old, which was 17 years older than I was. I have always believed that this was my best achievement in pictures."
'True Grit' won an Oscar for Best Actor in a Leading Role
She Wore a Yellow Ribbon won an Oscar, but Wayne didn't even get a nomination. Rather, the film won for Best Cinematography. However, the Academy Awards wouldn't ignore Wayne forever. He would get two nominations and the eventual win.
Wayne earned his first Oscar nomination for Sands of Iwo Jima. Next, he got another nomination for The Alamo in the Best Picture category. Finally, he won his only Oscar for Best Actor in a Leading Role for his legendary performance in True Grit. However, he would prove to have a bigger effect on Hollywood than its top award, influencing fight sequences forever.
John Wayne Once Explained Why He Turned Down so Many 'Petty, Mean' Movies
Actor John Wayne is one of Hollywood's most iconic figures to ever work in movies. However, he was very specific about the roles he would accept and the ones that he refused to involve himself in. Wayne once explained why he turned down so many potentially big movies that he described as "petty," "small," and "mean" through the evolution of Hollywood.
John Wayne played particular movie roles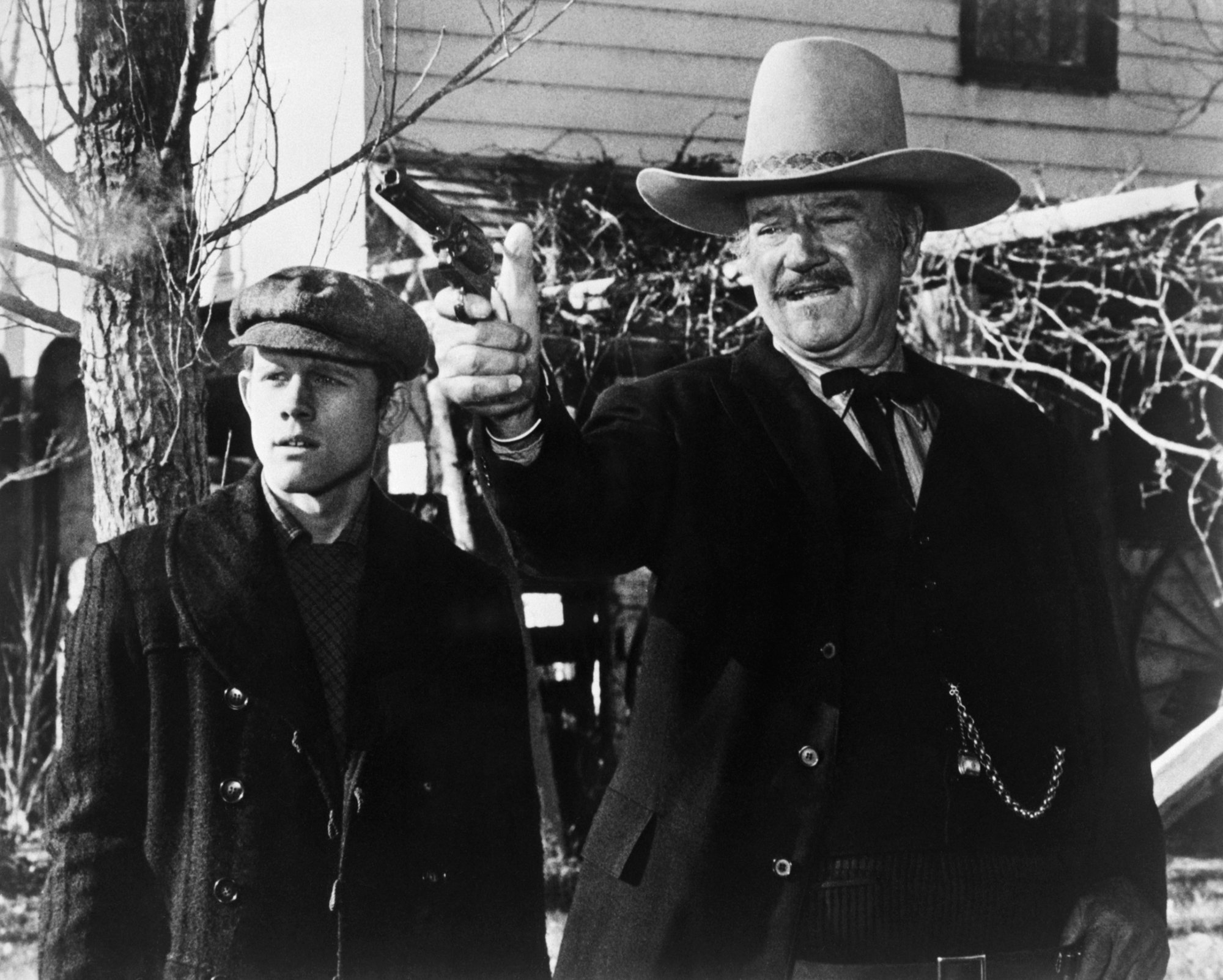 L-R: Ron Howard and John Wayne | Bettmann / Contributor
Wayne has over 180 acting credits to his name, spread across movies and television shows. He became a household name for the Western and war genres, ultimately contributing huge star power to the projects later in his career. However, Wayne also wasn't afraid to speak up when he didn't like something about the movies that wanted him involved. This held true for both prospective projects and ones that he already signed on for.
The actor ultimately turned down projects that earned attention at the Academy Awards, including High Noon. However, it wasn't always because he didn't like the roles themselves. Rather, Wayne was a patriot, who didn't want anything to do with movies that he deemed insulting to the American image.
John Wayne explained why he turned down so many 'petty, mean' movies at the time
Duke, behind the scenes on the set of The Shootist, discussing how he chose his movie roles 💪🏽 What did John Wayne's values mean to you? pic.twitter.com/Fd75E4BKHC

— John Wayne Official (@JohnDukeWayne) April 24, 2018
The official Wayne Twitter account shared a behind-the-scenes look at one of his movies, The Shootist. He talked about the state of violence in cinema, but he also touched on how he chose what to star in. The film hit theaters in 1976, so it's worth taking the time period in mind for what he has to say about "modern" filmmaking.
"The whole idea of our business is illusion and they're getting away from that," Wayne said. "They're putting electric squibs in livers and blowing them up in slow motion and then having blood all over everything. I mean, it's not that there's more violence in pictures today. It's that it's done with such bad taste that people turn their stomachs, not their emotional insides are affected. It turns their stomach. I just don't want to play anything petty or small or mean. I don't mind being rough and tough and cruel, but in a big way, no little petty things."
The actor believed that cinema should be family-friendly
Wayne had a very firm stance when it came to violence in the movies. The rating board once even reached out to the actor to get his input. However, Wayne didn't want any part in it because he didn't think a rating system was necessary. He believed that Hollywood should make motion pictures aimed at the whole family.
Wayne starred in a wide variety of movies that included violence, but they never reached the extremes of what he talked about while filming The Shootist. Today's filmmaking would certainly give him a shock if he were to see how much some movies push the boundaries and make audiences squirm.