10 Great John Wayne Movies Where He Wasn't The Hero
John Wayne often saved the day in dozens of Westerns and war dramas, but there were plenty of great movies where The Duke wasn't the hero. As far back as the late '20s, John Wayne was getting into gunfights, but after he shot to stardom in the '30s with Stagecoach, he became a superstar on the silver screen and a larger-than-life hero that upheld justice by deciding right from wrong with a pair of six-shooters. After his career stabilized, he was able to experiment a little with his on-screen persona and occasionally share top billing or even play a villain.

From the '40s until the '60s, it was rare for actors to branch out too much from the role they occupied with the big studios, who felt audiences were used to only seeing them one way. Some of the best performances of Wayne's career came from being allowed to add nuance, complexity, and flaws to his performances rather than continue to occupy mythological status to his fans. As times change, these are the roles where The Duke's talent shines, though there's no doubt his career taken as a whole is what made his inedible mark on Hollywood.
10The Wake Of The Red Witch (1948)
A rare non-Western for Wayne, The Wake of the Red Witch finds him playing the corrupt and callous Captain Ralls, who scuttles the Red Witch after his employer, a Dutch shipping baron (Luther Adler) steals and marries the woman he loves (Gail Russell). While Wayne's character is complex, Capt. Ralls is a cruel man with an almost diabolical obsession with Angelique, and is often driven to drunken rages in which he beats his crew. The entire movie is shown through the eyes of a member of Ralls' crew (Gig Young), who has a birdseye view of his deplorable behavior in the name of love.
9Stagecoach (1939)
Stagecoach was Wayne's breakout role, but he was one of several prominent actors of the time all appearing as passengers on a stagecoach through inhospitable Apache territory. It was the first of several collaborations with John Wayne and director John Ford wherein The Duke played an outlaw called the Ringo Kid opposite a saloon girl (Clair Trevor), a liquor salesman (Donald Meek), and other colorful characters. Through the ensuing adventure, the group learns to rely on one another and not judge each other based on appearances, particularly true for Wayne's charming rogue.RELATED:John Wayne's First Lead Role Set His Career Back A Decade
8In Harm's Way (1965)
In the Naval drama In Harm's Way, Wayne shared billing with Kirk Douglas, and the pair played two Navy mavericks during Pearl Harbor without a lot of the bravado typical of The Duke's wartime movies. Wayne's Captain Torrey is undisciplined and often succeeds by luck rather than true skill, which not only causes him to be demoted but forces him to reconcile with his estranged son (Brandon de Wilde). Just as he strikes up a romance with a nurse (Patricia Neal), Cmdr. Eddington (Douglas) has a mission for him that will help salvage his reputation.
7The Sons Of Katie Elder (1965)
In The Sons of Katie Elder, John Wayne stars alongside singer Dean Martin, Earl Holliman, and Michael Anderson Jr. as four brothers determined to avenge their parent's death. They come to find their family ranch has been swindled from their deceased parents over a card game, and trouble follows them all around Clearwater, Texas until the epic final showdown. Wayne, post surgery for lung cancer during filming, gives a layered performance as the eldest son and gunslinger, and offers a glimpse of the indefatigable character he would play in his next collaboration with director Henry Hathaway in True Grit.
6The Longest Day (1962)
The Longest Day is one of The Duke's epic war movies from the early '60s, focusing on the trials and tribulations of D-Day from the perspective of both the Allied armies and the German point of view. Wayne plays Lt. Col. Benjamin Vandervoort and shares the screen with a sprawling cast of famous actors including Henry Fonda, Richard Burton, Robert Ryan, and Sean Connery. Vandervoort is a reflection of the film's vibe overall; it is a stripped-down, no-nonsense war movie informed by individuals who had served in WWII, and as such was not pro or anti-conflict, simply concerned with getting every reality about war thoroughly presented.
5The Sea Chase (1955)
Despite the fact that Wayne often played heroes of WWII for the Allied Forces in his war movies, he played a German captain Karl Ehrlich in The Sea Chase. The Duke doesn't use a German accent while he navigates a way home while being pursued by British ships, but does his best to present a German officer who doesn't agree with Nazi politics but is still perceived as the enemy. It's a nuanced performance even though it comes across as an odd choice for Wayne.RELATED:John Wayne's Attempt To Break Out Of Westerns Nearly Killed His Career
4Reap The Wild Wind (1942)
Cecil B. Demille's epic Reap the Wild Wind found The Duke playing Captain Jack Stuart rivaling Ray Milland's Stephen Tolliver for the affections of Paulette Goddard's Loxi Claiborne. Claiborne is a ship salvager in Florida who falls for Wayne's rakish captain after his vessel wrecks on the Key West shore. However, any romance they might pursue is truncated by the arrival of Tolliver, a lawyer who designs on Loxi himself. Wayne straddles the line between hero and antihero and comes across more as a rogue than anything else, complete with The Duke's patented swagger.
3The Man Who Shot Liberty Valance (1962)
The Man Who Shot Liberty Valance is one of Wayne's best movies and a Western with all the intriguing layers of a film-noir, with Wayne playing gunslinger Tom Doniphon opposite Jimmy Stewart's Senator Ransom Stoddard. The senator's platform revolves around who really "shot" the outlaw Liberty Valance and the film changes shape as Stoddard tells onlookers at a funeral the tale of his political origins. Wayne's character is depicted as possibly dubious for his profession of professional killing, but Stewart's lovable reputation as an actor is used to belie the possibility that he's used Doniphon's reputation as the man who truly shot Liberty Valance to his advantage.
2How The West Was Won (1962)
How The West Was Won was a Western epic comprised of sections directed by frequent collaborators Henry Hathaway, John Ford, and George Marshall. Several members of the huge cast of stars, which included James Stewart, Henry Fonda, Gregory Peck, Debbie Reynolds, and countless others played real historical figures, including Wayne who portrayed Gen. William Tecumseh Sherman. At an earlier time in any of their careers, there might not have been the budget to employ so many recognizable Western stars, but in the early '60s, it was possible to assemble them all together.
1Red River (1948)
The Duke played Thomas Dunson in Howard Hawks' Western masterpiece Red River, about a tyrannical cattle driver trying to get a herd to Missouri. The drive represents more than a decade of work building up a herd from two heads of cattle into 10,000, and will set Dunson up for life if he can get it to market. Eventually, his cruelty over the course of the journey inspires a mutiny among the cowboys, instigated by his adopted son. While The Duke often played sterling heroes who could be one-dimensional, Hawks got a powerfully sadistic performance out of John Wayne, making the feud with his son even more heartbreaking.
John Wayne's death was 'ordered' by Joseph Stalin because of star's threat to comm*n*sm
Wayne was renowned for detesting the values of communism, so much so he even played a prominent role in creating the Motion Picture Alliance for the Preservation of American Ideals (MPA) in 1944, becoming President five years later.
Its membership included the likes of Ronald Reagan, Walt Disney and Clark Gable.
For a man so intrinsically linked to stereotypical personas of what a man should look like in the Thirties and Forties, it is a surprise that, unlike his fellow Americans, Wayne did not fight in World War Two.
His contemporaries, such as Gable, Jimmy Stewart, Mel Brooks and Kirk Douglas, all served, but Wayne was excused on medical grounds and instead continued his film career.
John Wayne: The star of the set of Stagecoach (Image: GETTY)
Being unable to serve was a "terrible embarrassment" for Wayne, Carolyn McGivern's 2000 book John Wayne: A Giant Shadow argued. The star reportedly said: "Mine became the task of holding high and ever visible the value that everyone was fighting for."
However, there were counterclaims that Wayne could have served, including by author Marc Eliot, who discussed the topic in his 2014 book American Titan: Searching for John Wayne.
He claimed Wayne did not want to fight Germany on account of his relationship with Marlene Dietrich, a German actress he reportedly had an affair with. Unwilling to end the bonk, Wayne instead just vetoed taking part in the war.
In 2014's publication John Wayne: The Life and Legend, by author Scott Eyman, Wayne, who won the Best Actor Oscar in 1970, described how one encounter affected him while he grew up.
He wrote: "Duke Morrison [Wayne]'s learning experiences were not always pleasant, but deeply imprinted on his ethical compass. He remembered catching a bee, and tying a thread around the creature so all it could do was fly in circles. A boy who was about three years older and had recently arrived from Poland walked by and said, 'Don't do that.'
John Wayne was in so much pain he couldn't sleep when filming Western with Ann-Margret
By the 1970s, John Wayne was coming towards the end of his career as a Hollywood star. In 1973, aged 65-years-old, he had been living with one lung for the best part of 10 years and was suffering from emphysema on the remaining one. That year he released two Westerns, which aren't remembered as his best but saw the ageing icon carry on with much determination. One of these films was The Train Robbers, which co-starred Ann-Margret as a feisty widow who works alongside three cowboys in recovering a cage of gold. Despite his health problems on the movie, Wayne refused to delay filming and strived forwards. Ann-Margret had fond memories of her co-star's tenacity during this period.
Ann-Margret recalled: "Duke was still a strong, rugged, formidable man, larger-than-life and incredibly personal. He was a big teddy bear, and we got along famously. Duke gave me the confidence I lacked."
The Viva Las Vegas star appreciated this given that 1972 had been a very difficult time in her life, having been seriously injured when performing in her Lake Tahoe show. In terms of the confidence boost she needed, the actress had to overcome her fear of horses as there was much riding for her character. It was here that Wayne gave her support and helped her overcome this obstacle. Yet even before shooting started, Duke had fractured two of his ribs, which was so painful he struggled to sleep at night.

John Wayne was in so much pain he couldn't sleep when filming Western with Ann-Margret (Image: GETTY)

John Wayne and Ann-Margret in The Train Robbers (Image: GETTY)
As a result, Wayne's action scenes in The Train Robbers had to be scaled down, with co-star Rod Taylor remembered Duke being "slightly" infirm during the shoot. The Time Machine star said the Western legend had trouble with his balance and understandably needed afternoon naps.
Wayne also released Cahill: US Marshall in 1973, which saw a significantly weakened Duke having to use a stepladder to climb onto a horse. That year also marked the death of his most famous collaborator, the director John Ford.
Upon news of the filmmakers' death that August, Wayne told journalists: "I'm pretty much living on borrowed time."

The Train Robbers poster (Image: GETTY)

Ann-Margret thought John Wayne was a "teddy bear" on set (Image: GETTY)
Duke would go on to make a couple of better-reviewed Westerns in True Grit sequel Rooster Cogburn opposite Katherine Hepburn and The Shootist.
The latter film was his final one and saw him playing a terminally ill gunfighter. The Hollywood icon himself died of cancer just a couple of years later in 1979.
10 Best John Wayne Movies, Ranked by Viewers
'Baby Face' (1933) – 7.5/10The Most Popular John Wayne Movies According to IMDb
'The Longest Day' (1962) – 344
'The Quiet Man' (1952) – 367
'Chisum' (1970) – 1,999
'Rio Bravo' (1959) – 2,355
'The Searchers' (1956) – 2,872
'The Man Who Shot Liberty Valance' (1962) – 2,963
'El Dorado' (1966) – 3,372
'McLintock!' (1963) – 3,664
'Stagecoach' (1939) – 3,905
'True Grit' (1969) – 4,016
1'The Man Who Shot Liberty Valance' (1962)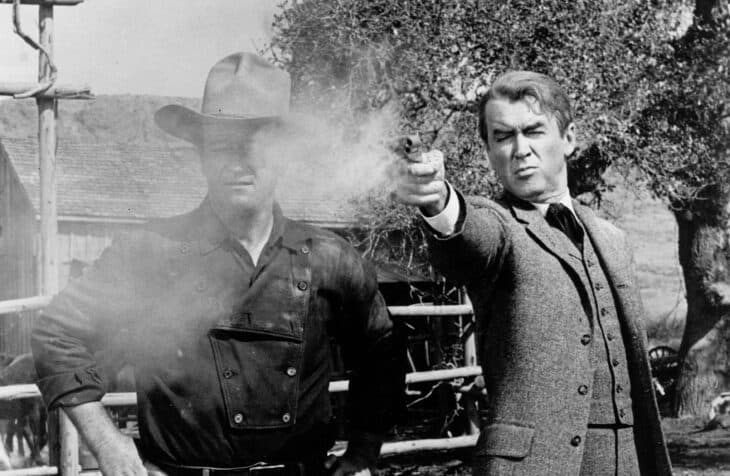 Director: John FordStars: James Stewart, John Wayne, Vera Miles, Lee Marvin
IMDb: 8.1/10 | Metascore: 94 | Popularity: 2,963
John Ford's 1962 classic western 'The Man Who Shot Liberty Valance' is a timeless masterpiece. Featuring performances from James Stewart and John Wayne, the film follows Ransom Stoddard (Stewart) as he arrives in the town of Shinbone, Arizona in pursuit of justice.
 
He quickly meets Tom Doniphon (Wayne), the local lawman, and together they take on notorious outlaw Liberty Valance (Lee Marvin). In a climactic showdown against all odds, the two succeed in defeating Liberty but at what cost?
The movie thoughtfully explores themes of justice and friendship that are still relevant today. Stewart's and Wayne's performances are legendary while the movie's cinematography and score create an unforgettable viewing experience – one that will stay with audiences for generations to come.
2'Rio Bravo' (1959)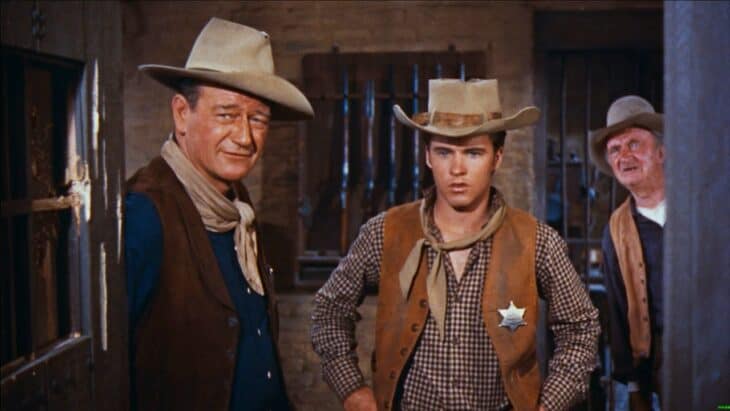 Director: Howard HawksStars: John Wayne, Dean Martin, Ricky Nelson, Angie Dickinson
IMDb: 8.0/10 | Metascore: 94 | Popularity: 2,355
'Rio Bravo' is an iconic Western classic by director Howard Hawks, starring John Wayne, Dean Martin, Ricky Nelson, and more. This beloved film follows the epic tale of Sheriff John T. Chance as he arrests a powerful rancher's brother for murder and defends against his gang until a U.S. Marshal arrives with help from unlikely allies; a cripple, drunkard, and young gunfighter.
Rio Bravo (1959) Official Trailer – Johh Wayne, Dean Martin Western Movie HD
Watch this video on YouTube
 
Despite its small budget of $1 million, 'Rio Bravo' went on to make over five times that at the box office. Its popularity has only grown throughout the years due to its talented cast (John Wayne delivering a powerful performance), memorable characters, and suspenseful plot arc. It remains one of the most unforgettable classics in Western cinema history.
3'The Searchers' (1956)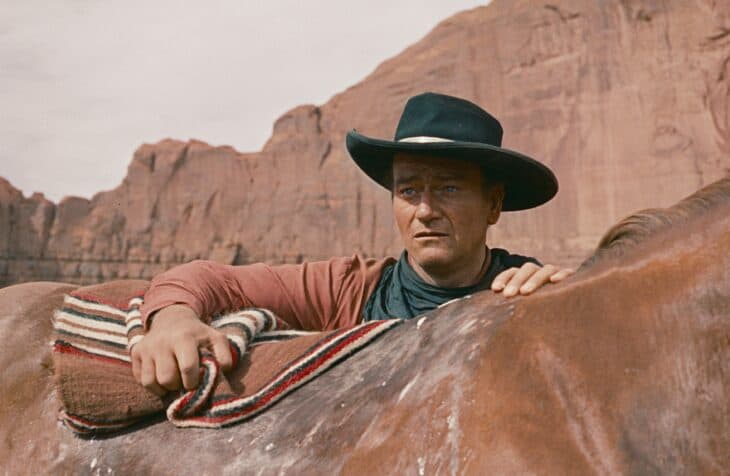 Director: John FordStars: John Wayne, Jeffrey Hunter, Vera Miles, Ward Bond
IMDb: 7.9/10 | Metascore: 94 | Popularity: 2,872
John Wayne's timeless performance in John Ford's 1956 classic "The Searchers" is widely regarded as one of the best westerns ever made. Based on Alan Le May's 1954 novel, the film follows Ethan Edwards, a middle-aged Civil War veteran consumed by his desire to find his abducted niece (Natalie Wood). Along with his adopted nephew Martin (Jeffrey Hunter), Ethan embarks on a quest fraught with danger and emotion.
 
With its complex characters and examination of darker themes, "The Searchers" was both a critical and commercial success upon release and has only grown in popularity over time.
4'Stagecoach' (1939)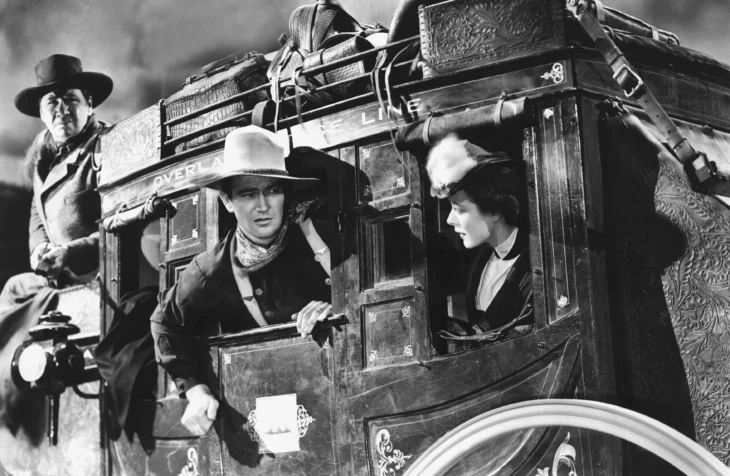 Director: John FordStars: John Wayne, Claire Trevor, Andy Devine, John Carradine, Thomas Mitchell
IMDb: 7.8/10 | Metascore: 93 | Popularity: 3,905
This classic Western film directed by John Ford follows a group of travelers as they make their way from Tonto, Arizona to Lordsburg, New Mexico in a stagecoach. Along the way, they encounter Native Americans and outlaws that challenge them to band together for survival.
 
Starring John Wayne and Claire Trevor, 'Stagecoach' is an enduring cinematic masterpiece with its gripping action sequences and rich characters. The themes of courage in the face of adversity have made this movie timeless while it continues to capture viewers' hearts after over 80 years since its release.
5'Red River' (1948)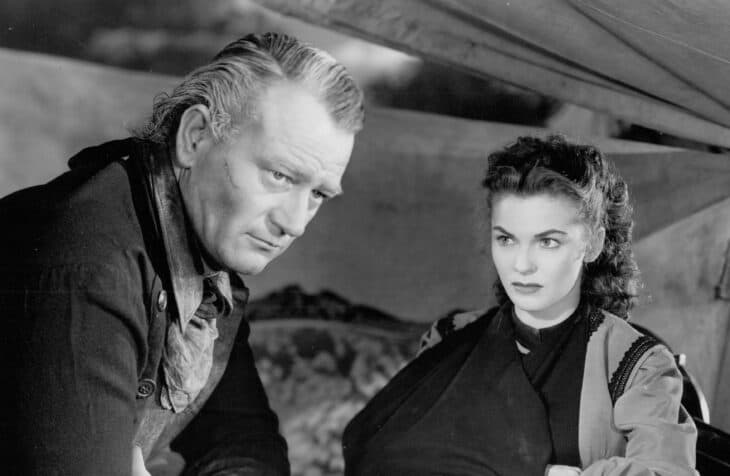 Directors: Howard Hawks, Arthur RossonStars: John Wayne, Montgomery Clift, Joanne Dru, Walter Brennan
IMDb: 7.8/10 | Metascore: 96
A classic Western film from 1948, 'Red River' has stood the test of time and still captivates audiences today. Directed by Howard Hawks and starring John Wayne, Montgomery Clift, Walter Brennan, Joanne Dru, and Coleen Gray in supporting roles, the movie follows the story of a Texas rancher and his adopted adult son as they embark on their first cattle drive from Texas to Kansas along the Chisholm Trail.
As tensions rise between them over managing the cattle drive, viewers are treated to thrilling action sequences amidst stunning cinematography and an emotional score. Along with its memorable characters and gripping drama throughout, 'Red River' remains one of cinema's greatest Westerns ever made.
6'The Longest Day' (1962)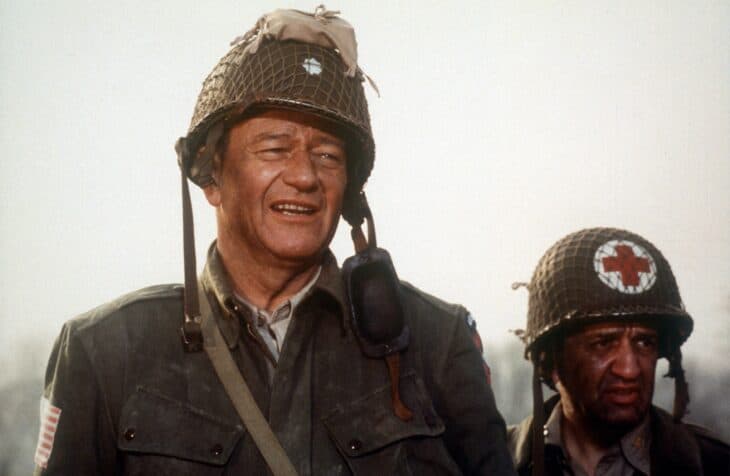 Directors: Ken Annakin, Andrew Marton, Gerd Oswald, Bernhard Wicki, Darryl F. ZanuckStars: John Wayne, Robert Ryan, Richard Burton, Henry Fonda
IMDb: 7.7/10 | Metascore: 75 | Popularity: 344
An epic war movie, 'The Longest Day' is about the Allied invasion of Normandy on D-Day during World War II. Directed by Ken Annakin, Andrew Marton, and Bernhard Wicki, this film features a star-studded cast of John Wayne, Robert Ryan, and Henry Fonda. The story follows several characters from different countries as they fight for the liberation of France in one of the most important battles in history. Through precision camera work and clear storytelling, it conveys a powerful message about courage and sacrifice while still staying true to its historical accuracy.
The Longest Day (1962) Trailer #1 | Movieclips Classic Trailer
 
'The Longest Day' showcases a variety of technical skills that are essential for any successful war movie. It uses dramatic music to emphasize key moments while also relying on voiceover narration to explain complex events or describe emotional scenes with clarity.
7'The Quiet Man' (1952)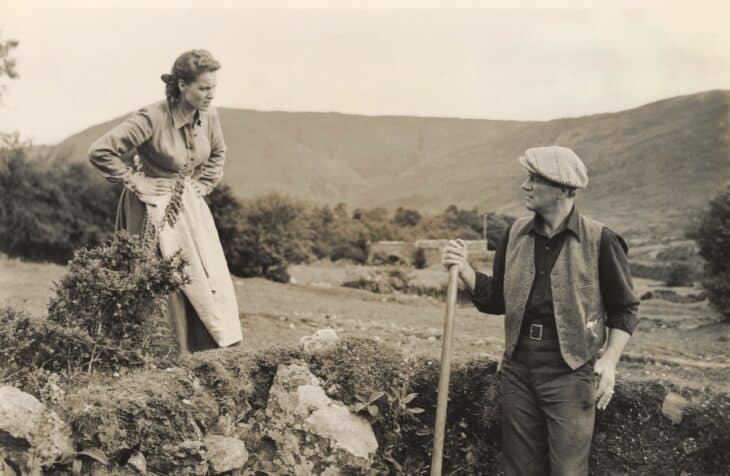 Director: John FordStars: John Wayne, Maureen O'Hara, Barry Fitzgerald, Ward Bond
IMDb: 7.7/10 | Metascore: 85 | Popularity: 367
Returning to his hometown in Ireland, Sean Thornton is a former American boxer looking to reclaim the family farm. He meets Mary Kate Danaher and falls in love with her fiery spirit despite the disapproval of their community. Directed by John Ford, 'The Quiet Man' follows their journey as they strive for happiness together.
The Quiet Man (1952) Trailer #1 | Movieclips Classic Trailers
 
This classic romantic drama stars Maureen O'Hara and John Wayne, both delivering powerful performances that have stood the test of time.
8'The Shootist' (1976)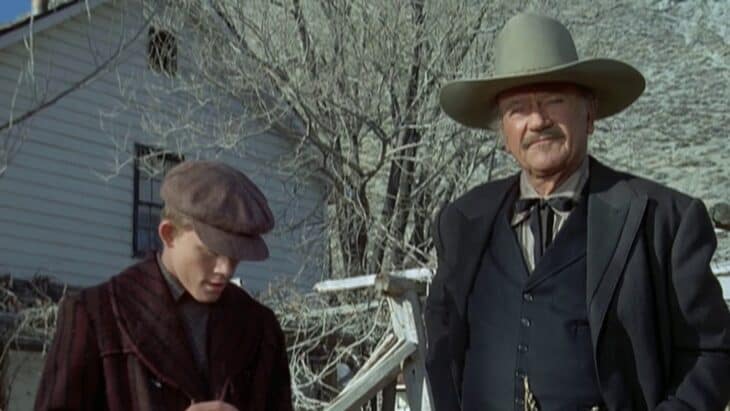 Director: Don SiegelStars: John Wayne, Lauren Bacall, Ron Howard, James Stewart
IMDb: 7.6/10 | Metascore: 77
Directed by the legendary Don Siegel, 'The Shootist' is a critically acclaimed 1976 Western film based on Glendon Swarthout's novel. The movie stars John Wayne in his final acting role before he passed away three years later; it also features Lauren Bacall, Ron Howard, and James Stewart with a screenplay written by Miles Hood Swarthout and Scott Hale.
 
J.B Books (John Wayne) is a renowned gunfighter struggling to accept his looming death as he is diagnosed with cancer and chooses to spend his remaining time in seclusion at a boarding house managed by Lauren Bacall's character–a widow who rents him one room. Despite Book's wishes for peace during these last days, conflict arises when young gunslingers challenge the greatness of Books' reputation as the best shooter.
9'El Dorado' (1966)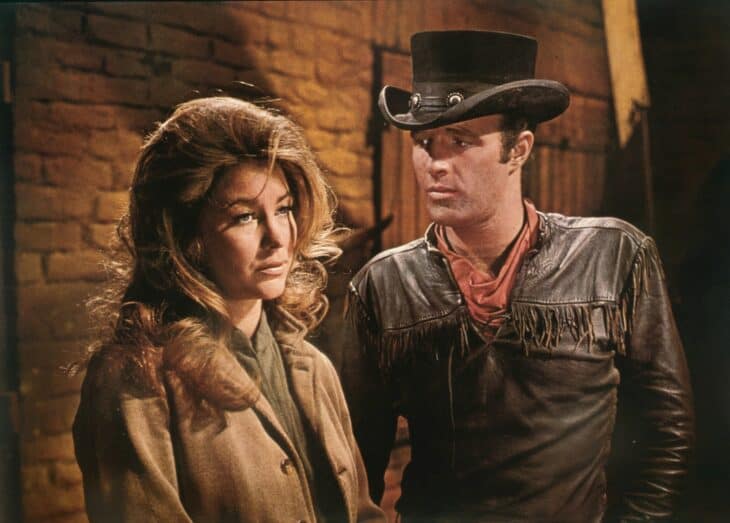 Director: Howard HawksStars: John Wayne, Robert Mitchum, James Caan, Charlene Holt
IMDb: 7.5/10 | Metascore: 85 | Popularity: 3,372
Sheriff J.P. Harrah (Robert Mitchum) embarks on a journey to bring justice to a small town in California and meets up with an old acquaintance, Cole Thornton, who helps him take on a powerful rancher and his gang of criminals. This classic Western movie features action-packed fights, thrilling horse chases, and gun-slinging showdowns – all held together by John Wayne's authoritative presence and Robert Mitchum's charming charisma.
 
With its tightly written plot and well-paced tension throughout, 'El Dorado' is an unforgettable movie experience that stands the test of time as one of the greats of the Western genre.
10'Baby Face' (1933)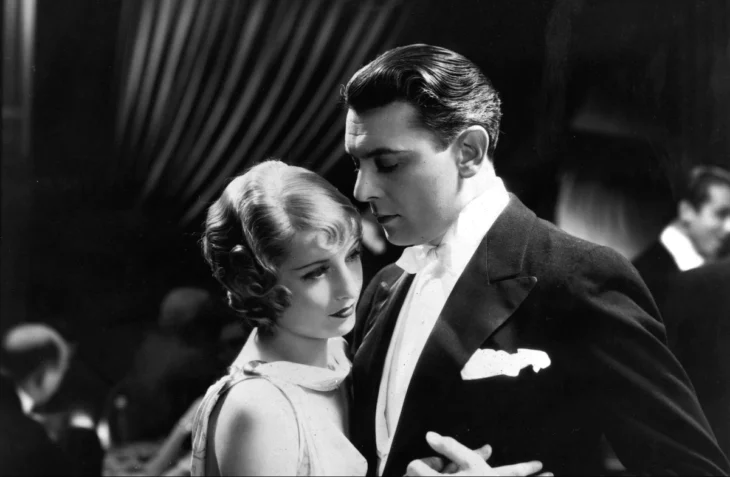 Director: Alfred E. GreenStars: Barbara Stanwyck, George Brent, Donald Cook, Alphonse Ethier
IMDb: 7.5/10
Barbara Stanwyck stars in this classic pre-Code Hollywood drama as Lily Powers, a young woman determined to succeed despite her difficult circumstances. She uses her beauty and wit to seek revenge on the men who have wronged her, learning valuable lessons about power and manipulation along the way.
 
Despite its age and John Wayne's minor role, 'Baby Face' remains an iconic piece of cinema today due to its strong female lead, bold themes, and powerful performance from Stanwyck. It is also an important reminder of how far we have come since 1933 when it comes to gender inequality in America – but also how far we still have left to go.
Popular John Wayne Movies Not Ranked Top 10
Though not ranked the highest amongst the best by viewers, the following films are still very popular.
'Chisum' (1970)