Hollywood and the downwinders still grapple with nuclear fallout
The photograph shows John Wayne with his two sons during a break in filming on the set of The Conqueror, a big budget blockbuster about Genghis Khan shot in the Utah desert in 1954. It was one of Hollywood's most famous mis-castings. The duke could do many things but playing a 13th century Mongol warlord was not one of them. Film geeks consider it one of the great turkeys of Hollywood's golden age.
There is another, darker reason it endures in film lore. The photograph hints at it. Wayne clutches a black metal box while another man appears to adjust the controls. Wayne's two teenage sons, Patrick and Michael, gaze at it, clearly intrigued, perhaps a bit anxious. The actor himself appears relaxed, leaning on Patrick, his hat at a jaunty angle. The box, which rests on a patch of scrub, looks unremarkable. It is in fact a Geiger counter.
It is said to have crackled so loudly Wayne thought it was broken. Moving it to different clumps of rock and sand produced the same result. The star, by all accounts, shrugged it off. The government had detonated atomic bombs at a test site in Nevada but that was more than a hundred miles away. Officials said the canyons and dunes around St George, a remote, dusty town where the film was shooting, was completely safe.
Last week, half a century later, Rebecca Barlow, a nurse practitioner at the Radiation Exposure Screening and Education Program (RESEP), which operates from the Dixie Regional Medical Center in St George, now a prosperous little city with an airport, leafed through her patient records. "More than 60% of this year's patients are new," she said. "Mostly breast and thyroid, also some leukaemia, colon, lung."
This is a story about cancer. About how the United States turned swathes of the desert radioactive during the cold war and denied it, bequeathing a medical mystery which to this day haunts Hollywood and rural Mormon communities and raises a thorny question: how much should you trust the government?
"It's gone into our DNA," said Michelle Thomas, 63, an outspoken advocate for the so-called downwinders, the name given to the tens of thousands exposed to fallout. "I've lost count of the friends I've buried. I'm not patriotic. My government lied to me."
Hollywood is set to remember its own cameo in the story with next year's 50th anniversary of the release of The Conqueror, the film which allegedly killed Wayne plus leading lady Susan Hayward, director Dick Powell and dozens of other cast and crew members. In the meantime there will be another anniversary: this summer it will be 70 years since the Hiroshima and Nagasaki bombs.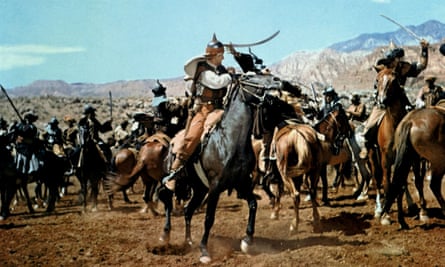 The Conquerer, 1956. Photograph: Allstar/RKO
The Manhattan Project scientists conducted the first atomic tests in great secrecy in 1945 in New Mexico. After the second world war, testing shifted to the southern Pacific Ocean on the grounds of public safety. But the war in Korea and escalating rivalry with the Soviet Union prompted a shift back to the US mainland for greater security. The Atomic Energy Commission (AEC), an agency with near Olympian powers which ran the nuclear programme, selected a government-owned bombing and gunnery range in Nevada partly because winds would blow "radiological hazards" away from Las Vegas and Los Angeles towards "virtually uninhabitable" land downwind to the west, home to ranches and Mormon communities.
From 1951 to 1962 the AEC detonated more than 100 bombs, sending huge pinkish plumes of radioactive dust across the stony valleys and canyons of southern Utah and northern Arizona. It gave each "shot" names like Annie, Eddie, Humboldt and Badger. The official advice: enjoy the show. "Your best action is not to be worried about fallout," said an AEC booklet. Families and lovers would drive to vantage points for the spectacle, then drive home as ash wafted down on their communities. It was a cheap date.
At first the local press cheered the chance to beat the Russians and be part of history. "Spectacular Atomic Explosions Mean Progress in Defense, No Cause For Panic," said an editorial in the The Deseret News. Clint Mosher, a columnist, said he never saw a prettier sight. "It was like a letter from home or the firm handshake of someone you admire and trust.''
Seated in her home in St George last week, Claudia Peterson, 60, another downwinder advocate, gave a wry smile at the memory. "We were Mormons and very patriotic. Perfect guinea pigs. We weren't going to question anything. It was impossible to believe our government would consider us expendable." Peterson has lost a father, sister, daughter and nephew to diseases she attributes at least in part to radiation.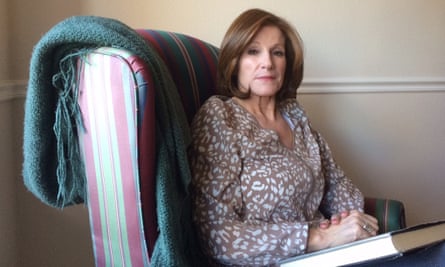 Claudia Peterson, another downwinder, at her home in St George. Photograph: Rory Carroll/The Guardian
Eleven bombs were detonated in 1953, including several between March and June that coated St George and other towns in grey dust. The most notorious were a 51-kiloton shot called Simon and a 32-kiloton shot called Harry (later dubbed Dirty Harry). Thousands of sheep died. An AEC press release blamed "unprecedented cold weather".
A year later St George's 4,800 residents found themselves hosting an exotic invasion of actors, producers, technicians and stuntmen. Howard Hughes, the eccentric head of RKO Pictures, lavished money on what he envisaged as a stirring tale of romance and epic battles on Asia's steppes. The cast and crew filled the motels and enlisted locals as labourers and extras. About 300 Shivwit Indians played Mongol villagers.
Dick Powell, the actor-turned-director, took the gig for the pay check, said his sonNorman, himself a director, speaking from his home near Hollywood. "He told me of these meetings in the middle of the night with Hughes and how weird it was."
Norman, who accompanied his father and worked as a labourer and an extra, recalled hot, dusty weeks filming battle scenes in Snow Canyon, a wind-trap. Nobody worried about radiation. "There was no concern. None."
It was an arduous shoot but left happy memories. "This is the way we like to think of America – people cheerfully helping people because that's simply a good way to live," Wayne recalled. The locals collected autographs and made good money. Everyone seemed to do well except the Shivwit, according to Rob Williams, a California writer who researched the film for a novel he is writing. "They were paid $2 or $3 a day and left to sit in the sun while the stars were in air-conditioned trailers."
The film fared reasonably well at the box office, earning nearly $12m. But risible dialogue ("I feel this Tartar woman is for me, and my blood says, 'take her'") and the duke's efforts to pass as Asian with a Fu Manchu moustache and furry cap convinced no one, least of all Wayne, who was quoted saying the moral was "not to make an ass of yourself trying to play parts you're not suited for". The film became a laughing stock.
And then, as years passed and cast and crew fell sick, it acquired a darker reputation. Powell got lymph cancer and died in 1963. "It got him pretty quickly," said Norman. The same year Pedro Armendáriz, a Mexican actor who played Khan's right-hand man, Jamuga, shot himself after being diagnosed with terminal cancer. Hayward, who played a Tartar princess, died of brain cancer in 1975.
By the time Wayne succumbed to stomach cancer in 1979, The Conqueror had been dubbed an RKO Radioactive Picture. His sons Patrick and Michael battled – and survived – their own cancer scares. Whether out of guilt or some other reason, Hughes bought up all the copies of The Conqueror and reputedly watched it every night in his final, reclusive years.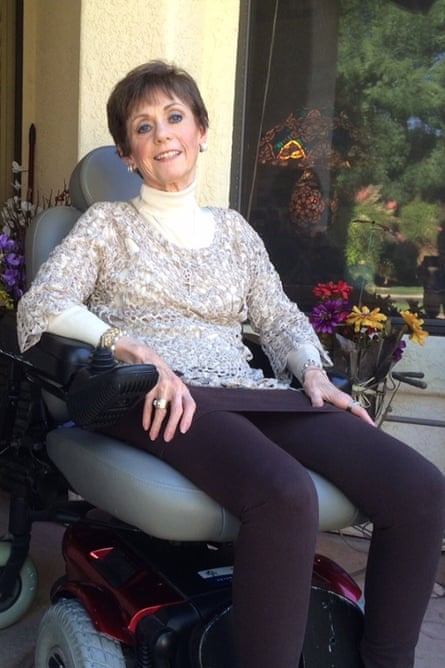 Michelle Thomas at her home in St George, Utah. Photograph: Rory Carroll/The Guardian
A People magazine article in 1980 reported that of 220 cast and crew, 91 had contracted cancer, with 46 of them dying. No bombs were tested during the filming, but the article quoted Robert Pendleton, director of radiological health at the University of Utah, saying radioactivity from previous blasts probably lodged in Snow Canyon. It also attributed an immortal quote to a scientist from the Pentagon's defense nuclear agency: "Please, God, don't let us have killed John Wayne".
Did the US kill its own embodiment of grit and patriotism? The answer is: probably not. His chain-smoking of up to four packs of cigarettes a day was a likelier cause of death, according to his widow, Pilar. Many of the rest of The Conqueror's cast and crew were also heavy smokers. Norman quit in his 20s and is today a vigorous 80-year-old who hikes and pumps iron. He thinks radiation was, at most, a contributory factor to his father's death. Wherever it comes from, cancer haunts him. "My father, mother, youngest daughter and five of my closest friends died of cancer. I hate that fucking disease."
The approximately 100,000 people who lived in the three-state fallout zone north and east of the testing site are more likely to have been affected than the Hollywood visitors. For years they inhaled contaminated dust and ingested contaminated food and milk. In the early 1960s, multiple cases of childhood leukaemia and adult cancers began to appear, a shocking novelty because Mormons, who shun alcohol and tobacco, typically have low cancer rates. A study published in the Journal of the American Medical Association in 1984 compared those in the fallout area with other Mormons and found leukaemia levels five times higher.
Thomas was in her mother's womb in 1951 when testing started. As a child she would duck under her desk during nuclear drills only to be sent out to play, she said, in a school yard coated with ash.
Her mother, Irma, waged a lonely campaign warning of the dangers. "She wrote letters and made a chart with rows of square boxes representing homes in our neighbourhood. Whenever someone got a disease she put a cross in the box." As a cheerleader with beauty pageant ambitions, Thomas was embarrassed by this kooky-seeming activism – until she was stricken with polymyositis, a debilitating loss of muscle mass. Later, she got breast cancer. She survived, but her mother succumbed to cancer.
Speaking last week from a wheelchair in the yard of her St George home, Thomas was an acerbic, outspoken advocate for downwinders. "You have to forgive me if I don't give a shit about John Wayne. They rewrote my DNA. They rewrote my life."
Government scientists, drawing on data from Nagasaki and Hiroshima, used to visit schools to check thyroids and radioactivity levels, recalled Peterson, another advocate. "They wore black suits like the Blues Brothers. They knew what was happening."
Above-ground testing paused in 1959 and briefly resumed in 1962, after which it went underground, where hundreds more bombs were detonated (including some on behalf of Britain's nuclear programme) until a moratorium in 1992.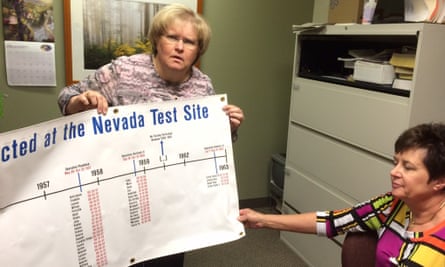 Rebecca Barlow, left, and Carolyn Rasmussen, right, at the RESEP clinic in St George. They display a sheet detailing above ground nuclear tests in Nevada. Photograph: Rory Carroll/The Guardian
Government denials about any cancer-causing fallout unravelled in the 1980s, when lawsuits uncovered internal AEC reports showing scientists and bureaucrats downplayed and distorted evidence. Congress passed the Radiation Exposure Compensation Act in 1990, establishing a fund for downwinders with cancer and serious illnesses apparently linked to above-ground nuclear weapons testing. Compensation is capped at $50,000 per person.
The fund has disbursed about $2bn and is set to continue until first-generation downwinders have died out. Their children and grandchildren, regardless of any health problems, are excluded. The Radiation Exposure Screening and Education Program (RESEP) has eight clinics in the region. They diagnose and advise about treatment, which is free if you qualify.
The clinic in St George, a bright, modern facility, has received an average of 140 new patients every year for the past five years. Barlow, the nurse practitioner, and Carolyn Rasmussen, a counsellor and case manager, hear recollections of watching sunburst explosions, sweeping ash from porches and watching relatives die.
"Listening is part of the job," said Rasmussen. "Some people are grateful we're here, others are just angry and resentful about what happened," Barlow said, nodding. "Some won't take the money because they think it's blood money. We tell them the government that created this programme is different from the government that did the testing."
Multiple factors cause cancer and we will never know if radiation contributed to John Wayne's death. But there is no doubt the atmospheric nuclear testing programme wrought a terrible toll on many families. Peterson, the activist who has lost multiple relatives, had an epiphany when she visited bereaved families in Kazakhstan, where the Soviet Union did its own testing. "I was afraid of these people my whole childhood and then discovered they weren't monsters. It was our own governments that were killing us."
John Wayne Had One Big Problem With Being Part Of Plays
John Wayne gets a bit of a bad rap as an actor. Yes, he mostly made star vehicles after his breakthrough performance in John Wayne's "Stagecoach," but he was willing to challenge himself (and his audience) by playing unlikable protagonists in Howard Hawks' "Red River" and Ford's "The Searchers." He had an acute understanding of film acting, and, according to Ron Howard (who worked alongside the Duke in his final film, Don Siegel's"The Shootist"), could make minor adjustments on the fly that would turn an otherwise ordinary scene into a classic Wayne moment.
 
But did anyone want to see John Wayne play King Lear on Broadway? Not particularly. At least, not because they thought it would be good.
Wayne was not a classically trained actor. He found his way to motion pictures because Tom Mix owed a favor to legendary USC football coach Howard Jones. When Wayne was forced to quit the team, Mix and Ford brought the young man into their extended company. Even then, Wayne acted opposite many of his era's finest performers: James Stewart, Barbara Stanwyck and Henry Fonda, all of whom got their start on the boards. Did any of their zeal for the theater rub off on Wayne?
The Duke's theatrical career was… not to be20th Century FoxDuring a wide-ranging 1976 Q&A on "The Phil Donahue Show," Wayne was asked if he'd ever performed on stage, and, if not, did he have any inclination to do so.
"Well, I was in high school plays and that sort of thing," said Wayne. "And we did a charity thing of [Maxwell Anderson and Laurence Stalling's play] 'What Price Glory?' earlier in my career, where all the stars in Hollywood did parts." Wayne, however, was scarred by an oratory contest in his youth, where he recited Shakespeare, and couldn't remember his lines. From that point forward, it was only movies for the Duke. "I kind of like it the way it is," he said. "You get another chance if you blow a line."
Given Wayne's Irish ancestry, he might've been worth seeing in a Sean O'Casey play, or a filmed adaptation of one. His mentor Ford directed a movie of O'Casey's masterpiece "The Plough and the Stars" in 1935, but opted for Preston Foster to star opposite Stanwyck. This production was a miserable experience for Ford, so it was probably best for Wayne to steer clear, especially since he had yet to make the leap from Poverty Row Westerns to the gunslinging big time in "Stagecoach."
If, however, you're curious as to what Wayne's Macbeth might've sounded like, Robin Williams gave us an amusing glimpse in "Dead Poets Society."
Furious John Wayne blasted 'degrading' film by his biggest Hollywood rival
Wayne had famously turned the lead role of Will Kane in High Noon down. He believed the story of an honourable former marshal forced to stand alone against vicious outlaws after the cowardly townsfolk abandon him was a thinly veiled attack on Hollywood for failing to stand behind the many who were being accused of communist ties and blacklisted.Wayne was a vocal supporter of blacklists and took pleasure and some credit later for High Noon writer (and former communist party member) Carl Foreman being charged and immigrating to Britain in 1952 after making the film.
The Duke called High Noon "the most un-American thing I've ever seen in my whole life," but showed grace by agreeing to accept Cooper's Oscar for him with a pointed but charming speech.
At that time Cooper had not publicly come out against blacklists and they were friends, but his stance would change through the 1950s, putting him on the opposite side of the battle from John Wayne.
He pursued morally ambiguous roles with tortured central characters in films like 1958's Man of the West, themes that were anathema to straight-laced, straight-shooting Wayne. In 1959, he formed his own production company and further explored characters seeking redemption.
One film, in particular, enraged Wayne, specifically because of his devotion to his idealised view of the US military.
DON'T MISS'Outraged' John Wayne was restrained during Marlon Brando's Oscar winJohn Wayne's wife almost shot him in jealous rageJohn Wayne shot co-star in the back and was reminded of it in his will
Gary Cooper and Rita Hayworth on the set of They Came to Cordura (Image: GETTY)In 1959's They Came to Cordura, Cooper played an army Major disgraced and charged with cowardice who must accompany a group of soldiers who will be honoured with the Congressional Medal of Honour for extreme valour. The film, however, questions their honour and merit and Wayne was horrified.
Wayne raged: "How they got Gary Cooper to do that one! To me, at least, it simply degrades the Medal of Honour. The whole story makes a mockery of America's highest award for valour. The whole premise of the story was wrong, illogical, because they don't pick the type of men the movie picked to win the award, and that can be proved by the very history of the award."
Cooper's own company, of course, had actually produced the film. However, there was no time for real animosity between the stars, because Cooper's life was about to abruptly and tragically end.
On May 13, 1961, the star died, aged just 60. Wayne joined the biggest names in Hollywood including James Stewart, Marlene Dietrich, Frank Sinatra, Audrey Hepburn and Fred Astaire when he attended the actor's funeral. So beloved was the star that when news had first spread about his battle with cancer, even Queen Elizabeth II had sent a personal telegram.
John Wayne's 10 Best Movies, Ranked According to Rotten Tomatoes
John Wayne was one of Hollywood's greatest stars and is universally recognized for his iconic roles in films such as Rio Bravo, The Man Who Shot Liberty Valance, and The Shootist. After his breakout role as The Ringo Kid in John Ford's 1939 movie, Stagecoach, the Duke became one of the most popular leading men in cinema with tough, masculine characters like Ethan Edward from The Searchers and True Grit's Rooster Cogburn.
There are a dozen of non-Western Wayne movies like The Quiet Man and Donovan's Reef, but a majority of movie fans consider Wayne to be a pioneering Western star who solidified the standards of the classic genre. Out of his extensive career and exceptional filmography, including El Dorado and Sands of Iwo Jima, they are among Wayne's highest-rated movies, according to Rotten Tomatoes.
10'The Searchers' (1956)
Image via Warner Bros
Rotten Tomatoes Rating: 94%
Ethan Edwards returns home after the Civil War and learns that his brother and his family were killed by Native Americans. When Ethan receives word that his niece, Debbie (Natalie Wood), is still alive, he and his nephew (Jeffrey Hunter) set out into the dangerous wilderness to bring her back home.
RELATED:The 10 Highest Grossing Westerns Of All Time
Ford's epic Western, The Searchers, is a signature Duke film as well as a major influence and inspiration for future filmmakers. Director David Lean watched the movie several times to prepare to film landscape scenes in his Oscar-winning movie, Lawrence of Arabia. Other notable directors like Steven Spielberg, George Lucas, and Martin Scorsese have also paid tribute to The Searchers in their work.
9'Rio Bravo' (1959)
Rotten Tomatoes Rating: 96%
When Sheriff John Chance arrests the son of a wealthy ranch owner, Joe Burdette (Claude Akins), for murder, his brother (John Russell) and his men are prepared to break Joe out of jail. With the help of a brave recovering alcoholic (Dean Martin), a young cowboy (Ricky Nelson), and an elderly spitfire (Walter Brennan), Chance defends his post and fights the outlaws off long enough until reinforcements arrive.
Regarded as one of director Howard Hawks' finest films, Rio Bravo is a slow-burning Western noted for its extended opening scene with no dialogue. Director and avid Hawks admirer Quentin Tarantino ranks Rio Bravo as his favorite Wayne Western as well as a "hang-out" movie that went on to inspire his underrated heist movie, Jackie Brown. The story and setting of Rio Bravo were also the inspiration behind John Carpenter's 1976 movie Assault on Precinct 13.
8'Stagecoach' (1939)
Rotten Tomatoes Rating: 100%
A group of strangers in Arizona board a stagecoach headed to New Mexico when a notorious outlaw known as the Ringo Kid escapes from prison. With a dangerous criminal on the run, U.S. Marshal Curly Wilcox (George Bancroft) accompanies the stagecoach. Along the way, he finds Ringo, but instead of finding a ruthless gunslinger, Ringo turns out to be a man worthy of a second chance when he helps the marshal protect the stagecoach on its long journey.
According to John Wayne: The Life and Legend by Scott Eyman, Wayne never aspired to be an actor, and originally, he had attended the University of Southern California on a football scholarship to study pre-law, but after a career-ending injury, he lost his scholarship and had to drop out. His coach, Howard Jones, got him a job as a prop boy and extra for a Ford production, and after playing a few small roles, Ford cast the future star in his groundbreaking Western, Stagecoach.
7'Fort Apache' (1948)
Rotten Tomatoes Rating: 100%
After the Civil War, Kirby York and his men think he will replace the outgoing commander of Fort Apache, but to their surprise, his replacement is a former general and an arrogant West Point graduate, Owen Thursday (Henry Fonda). Thursday arrives at the fort with his daughter (Shirley Temple), but his ignorance towards the American Indians and desire to reclaim his former glory days cause him to clash with Kirby and his new company.
Fort Apache is another top-tier Western directed by Ford that's widely regarded as one of the first films to portray an authentic and sympathetic view of Native Americans and their culture. The movie is also the first installment in Ford's Cavalry Trilogy, including She Wore a Yellow Ribbon and Rio Grande, both starring Wayne.
6'Red River' (1948)
Rotten Tomatoes Rating: 100%
Thomas Dunson owns a cattle ranch in Texas, and when he needs money after the Civil War, he plans to take his cattle to Missouri, where he can get a better price. With the help of his faithful ranch hand, Groot (Brennan), and his young protégé, Matt (Montgomery Clift), they lead the cattle to their destination, but the strenuous and exhausting journey starts to take a toll on them.
Red River is another Western directed by Hawks, who made a total of five movies with Wayne. While Ford directed Wayne in some of the greatest Westerns, the director was blown away by his performance in Red Riverand jokingly commented, "I didn't know the big son-of-a-b*tch could act!" Footage from Red River was also used in Wayne's final film, The Shootist, to establish his character's backstory.
5'Sands of Iwo Jima' (1949)
Rotten Tomatoes Rating: 100%
During World War II, a group of Marines stationed in the Pacific resents their commanding officer, Sergeant John Stryker, and his brutal training methods and coarse attitude. As the fighting progresses, the Marines realize Stryker has been preparing them for the terrifying reality of combat. If they want to survive one of the war's worst battles, they must follow Stryker and his strategic battle tactics.
Sands of Iwo Jima is a historical film based on one of the bloodiest battles of World War II; the Battle of Iwo Jima. The movie features three surviving Marines of Iwo Jima, including Navy corpsman John Bradley, who was the subject of his son's book, Flags of Our Fathers. In 2006, the book was adapted into a film of the same title and directed by another Western icon, Clint Eastwood.
4'The Comancheros' (1961)
Image via 20th Century
Rotten Tomatoes Rating: 100%
Texas Ranger, Jake Cutter, is tasked with finding a gambler, Paul Regret (Stuart Whitman), who manages to escape a date with the gallows and return him to Louisiana. Cutter can track Regret down and take him into custody, but along the way, they cross paths with a group of outlaws known as The Comancheros forcing Cutter and Regret to work together to stop the lawless gunslingers.
The Comancheros is based on the 1952 novel written by Paul Wellman that was originally purchased by the director George Stevens who wanted the film to be his next project afterGiant. Stevens became interested in adapting The Diary of Ann Frank and sold The Comancheros rights to Fox. Fox originally wanted Gary Cooper and James Garner, but due to Cooper's failing health and a conflict between Garner and Warner Bros. Studio head, Jack L. Warner, they were ruled out. Once Wayne was on board, the script was rewritten by the actor's regular writer, James Edward Grant, who collaborated with Wayne on 12 projects.
3'The Sons of Katie Elder' (1965)
Image via Paramount 
Rotten Tomatoes Rating: 100%
Four brothers return home to attend their mother's funeral and soon discover their father was murdered the night he gambled away the family ranch. The brothers agree to avenge their father and win back their home, but the situation quickly takes a deadly turn into serious trouble with the local sheriff and a rival family, The Hastings.
The Sons of Katie Elder reunited Wayne with Martin six years after starring together in Rio Bravo and also stars Dennis Hopper, George Kennedy, and Jeremy Slate. Before filming, Wayne had been diagnosed with lung cancer and underwent surgery to remove one of his lungs and two of his ribs. Despite the dire diagnosis and operation, the Duke insisted on performing his own stunts.
2'El Dorado' (1966)
Rotten Tomatoes Rating: 100%
Land tycoon Bart Jason (Edward Asner) recruits a group of men to force the MacDonald family out of town to claim their land. The local sheriff, J.P. Harrah (Robert Mitchum), is too deep in a bottle to help the family, and when word about the incident reaches his friend and gunslinger, Cole Thornton, Thornton and his partner, Mississippi (James Caan) travel to El Dorado to help Harrah shape up in time to fight Jason's group of thugs.
Film critic, Roger Ebert, gave Hawks' El Dorado three-and-a-half out of four stars, calling it a successful Western that was effortlessly pulled off by three pros of the genre; Wayne, Mitchum, and Hawks. The movie is the second of Hawks that focuses on a sheriff defending his post against ruthless bandits, coming after Rio Bravo and before Rio Lobo, all featuring Wayne in the same similar role.
1'The War Wagon' (1967)
Image via Universal
Rotten Tomatoes Rating: 100%
After being shot by gunslinger Lomax (Kirk Douglas) and serving a sentence for a crime, he didn't commit; rancher Taw Jackson is released from jail and out for revenge. Instead of hunting Lomax down, he and the gunslinger join forces to rob mining tycoon Frank Pierce (Bruce Cabot), who set Jackson up. The two plan to rob one of Pierce's gold shipments carried by a heavily guarded stagecoach, and while they know it won't be an easy task, the half-a-million-dollar payday makes it all worth it.
In 1966, Wayne signed a contract with Universal Studios to star in two films, The War Wagon and The Green Berets. Unlike Wayne's other characters, he plays a villain for the first time in The War Wagon, but the movie's considered a rare Western with humor and outstanding performances. The movie also stars Keenan Wynn, the son of character actor Ed Wynn, and Oscar nominee Bruce Dern, who is the father of actress Laura Dern.