12 Best Lee Marvin Movies Ranked
From The Big Red One to The Man Who Shot Liberty Valance, some Lee Marvin movies rank among the greatest films ever made. Marvin first rose to prominence in the 1950s and early 1960s with his villainous roles as "the heavy" in Westerns and film noirs, but he eventually transitioned into lead roles and revolutionized Hollywood filmmaking with the introduction of the antihero. Marvin's most iconic characters, like Walker in Point Blank and Major John Reisman in The Dirty Dozen, helped to bring morally gray protagonists into mainstream productions, paving the way for characters like John Wick and Snake Plissken.
Throughout his storied career, Marvin won an Academy Award, a BAFTA Film Award, and a Golden Globe. Decades after he passed away, Marvin remains a timeless icon of the silver screen whose performances continue to thrill audiences to this day. Marvin is one of the few "tough guy" movie stars to have real-life grit, having earned a Purple Heart for his service as a U.S. Marine during World War II. From classic neo-noirs like The Killers to famed Westerns like The Professionals, there are a ton of great Lee Marvin movies for fans of his to enjoy.
12Paint Your Wagon (1969)
A mixture of the two Hollywood genres that dominated the 1960s – Western and musical – Paint Your Wagon follows a pair of prospectors who share a wife in a California gold rush mining town. Paint Your Wagon was panned by critics at the time of its release, with its logged reviews scoring just 33% on Rotten Tomatoes, but it's now remembered as a cult classic. Spoofed in everything from The Simpsons to The Muppet Show, Paint Your Wagon is famous for casting Lee Marvin and fellow Western movie tough guy Clint Eastwood against type in a lighthearted musical.
RELATED:Why Clint Eastwood Hates The One Musical Movie He Ever Made
11Monte Walsh (1970)
Lee Marvin gave one of the most nuanced performances of his career in the title role of Monte Walsh. Helmed by cinematographer William A. Fraker in his directorial debut, it's a touching neo-Western about an aging cowboy in an evolving American West. It deals with the same themes as Unforgiven in a lighter, more nostalgic way. At a time when dark, gritty, subversive anti-Westerns were becoming more popular, Monte Walsh offered a refreshingly optimistic look at the final days of the Old West. It's an earnest movie with real emotional depth.
10The Killers (1964)
Based on the short story of the same name by Ernest Hemingway, The Killers revolves around two professional hitmen who try to figure out the mysterious nature of their assignment when their latest target doesn't try to run. Lee Marvin and Clu Gulager star as the bickering hitmen in this classic Don Siegel neo-noir. The 1964 version of The Killers might not be as well-crafted or influential as Robert Siodmak's original adaptation from 1946, but it's still a gritty, exciting hitman thriller, and Marvin is wholly convincing as a cold-blooded contract killer.
9The Comancheros (1961)
Although The Comancheros is a starring vehicle for John Wayne, Lee Marvin has a small but memorable role as gun runner Tully Crow. The Comancheros revolves around a Texas Ranger, played by Wayne, reluctantly teaming up with his prisoner, a gambler played by Stuart Whitman, to take down some shady arms dealers. Helmed by Casablanca director Michael Curtiz (his final filmmaking job before his death), The Comancheros has gorgeous CinemaScope visuals and plenty of action to keep the audience excited. Thanks to its universal critical acclaim, The Comancheros holds a rare 100% approval rating on Rotten Tomatoes.

8The Iceman Cometh (1973)
Adapted from Eugene O'Neill's classic play of the same name, The Iceman Cometh revolves around a group of drunken dead-enders living in a flop house above a saloon, whose most successful friend embraces sobriety and suggests that they do the same. John Frankenheimer's stunning film adaptation brings O'Neill's seminal stage play to life with impeccable performances from a cast including Lee Marvin. Fredric March plays the lead role of Harry Hope, but Marvin steals the show as Theodore "Hickey" Hickman. The Iceman Cometh manages to hold the audience's attention for nearly four hours.
7The Professionals (1966)
The Professionals begins with a cocky Texas millionaire hiring a band of four gunslingers – played by Lee Marvin alongside Burt Lancaster, Robert Ryan, and Woody Strode – to rescue his kidnapped wife from an infamous Mexican bandit. However, when they find the wife, they're surprised to learn that she doesn't want to be saved. The Professionals is a no-nonsense Western classic with a tight-knit troupe of heroes and a surprising twist. It remains a staple of pop culture; it was referenced in Reservoir Dogs, with mob boss Joe Cabot repeating Marvin's line "Let's go to work."
6The Big Red One (1980)
The Big Red One is a powerful, captivating war epic drawn from writer-director Samuel Fuller's own experiences with his military unit, the 16th Regiment of the 1st Infantry Division, whose insignia was a big red "1" (via Britannica). Lee Marvin stars as a gruff commanding officer who leads his troops into battle in World War II while still grappling with the guilt of unwittingly killing a surrendering German officer several hours after World War I ended. The Big Red One is often listed as one of the greatest and most historically accurate war films ever made – especially the "Reconstruction" cut, which restored Fuller's original vision.
5Bad Day At Black Rock (1955)
Spencer Tracy stars in the neo-Westen film Bad Day at Black Rock as John J. Macreedy, a stranger who wanders into a small town in the middle of nowhere in 1945 and uncovers a dark conspiracy that grips the entire community. Lee Marvin gives a memorably sinister turn as a villain: local troublemaker Hector David. The John Sturges film was universally praised by critics, with a near-perfect 97% rating on Rotten Tomatoes. Bad Day at Black Rock was one of the earliest revisionist Westerns, deconstructing the genre when it was still in its heyday.
4Cat Ballou (1965)
Cat Ballou is a delightful Western comedy in contrast with the darker Westerns that were getting made at the time. Jane Fonda stars, in her breakout role, as the titular Catherine "Cat" Ballou, who hires a notorious gunfighter to protect her father's ranch from another notorious gunfighter. Both gunfighters are played brilliantly by Lee Marvin, cast against his usual tough-as-nails on-screen persona with a sillier comedic character. Marvin won the Academy Award for Best Actor — and several other major awards — for his dual roles as a hero and villain. The American Film Institute listed Cat Ballou as the 10th greatest Western ever made.
3The Dirty Dozen (1967)
An all-time classic of the war film genre, The Dirty Dozen is the quintessential guys-on-a-mission World War II movie. Marvin stars as Major John Reisman, who is assigned a war movie squad of convicted murderers to take behind enemy lines to kill German officers en masse. The titular dozen is rounded out with some of the most legendary actors in Hollywood history, from Charles Bronson to Donald Sutherland to Jim Brown to Telly Savalas to John Cassavetes. Marvin ably leads the all-star ensemble cast with the grit and guile of a battle-hardened war veteran.
2The Man Who Shot Liberty Valance (1962)
When a U.S. senator played by James Stewart returns to his old frontier town for the funeral of a friend played by John Wayne, The Man Who Shot Liberty Valance tells his complicated backstory in flashbacks. Marvin plays the titular outlaw in one of his most iconic villain performances. The Man Who Shot Liberty Valance is hailed as one of John Wayne and director John Ford's best movies together. Its cynical telling of a grisly, violent story introduced a previously unheard-of sense of pessimism to the Western genre, which influenced the creation of the Spaghetti Western in Italy.

RELATED:10 Cruelest Bad Guys In Westerns
1Point Blank (1967)
After being double-crossed and left for dead, a mysterious man known only as Walker goes on a roaring rampage of revenge to retrieve the money that was stolen from him in John Boorman's Point Blank. Walker, a man of few words ruthlessly seeking vengeance, is not only one of the defining roles of Lee Marvin's movie career but one of the earliest antiheroes in a Hollywood production. With its breathtaking minimalist thrills, Point Blank has become one of the most influential action movies ever made, inspiring everything from John Wick to Mulholland Drive.
John Wayne's death was 'ordered' by Joseph Stalin because of star's threat to comm*n*sm
Wayne was renowned for detesting the values of communism, so much so he even played a prominent role in creating the Motion Picture Alliance for the Preservation of American Ideals (MPA) in 1944, becoming President five years later.
Its membership included the likes of Ronald Reagan, Walt Disney and Clark Gable.
For a man so intrinsically linked to stereotypical personas of what a man should look like in the Thirties and Forties, it is a surprise that, unlike his fellow Americans, Wayne did not fight in World War Two.
His contemporaries, such as Gable, Jimmy Stewart, Mel Brooks and Kirk Douglas, all served, but Wayne was excused on medical grounds and instead continued his film career.
John Wayne: The star of the set of Stagecoach (Image: GETTY)
Being unable to serve was a "terrible embarrassment" for Wayne, Carolyn McGivern's 2000 book John Wayne: A Giant Shadow argued. The star reportedly said: "Mine became the task of holding high and ever visible the value that everyone was fighting for."
However, there were counterclaims that Wayne could have served, including by author Marc Eliot, who discussed the topic in his 2014 book American Titan: Searching for John Wayne.
He claimed Wayne did not want to fight Germany on account of his relationship with Marlene Dietrich, a German actress he reportedly had an affair with. Unwilling to end the bonk, Wayne instead just vetoed taking part in the war.
In 2014's publication John Wayne: The Life and Legend, by author Scott Eyman, Wayne, who won the Best Actor Oscar in 1970, described how one encounter affected him while he grew up.
He wrote: "Duke Morrison [Wayne]'s learning experiences were not always pleasant, but deeply imprinted on his ethical compass. He remembered catching a bee, and tying a thread around the creature so all it could do was fly in circles. A boy who was about three years older and had recently arrived from Poland walked by and said, 'Don't do that.'
John Wayne was in so much pain he couldn't sleep when filming Western with Ann-Margret
By the 1970s, John Wayne was coming towards the end of his career as a Hollywood star. In 1973, aged 65-years-old, he had been living with one lung for the best part of 10 years and was suffering from emphysema on the remaining one. That year he released two Westerns, which aren't remembered as his best but saw the ageing icon carry on with much determination. One of these films was The Train Robbers, which co-starred Ann-Margret as a feisty widow who works alongside three cowboys in recovering a cage of gold. Despite his health problems on the movie, Wayne refused to delay filming and strived forwards. Ann-Margret had fond memories of her co-star's tenacity during this period.
Ann-Margret recalled: "Duke was still a strong, rugged, formidable man, larger-than-life and incredibly personal. He was a big teddy bear, and we got along famously. Duke gave me the confidence I lacked."
The Viva Las Vegas star appreciated this given that 1972 had been a very difficult time in her life, having been seriously injured when performing in her Lake Tahoe show. In terms of the confidence boost she needed, the actress had to overcome her fear of horses as there was much riding for her character. It was here that Wayne gave her support and helped her overcome this obstacle. Yet even before shooting started, Duke had fractured two of his ribs, which was so painful he struggled to sleep at night.

John Wayne was in so much pain he couldn't sleep when filming Western with Ann-Margret (Image: GETTY)

John Wayne and Ann-Margret in The Train Robbers (Image: GETTY)
As a result, Wayne's action scenes in The Train Robbers had to be scaled down, with co-star Rod Taylor remembered Duke being "slightly" infirm during the shoot. The Time Machine star said the Western legend had trouble with his balance and understandably needed afternoon naps.
Wayne also released Cahill: US Marshall in 1973, which saw a significantly weakened Duke having to use a stepladder to climb onto a horse. That year also marked the death of his most famous collaborator, the director John Ford.
Upon news of the filmmakers' death that August, Wayne told journalists: "I'm pretty much living on borrowed time."

The Train Robbers poster (Image: GETTY)

Ann-Margret thought John Wayne was a "teddy bear" on set (Image: GETTY)
Duke would go on to make a couple of better-reviewed Westerns in True Grit sequel Rooster Cogburn opposite Katherine Hepburn and The Shootist.
The latter film was his final one and saw him playing a terminally ill gunfighter. The Hollywood icon himself died of cancer just a couple of years later in 1979.
10 Best John Wayne Movies, Ranked by Viewers
'Baby Face' (1933) – 7.5/10The Most Popular John Wayne Movies According to IMDb
'The Longest Day' (1962) – 344
'The Quiet Man' (1952) – 367
'Chisum' (1970) – 1,999
'Rio Bravo' (1959) – 2,355
'The Searchers' (1956) – 2,872
'The Man Who Shot Liberty Valance' (1962) – 2,963
'El Dorado' (1966) – 3,372
'McLintock!' (1963) – 3,664
'Stagecoach' (1939) – 3,905
'True Grit' (1969) – 4,016
1'The Man Who Shot Liberty Valance' (1962)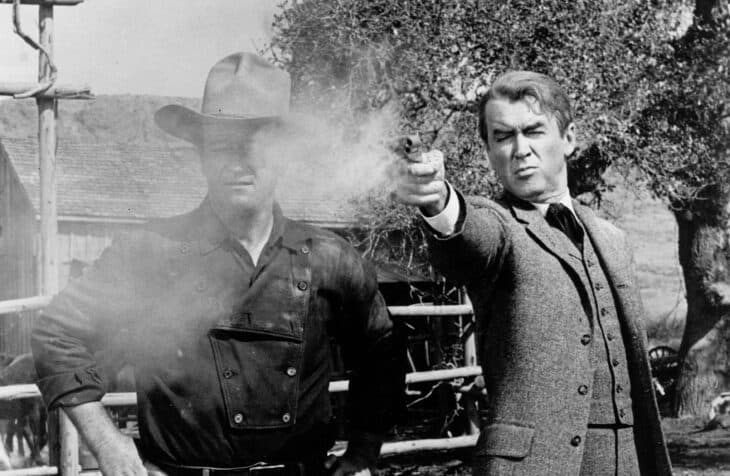 Director: John FordStars: James Stewart, John Wayne, Vera Miles, Lee Marvin
IMDb: 8.1/10 | Metascore: 94 | Popularity: 2,963
John Ford's 1962 classic western 'The Man Who Shot Liberty Valance' is a timeless masterpiece. Featuring performances from James Stewart and John Wayne, the film follows Ransom Stoddard (Stewart) as he arrives in the town of Shinbone, Arizona in pursuit of justice.
 
He quickly meets Tom Doniphon (Wayne), the local lawman, and together they take on notorious outlaw Liberty Valance (Lee Marvin). In a climactic showdown against all odds, the two succeed in defeating Liberty but at what cost?
The movie thoughtfully explores themes of justice and friendship that are still relevant today. Stewart's and Wayne's performances are legendary while the movie's cinematography and score create an unforgettable viewing experience – one that will stay with audiences for generations to come.
2'Rio Bravo' (1959)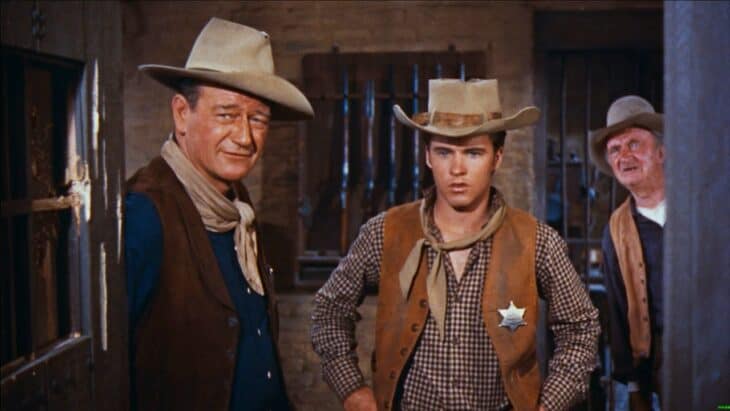 Director: Howard HawksStars: John Wayne, Dean Martin, Ricky Nelson, Angie Dickinson
IMDb: 8.0/10 | Metascore: 94 | Popularity: 2,355
'Rio Bravo' is an iconic Western classic by director Howard Hawks, starring John Wayne, Dean Martin, Ricky Nelson, and more. This beloved film follows the epic tale of Sheriff John T. Chance as he arrests a powerful rancher's brother for murder and defends against his gang until a U.S. Marshal arrives with help from unlikely allies; a cripple, drunkard, and young gunfighter.
Rio Bravo (1959) Official Trailer – Johh Wayne, Dean Martin Western Movie HD
Watch this video on YouTube
 
Despite its small budget of $1 million, 'Rio Bravo' went on to make over five times that at the box office. Its popularity has only grown throughout the years due to its talented cast (John Wayne delivering a powerful performance), memorable characters, and suspenseful plot arc. It remains one of the most unforgettable classics in Western cinema history.
3'The Searchers' (1956)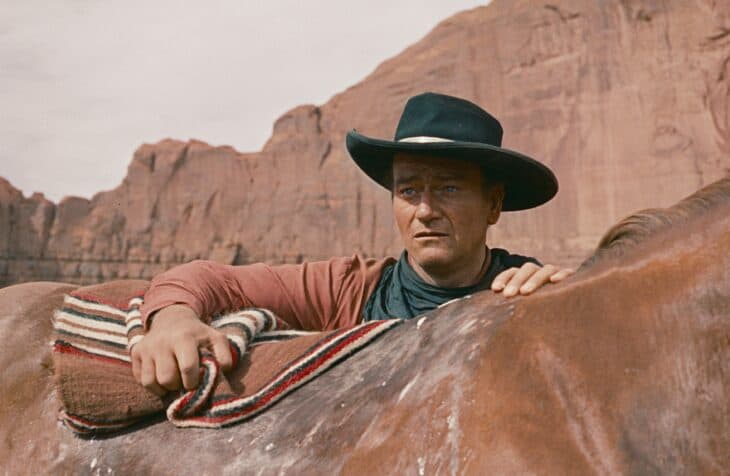 Director: John FordStars: John Wayne, Jeffrey Hunter, Vera Miles, Ward Bond
IMDb: 7.9/10 | Metascore: 94 | Popularity: 2,872
John Wayne's timeless performance in John Ford's 1956 classic "The Searchers" is widely regarded as one of the best westerns ever made. Based on Alan Le May's 1954 novel, the film follows Ethan Edwards, a middle-aged Civil War veteran consumed by his desire to find his abducted niece (Natalie Wood). Along with his adopted nephew Martin (Jeffrey Hunter), Ethan embarks on a quest fraught with danger and emotion.
 
With its complex characters and examination of darker themes, "The Searchers" was both a critical and commercial success upon release and has only grown in popularity over time.
4'Stagecoach' (1939)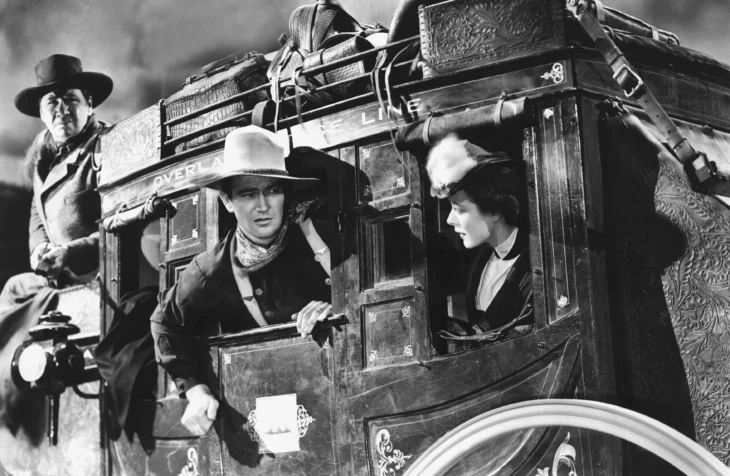 Director: John FordStars: John Wayne, Claire Trevor, Andy Devine, John Carradine, Thomas Mitchell
IMDb: 7.8/10 | Metascore: 93 | Popularity: 3,905
This classic Western film directed by John Ford follows a group of travelers as they make their way from Tonto, Arizona to Lordsburg, New Mexico in a stagecoach. Along the way, they encounter Native Americans and outlaws that challenge them to band together for survival.
 
Starring John Wayne and Claire Trevor, 'Stagecoach' is an enduring cinematic masterpiece with its gripping action sequences and rich characters. The themes of courage in the face of adversity have made this movie timeless while it continues to capture viewers' hearts after over 80 years since its release.
5'Red River' (1948)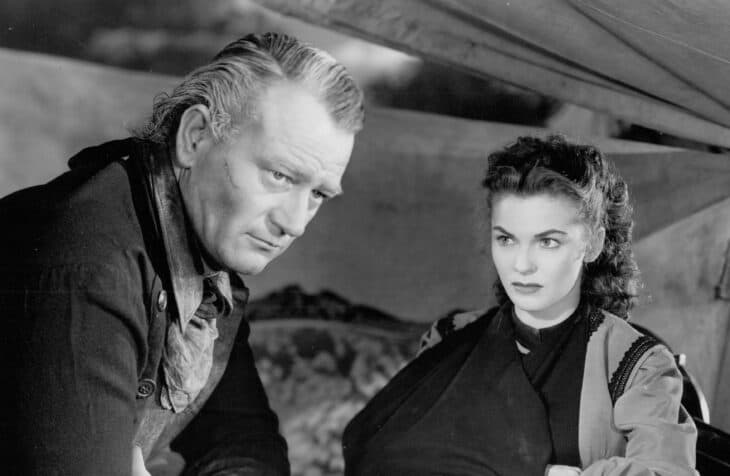 Directors: Howard Hawks, Arthur RossonStars: John Wayne, Montgomery Clift, Joanne Dru, Walter Brennan
IMDb: 7.8/10 | Metascore: 96
A classic Western film from 1948, 'Red River' has stood the test of time and still captivates audiences today. Directed by Howard Hawks and starring John Wayne, Montgomery Clift, Walter Brennan, Joanne Dru, and Coleen Gray in supporting roles, the movie follows the story of a Texas rancher and his adopted adult son as they embark on their first cattle drive from Texas to Kansas along the Chisholm Trail.
As tensions rise between them over managing the cattle drive, viewers are treated to thrilling action sequences amidst stunning cinematography and an emotional score. Along with its memorable characters and gripping drama throughout, 'Red River' remains one of cinema's greatest Westerns ever made.
6'The Longest Day' (1962)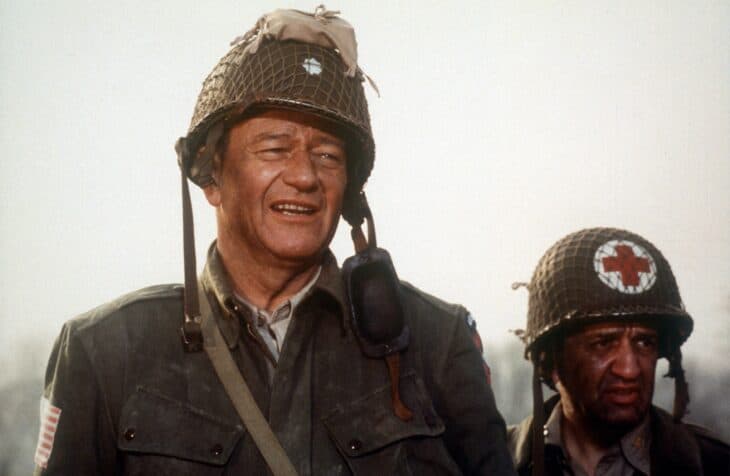 Directors: Ken Annakin, Andrew Marton, Gerd Oswald, Bernhard Wicki, Darryl F. ZanuckStars: John Wayne, Robert Ryan, Richard Burton, Henry Fonda
IMDb: 7.7/10 | Metascore: 75 | Popularity: 344
An epic war movie, 'The Longest Day' is about the Allied invasion of Normandy on D-Day during World War II. Directed by Ken Annakin, Andrew Marton, and Bernhard Wicki, this film features a star-studded cast of John Wayne, Robert Ryan, and Henry Fonda. The story follows several characters from different countries as they fight for the liberation of France in one of the most important battles in history. Through precision camera work and clear storytelling, it conveys a powerful message about courage and sacrifice while still staying true to its historical accuracy.
The Longest Day (1962) Trailer #1 | Movieclips Classic Trailer
 
'The Longest Day' showcases a variety of technical skills that are essential for any successful war movie. It uses dramatic music to emphasize key moments while also relying on voiceover narration to explain complex events or describe emotional scenes with clarity.
7'The Quiet Man' (1952)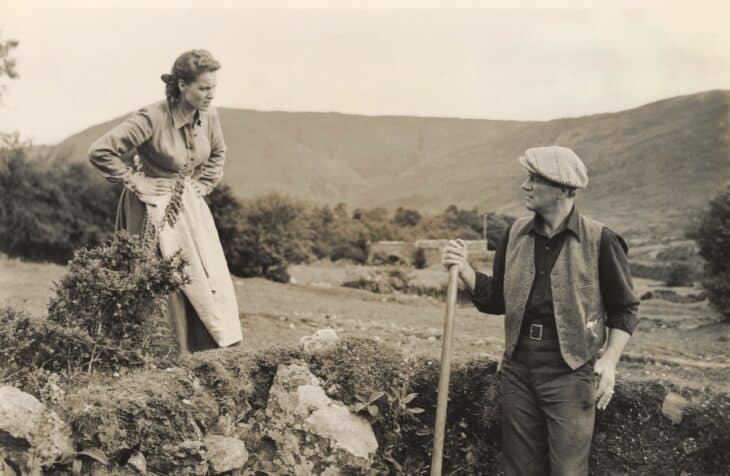 Director: John FordStars: John Wayne, Maureen O'Hara, Barry Fitzgerald, Ward Bond
IMDb: 7.7/10 | Metascore: 85 | Popularity: 367
Returning to his hometown in Ireland, Sean Thornton is a former American boxer looking to reclaim the family farm. He meets Mary Kate Danaher and falls in love with her fiery spirit despite the disapproval of their community. Directed by John Ford, 'The Quiet Man' follows their journey as they strive for happiness together.
The Quiet Man (1952) Trailer #1 | Movieclips Classic Trailers
 
This classic romantic drama stars Maureen O'Hara and John Wayne, both delivering powerful performances that have stood the test of time.
8'The Shootist' (1976)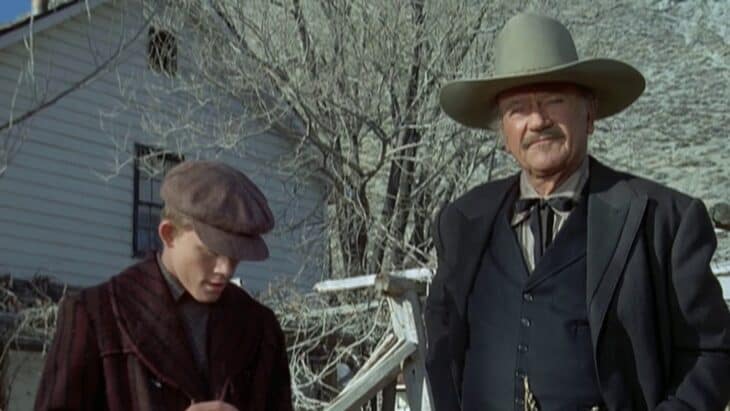 Director: Don SiegelStars: John Wayne, Lauren Bacall, Ron Howard, James Stewart
IMDb: 7.6/10 | Metascore: 77
Directed by the legendary Don Siegel, 'The Shootist' is a critically acclaimed 1976 Western film based on Glendon Swarthout's novel. The movie stars John Wayne in his final acting role before he passed away three years later; it also features Lauren Bacall, Ron Howard, and James Stewart with a screenplay written by Miles Hood Swarthout and Scott Hale.
 
J.B Books (John Wayne) is a renowned gunfighter struggling to accept his looming death as he is diagnosed with cancer and chooses to spend his remaining time in seclusion at a boarding house managed by Lauren Bacall's character–a widow who rents him one room. Despite Book's wishes for peace during these last days, conflict arises when young gunslingers challenge the greatness of Books' reputation as the best shooter.
9'El Dorado' (1966)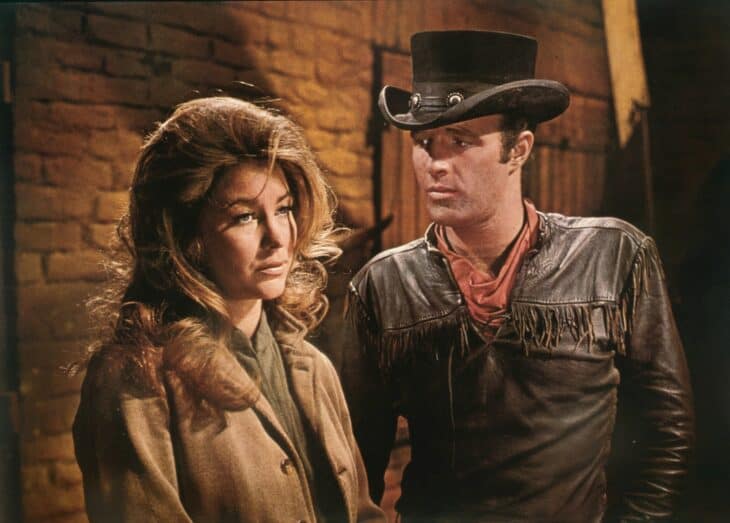 Director: Howard HawksStars: John Wayne, Robert Mitchum, James Caan, Charlene Holt
IMDb: 7.5/10 | Metascore: 85 | Popularity: 3,372
Sheriff J.P. Harrah (Robert Mitchum) embarks on a journey to bring justice to a small town in California and meets up with an old acquaintance, Cole Thornton, who helps him take on a powerful rancher and his gang of criminals. This classic Western movie features action-packed fights, thrilling horse chases, and gun-slinging showdowns – all held together by John Wayne's authoritative presence and Robert Mitchum's charming charisma.
 
With its tightly written plot and well-paced tension throughout, 'El Dorado' is an unforgettable movie experience that stands the test of time as one of the greats of the Western genre.
10'Baby Face' (1933)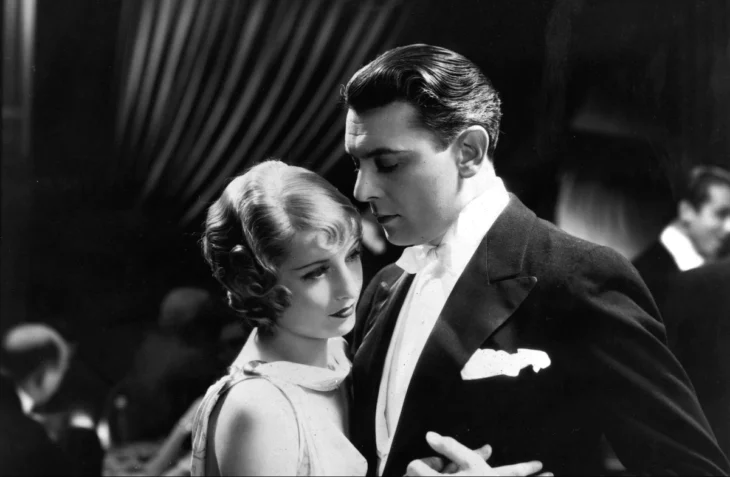 Director: Alfred E. GreenStars: Barbara Stanwyck, George Brent, Donald Cook, Alphonse Ethier
IMDb: 7.5/10
Barbara Stanwyck stars in this classic pre-Code Hollywood drama as Lily Powers, a young woman determined to succeed despite her difficult circumstances. She uses her beauty and wit to seek revenge on the men who have wronged her, learning valuable lessons about power and manipulation along the way.
 
Despite its age and John Wayne's minor role, 'Baby Face' remains an iconic piece of cinema today due to its strong female lead, bold themes, and powerful performance from Stanwyck. It is also an important reminder of how far we have come since 1933 when it comes to gender inequality in America – but also how far we still have left to go.
Popular John Wayne Movies Not Ranked Top 10
Though not ranked the highest amongst the best by viewers, the following films are still very popular.
'Chisum' (1970)