Frank Sinatra's outburst at young Marlon Brando on set: 'Don't give me that s**t!'
For a generation, Frank Sinatra, nicknamed Ol' Blue Eyes, helped transform the entertainment industry, collecting Oscars, Golden Globes and Grammys with ease. His starring part in From Here to Eternity cemented his credentials as a talented, and acclaimed actor, while his ballads such as My Way and Somethin' Stupid earned rave reviews from fans. The crooner's life away from the camera was as well documented as it was when in front of it, with Sinatra enjoying four marriages before his death aged 82 in 1998.
The star, who helped form the infamous Rat Pack, also endured a series of tough relationships with fellow stars, including an aspiring Marlon Brando.
According to reports, Brando – who would become well known for being unprofessional in his conduct on-set with co-stars – and Sinatra had a huge falling out while on the set of Guys and Dolls.
The 1955 musical, which was created following the success of the Broadway stage show, saw the pair team up as the story's two male lead parts.
But Stefan Kanfer, in his 2008 book Somebody: The Reckless Life and Remarkable Career of Marlon Brando, outlined how tough a working relationship the two megastars actually endured.
At the time of the film going into production, Sinatra was already a household name, collecting his Oscar for Best Supporting Actor earlier in 1954, but had lost out on a role in On the Waterfront to Brando.
When it came to casting in Guys and Dolls, Brando delivered a second knock to Sinatra's ego, being cast in the bigger of the two roles the pair went up for.
Kanfer noted that Sinatra "saw in Marlon a figurehead of youthful rebellion, an avatar of all that threatened his career".
He added: "The wounded swagger notwithstanding, Sinatra was a deeply insecure man in the mid-fifties."
JUST IN: Sinatra was 'lowest he'd been' during tumultuous Farrow marriage
The relationship became even tense when Brando's experience in dancing and singing began to test the patience of Sinatra, already a major recording artist recognised across the globe.
Brando was reportedly told that he'd be given all the additional dancing and lessons he needed, yet the star continued to focus more on the acting of the role, as opposed to the other elements to his character.
And this infuriated Sinatra.
Kanfer added: "The tone for the film was set on the first day of rehearsals, when Brando was introduced to Sinatra.
"'Frank,' Marlon confided, sotto voce, 'I've never done anything like this before, and I was wondering, maybe I could come to your dressing room and we could just run the dialogue together?'
"Sinatra was succinct: 'Don't give me any of that Actors Studio s***.'
While his relationship with stars such as Brando was certainly strained, he often showered others with goodwill and love, including the likes of Hollywood golden girl Marilyn Monroe.
Such was the closeness in their relationship, Sinatra was reportedly incensed after Monroe's death in 1962, and even believed there was a cover-up following news of her demise being made public.
At the time of her death, an official investigation from the Los Angeles County coroner's office ruled Monroe probably died due to suicide, as a result of a barbiturate overdose.
But Sinatra wasn't convinced, and according to the 2018 book, Marilyn Monroe: The Private Life of a Public Icon, Ol' Blue Eyes, though deeply in love with her, didn't believe the cause of death.
Author Charles Casillo wrote: "Like many men, Frank Sinatra fell under her spell. He treated her like he had never treated any other woman.
"He was very protective of her."
The author argued that such was Sinatra's love for Monroe, he planned to propose to the actress, a scheme that was ultimately dashed by his lawyer.
Though others, including Sinatra's close friend Tony Oppedinsano, argued the two were simply just really good confidants.
He said: "Frank felt she was too troubled, too fragile, for him to sleep with and then walk away."
With Frank so besotted with Monroe, regardless of the physical relationship they shared, when her death was announced as suicide, he was heartbroken.
Oppedisano recalled how Monroe had planned to outline how her relationship with US President John F. Kennedy had developed, and that Sinatra was convinced this led to her death.
He said: "Frank believed if the press conference hadn't been announced, she would have lived a lot longer.
"Frank believed she was murdered and he never got over it."
Furious John Wayne blasted 'degrading' film by his biggest Hollywood rival
Wayne had famously turned the lead role of Will Kane in High Noon down. He believed the story of an honourable former marshal forced to stand alone against vicious outlaws after the cowardly townsfolk abandon him was a thinly veiled attack on Hollywood for failing to stand behind the many who were being accused of communist ties and blacklisted.Wayne was a vocal supporter of blacklists and took pleasure and some credit later for High Noon writer (and former communist party member) Carl Foreman being charged and immigrating to Britain in 1952 after making the film.
The Duke called High Noon "the most un-American thing I've ever seen in my whole life," but showed grace by agreeing to accept Cooper's Oscar for him with a pointed but charming speech.
At that time Cooper had not publicly come out against blacklists and they were friends, but his stance would change through the 1950s, putting him on the opposite side of the battle from John Wayne.
He pursued morally ambiguous roles with tortured central characters in films like 1958's Man of the West, themes that were anathema to straight-laced, straight-shooting Wayne. In 1959, he formed his own production company and further explored characters seeking redemption.
One film, in particular, enraged Wayne, specifically because of his devotion to his idealised view of the US military.
DON'T MISS'Outraged' John Wayne was restrained during Marlon Brando's Oscar winJohn Wayne's wife almost shot him in jealous rageJohn Wayne shot co-star in the back and was reminded of it in his will
Gary Cooper and Rita Hayworth on the set of They Came to Cordura (Image: GETTY)In 1959's They Came to Cordura, Cooper played an army Major disgraced and charged with cowardice who must accompany a group of soldiers who will be honoured with the Congressional Medal of Honour for extreme valour. The film, however, questions their honour and merit and Wayne was horrified.
Wayne raged: "How they got Gary Cooper to do that one! To me, at least, it simply degrades the Medal of Honour. The whole story makes a mockery of America's highest award for valour. The whole premise of the story was wrong, illogical, because they don't pick the type of men the movie picked to win the award, and that can be proved by the very history of the award."
Cooper's own company, of course, had actually produced the film. However, there was no time for real animosity between the stars, because Cooper's life was about to abruptly and tragically end.
On May 13, 1961, the star died, aged just 60. Wayne joined the biggest names in Hollywood including James Stewart, Marlene Dietrich, Frank Sinatra, Audrey Hepburn and Fred Astaire when he attended the actor's funeral. So beloved was the star that when news had first spread about his battle with cancer, even Queen Elizabeth II had sent a personal telegram.
John Wayne's 10 Best Movies, Ranked According to Rotten Tomatoes
John Wayne was one of Hollywood's greatest stars and is universally recognized for his iconic roles in films such as Rio Bravo, The Man Who Shot Liberty Valance, and The Shootist. After his breakout role as The Ringo Kid in John Ford's 1939 movie, Stagecoach, the Duke became one of the most popular leading men in cinema with tough, masculine characters like Ethan Edward from The Searchers and True Grit's Rooster Cogburn.
There are a dozen of non-Western Wayne movies like The Quiet Man and Donovan's Reef, but a majority of movie fans consider Wayne to be a pioneering Western star who solidified the standards of the classic genre. Out of his extensive career and exceptional filmography, including El Dorado and Sands of Iwo Jima, they are among Wayne's highest-rated movies, according to Rotten Tomatoes.
10'The Searchers' (1956)
Image via Warner Bros
Rotten Tomatoes Rating: 94%
Ethan Edwards returns home after the Civil War and learns that his brother and his family were killed by Native Americans. When Ethan receives word that his niece, Debbie (Natalie Wood), is still alive, he and his nephew (Jeffrey Hunter) set out into the dangerous wilderness to bring her back home.
RELATED:The 10 Highest Grossing Westerns Of All Time
Ford's epic Western, The Searchers, is a signature Duke film as well as a major influence and inspiration for future filmmakers. Director David Lean watched the movie several times to prepare to film landscape scenes in his Oscar-winning movie, Lawrence of Arabia. Other notable directors like Steven Spielberg, George Lucas, and Martin Scorsese have also paid tribute to The Searchers in their work.
9'Rio Bravo' (1959)
Rotten Tomatoes Rating: 96%
When Sheriff John Chance arrests the son of a wealthy ranch owner, Joe Burdette (Claude Akins), for murder, his brother (John Russell) and his men are prepared to break Joe out of jail. With the help of a brave recovering alcoholic (Dean Martin), a young cowboy (Ricky Nelson), and an elderly spitfire (Walter Brennan), Chance defends his post and fights the outlaws off long enough until reinforcements arrive.
Regarded as one of director Howard Hawks' finest films, Rio Bravo is a slow-burning Western noted for its extended opening scene with no dialogue. Director and avid Hawks admirer Quentin Tarantino ranks Rio Bravo as his favorite Wayne Western as well as a "hang-out" movie that went on to inspire his underrated heist movie, Jackie Brown. The story and setting of Rio Bravo were also the inspiration behind John Carpenter's 1976 movie Assault on Precinct 13.
8'Stagecoach' (1939)
Rotten Tomatoes Rating: 100%
A group of strangers in Arizona board a stagecoach headed to New Mexico when a notorious outlaw known as the Ringo Kid escapes from prison. With a dangerous criminal on the run, U.S. Marshal Curly Wilcox (George Bancroft) accompanies the stagecoach. Along the way, he finds Ringo, but instead of finding a ruthless gunslinger, Ringo turns out to be a man worthy of a second chance when he helps the marshal protect the stagecoach on its long journey.
According to John Wayne: The Life and Legend by Scott Eyman, Wayne never aspired to be an actor, and originally, he had attended the University of Southern California on a football scholarship to study pre-law, but after a career-ending injury, he lost his scholarship and had to drop out. His coach, Howard Jones, got him a job as a prop boy and extra for a Ford production, and after playing a few small roles, Ford cast the future star in his groundbreaking Western, Stagecoach.
7'Fort Apache' (1948)
Rotten Tomatoes Rating: 100%
After the Civil War, Kirby York and his men think he will replace the outgoing commander of Fort Apache, but to their surprise, his replacement is a former general and an arrogant West Point graduate, Owen Thursday (Henry Fonda). Thursday arrives at the fort with his daughter (Shirley Temple), but his ignorance towards the American Indians and desire to reclaim his former glory days cause him to clash with Kirby and his new company.
Fort Apache is another top-tier Western directed by Ford that's widely regarded as one of the first films to portray an authentic and sympathetic view of Native Americans and their culture. The movie is also the first installment in Ford's Cavalry Trilogy, including She Wore a Yellow Ribbon and Rio Grande, both starring Wayne.
6'Red River' (1948)
Rotten Tomatoes Rating: 100%
Thomas Dunson owns a cattle ranch in Texas, and when he needs money after the Civil War, he plans to take his cattle to Missouri, where he can get a better price. With the help of his faithful ranch hand, Groot (Brennan), and his young protégé, Matt (Montgomery Clift), they lead the cattle to their destination, but the strenuous and exhausting journey starts to take a toll on them.
Red River is another Western directed by Hawks, who made a total of five movies with Wayne. While Ford directed Wayne in some of the greatest Westerns, the director was blown away by his performance in Red Riverand jokingly commented, "I didn't know the big son-of-a-b*tch could act!" Footage from Red River was also used in Wayne's final film, The Shootist, to establish his character's backstory.
5'Sands of Iwo Jima' (1949)
Rotten Tomatoes Rating: 100%
During World War II, a group of Marines stationed in the Pacific resents their commanding officer, Sergeant John Stryker, and his brutal training methods and coarse attitude. As the fighting progresses, the Marines realize Stryker has been preparing them for the terrifying reality of combat. If they want to survive one of the war's worst battles, they must follow Stryker and his strategic battle tactics.
Sands of Iwo Jima is a historical film based on one of the bloodiest battles of World War II; the Battle of Iwo Jima. The movie features three surviving Marines of Iwo Jima, including Navy corpsman John Bradley, who was the subject of his son's book, Flags of Our Fathers. In 2006, the book was adapted into a film of the same title and directed by another Western icon, Clint Eastwood.
4'The Comancheros' (1961)
Image via 20th Century
Rotten Tomatoes Rating: 100%
Texas Ranger, Jake Cutter, is tasked with finding a gambler, Paul Regret (Stuart Whitman), who manages to escape a date with the gallows and return him to Louisiana. Cutter can track Regret down and take him into custody, but along the way, they cross paths with a group of outlaws known as The Comancheros forcing Cutter and Regret to work together to stop the lawless gunslingers.
The Comancheros is based on the 1952 novel written by Paul Wellman that was originally purchased by the director George Stevens who wanted the film to be his next project afterGiant. Stevens became interested in adapting The Diary of Ann Frank and sold The Comancheros rights to Fox. Fox originally wanted Gary Cooper and James Garner, but due to Cooper's failing health and a conflict between Garner and Warner Bros. Studio head, Jack L. Warner, they were ruled out. Once Wayne was on board, the script was rewritten by the actor's regular writer, James Edward Grant, who collaborated with Wayne on 12 projects.
3'The Sons of Katie Elder' (1965)
Image via Paramount 
Rotten Tomatoes Rating: 100%
Four brothers return home to attend their mother's funeral and soon discover their father was murdered the night he gambled away the family ranch. The brothers agree to avenge their father and win back their home, but the situation quickly takes a deadly turn into serious trouble with the local sheriff and a rival family, The Hastings.
The Sons of Katie Elder reunited Wayne with Martin six years after starring together in Rio Bravo and also stars Dennis Hopper, George Kennedy, and Jeremy Slate. Before filming, Wayne had been diagnosed with lung cancer and underwent surgery to remove one of his lungs and two of his ribs. Despite the dire diagnosis and operation, the Duke insisted on performing his own stunts.
2'El Dorado' (1966)
Rotten Tomatoes Rating: 100%
Land tycoon Bart Jason (Edward Asner) recruits a group of men to force the MacDonald family out of town to claim their land. The local sheriff, J.P. Harrah (Robert Mitchum), is too deep in a bottle to help the family, and when word about the incident reaches his friend and gunslinger, Cole Thornton, Thornton and his partner, Mississippi (James Caan) travel to El Dorado to help Harrah shape up in time to fight Jason's group of thugs.
Film critic, Roger Ebert, gave Hawks' El Dorado three-and-a-half out of four stars, calling it a successful Western that was effortlessly pulled off by three pros of the genre; Wayne, Mitchum, and Hawks. The movie is the second of Hawks that focuses on a sheriff defending his post against ruthless bandits, coming after Rio Bravo and before Rio Lobo, all featuring Wayne in the same similar role.
1'The War Wagon' (1967)
Image via Universal
Rotten Tomatoes Rating: 100%
After being shot by gunslinger Lomax (Kirk Douglas) and serving a sentence for a crime, he didn't commit; rancher Taw Jackson is released from jail and out for revenge. Instead of hunting Lomax down, he and the gunslinger join forces to rob mining tycoon Frank Pierce (Bruce Cabot), who set Jackson up. The two plan to rob one of Pierce's gold shipments carried by a heavily guarded stagecoach, and while they know it won't be an easy task, the half-a-million-dollar payday makes it all worth it.
In 1966, Wayne signed a contract with Universal Studios to star in two films, The War Wagon and The Green Berets. Unlike Wayne's other characters, he plays a villain for the first time in The War Wagon, but the movie's considered a rare Western with humor and outstanding performances. The movie also stars Keenan Wynn, the son of character actor Ed Wynn, and Oscar nominee Bruce Dern, who is the father of actress Laura Dern.
John Wayne Introduced 1 Legendary Comedian as Having 'True Grit' at the 1970 Oscars
Movie star John Wayne has quite the history when it comes to his involvement with the Oscars. He understood the politics that went on behind the scenes with the Academy of Motion Picture Arts and Sciences, but he still sought the validation of his peers. As a result, Wayne still played the game and recognized his own works that he felt were most worthy. Wayne once introduced an iconic comedian at the 1970 Oscars, describing him as having "true grit."
John Wayne was a regular Oscars attendee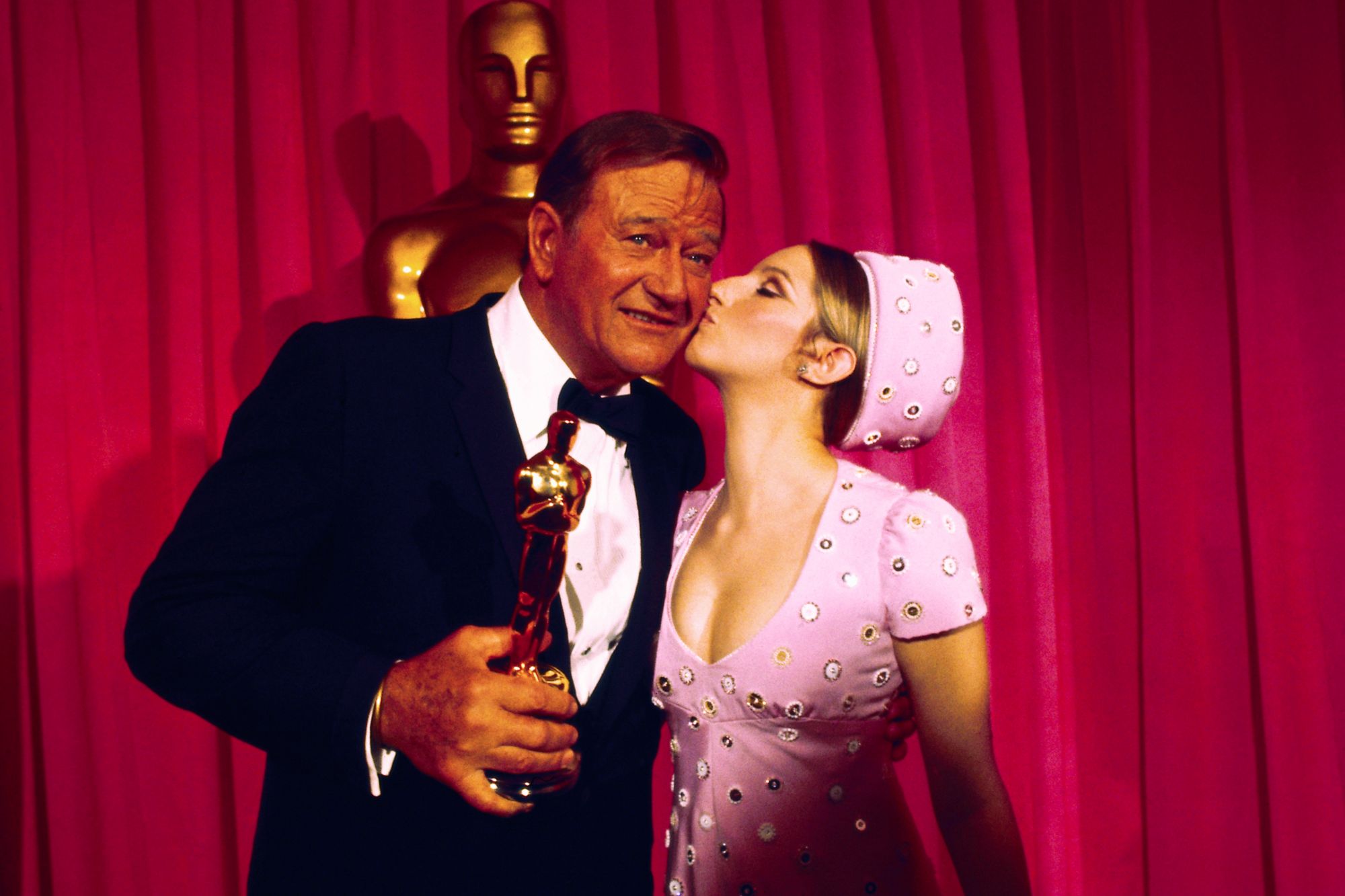 L-R: John Wayne and Barbra Streisand | Getty Images
Wayne regularly showed up to the Oscars, even though many of his critics thought that he only had the skill to play the same, single character. Nevertheless, he brought a certain star power to the show that only the Western actor could bring. His peers even erupted into thunderous applause when he had his final public speech at the 1979 Oscars ceremony.
However, Wayne's appearances didn't all age so well. He allegedly tried to storm the stage at the 1973 Oscars to drag Sacheen Littlefeather off the stage, who delivered a powerful speech regarding Hollywood's treatment of Native American actors upon Marlon Brando winning his Academy Award for The Godfather. He sent Littlefeather in his place to give her speech to the world.
John Wayne introduced Bob Hope as having 'true grit'
The official Oscars YouTube channel shared the opening of the 1970 Academy Awards, which saw Wayne in a special appearance. Academy President Gregory Peck gave an introduction ahead of when American comedian Bob Hope opened the award show. Wayne gave him quite the welcome that was met with applause.
"Ladies and gentlemen, it's my pleasure to introduce America's ambassador of laughter, one of Oscar's best friends, and I mean friend in the truest sense," Wayne said. "They've gone steady for years, but never married. He's one of the world's most loved comedians and a man of true grit. His dressing room floor is covered with it. Here's everybody's friend, Bob Hope!"
The opening also featured special appearances from Myrna Loy, Clint Eastwood, Elizabeth Taylor, Fred Astaire, Barbra Streisand, Elliott Gould, Raquel Welch, Fred MacMurray, Liza Minnelli, Vincente Minnelli, Dyan Cannon, James Earl Jones, Jane Fonda, Roger Vadim, Claudia Cardinale, Katharine Ross, Jon Voight, Barbara McNair, Ali McGraw, Cliff Robertson, Candice Bergen and more.
John Wayne won his first Academy Award at the 1970 Oscars
The 1970 Oscars proved to be a big night for Wayne. He had the opportunity to speak in front of his peers and the rest of the world via the broadcast. However, the movie star also earned his first and only Academy Award win for 1969's True Grit. He starred in the leading role of Rooster Cogburn, which is a role he took on once more in a lesser-known sequel.
Wayne was previously nominated for two Oscars, only one of which was for acting. The Academy first recognized him for his leading role in 1949's Sands of Iwo Jima. Then, he earned a Best Picture nomination for 1960's The Alamo, which he acted in, directed, and produced.
The Western movie star didn't always earn the appreciation that he thought he deserved, but True Grit finally saw him have the opportunity to take home a golden statuette and the respect of his peers.