John Wayne vs. Clint Eastwood: Fans Argue Who Would Win in a Gunfight
John Wayne and Clint Eastwood are the two biggest names in the Western genre. They share some similarities, but they never worked together. As a result, some of their respective fans like to imagine if they did. They're creating videos that splice clips from Wayne and Eastwood's movies to figure out who would win in a gunfight – the debate continues on who would win.
John Wayne and Clint Eastwood made very different Western movies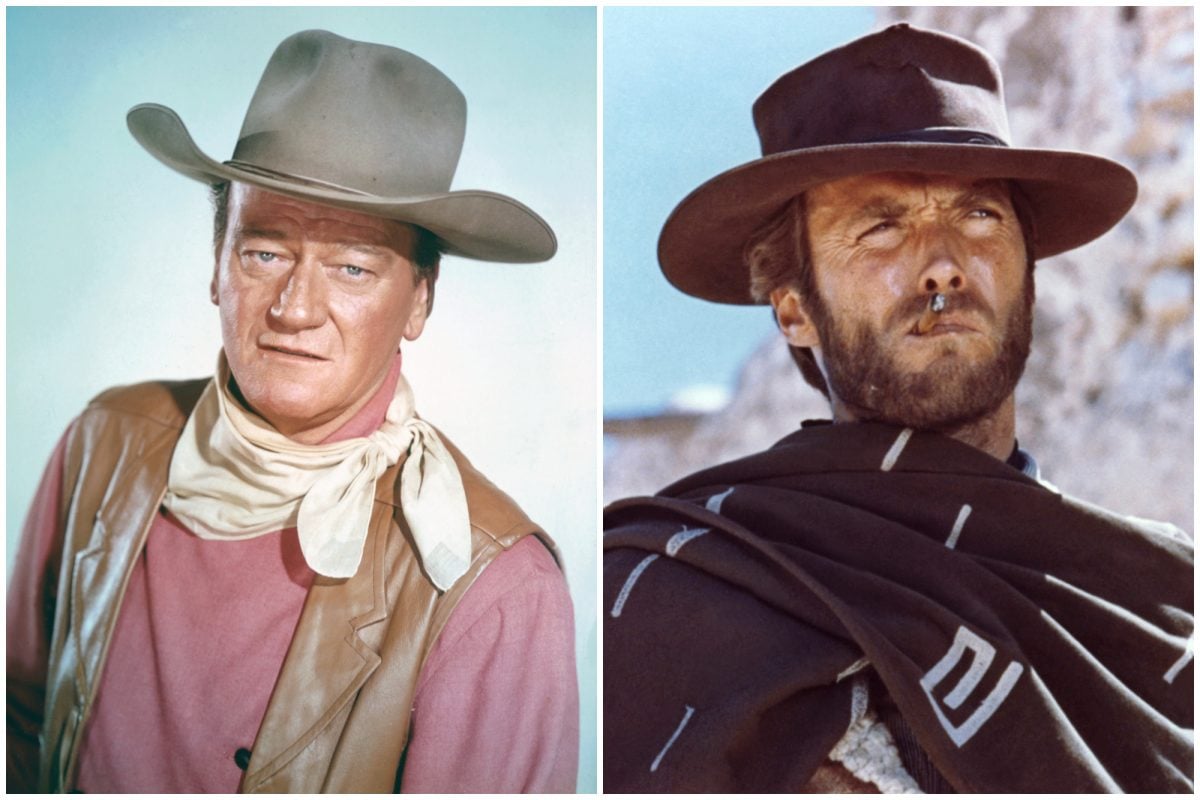 L-R: John Wayne and Clint Eastwood as Monco | Silver Screen Collection/Getty Images, Sunset Boulevard/Corbis via Getty Images
Wayne and Eastwood represent two very different eras of Western moviemaking. Their characters both exude different sides of the "masculine tough guy," but from entirely different perspectives. Wayne had a firmness about him in how he played heroic cowboys and soldiers. However, he never allowed his characters to leave his ideal image.
Meanwhile, Eastwood displayed the polar opposite in his tough-guy representation. He typically played anti-heroes who weren't afraid to get violent to achieve their goals. Most of Eastwood's characters had some sort of dark past that he tried keeping hidden.
Wayne and Eastwood ultimately played characters in their Western movies that represented opposite ends of the hero spectrum. One stood for the "good" in their characters, while the other stood for the "dark" side of their roles.
Videos highlight John Wayne vs. Clint Eastwood gunfights
Two separate videos appeared online that display what a gunfight would look like between Wayne and Eastwood. The clips are pulled from their individual movies but are edited in a way that they appear in the same film.
The first video comes from WOODmovie, where Wayne and Eastwood slowly approach one another before firing their guns. However, Wayne ultimately realizes that he got hit and drops to the ground dead. Eastwood holds his gun, as the wind continues to blow through his hair.
The johnwaynemovie YouTube channel uploaded the second video. In this scenario, Eastwood stands alone in a Western town, as Wayne gets off of his horse. The two men slowly approach one another. They exchange some words before they draw their firearms. Wayne easily shoots Eastwood several times, winning the fight.
Western fans argue who would win in a gunfight
Western fans argue between the two videos regarding who would actually win in a gunfight. One commenter on the WOODmovie video explained how Wayne was more of a "drunken cowboy," while Eastwood's characters were far more intimidating. Another user said, "Eastwood is the faster draw." However, one person noted that Wayne would win a fist fight, but Eastwood would win the gunfight.
Meanwhile, the other video has comments supporting Wayne over Eastwood. There are still some users defending Eastwood, explaining that he would wear armor under his poncho. However, they said that Wayne would be able to take more shots and would ultimately take his foe down. Regardless of perspective, commenters continue to note that Wayne would certainly beat Eastwood in a fist fight.
However, these Western fans wish that the two actors filmed such a stand-off while Wayne was still alive. They're the two greatest actors in the genre and define totally different personas. Unfortunately, Wayne and Eastwood would never ultimately work together because Wayne refused to do so.
Clint Eastwood tells of the terrible fire of November 10, but he still has to work.
Clint Eastwood wasn't going to let a wildfire keep him from getting to work.The 91-year-old actor/director told Ellen on Monday's episode of how he drove toward a Southern California wildfire last month that was encroaching the Warner Bros. lot in Burbank, California, where his office has been for 40 years.
Ellen described the November 10 blaze, known as the Barham brush fire, as a 'really bad fire that came really close to the lot,' adding that 'air quality was so bad that everyone evacuated' – but not Clint!'I was coming back down to do some work at a sound stage and I saw all this smoke going,' the screen legend said, adding he noticed the smoke plumes emanated from the Warner Bros. lot.
The Tinseltown staple continued: 'And I'm getting closer and closer and its Warner Bros. and its smoke and I got almost up there and I thought, the whole studio's burning down, maybe I'll go in and see if I can retrieve something.'The filmmaker of classics such as Million Dollar Baby, Mystic River and Unforgiven said that the Warner Bros.
Studio was spared of any damage, as the blaze was contained to a nearby hill.'So we went on the sound stage and started working and we forgot about it and … everybody said, "The studio's been evacuated! And I said, "We're not evacuated, we're here working!"'
The office neighbors where Ellen works out of, and she describes Eastwood as 'a good neighbor' who never complains. Ellen showed that she and her staff had helped decorate Eastwood's office with holiday decor, which Clint called 'pretty nice.'
He added: 'A lot better than some of the things she has done. One time she called up and said somebody made a pinata of her and said you have to go out there and take a baseball bat and beat the hell out of it.'Eastwood was on to promote his latest film Richard Jewell, which hits theaters Friday .
Clint Eastwood's special dating history with Hollywood beauties .
Actor Clint Eastwood is one lucky guy! He's dated a lot of gorgeous women in Hollywood, including his ex-wives Maggie Johnson and Dina Eastwood (née Ruiz). But no woman could ever make him feel as incredible as his current girlfriend, Christina Sandera, does."He's truly happy with her," an insider exclusively told Closer Weekly in May 2020. "She's fun, easygoing and his kids like her too. She's on an even keel like he is."
Christina came into the Gran Torino star's life after Dina filed for divorce from Clint in October 2013. Two months after she sent in the paperwork, the reporter went on Bethenny Frankel's former eponymous TV show to dish about her separation."I don't' think we will be getting back together," Dina said at the time. "That is why I filed for divorce. I think maybe a part of me was holding out, like 'What are we doing here?'
Then there have been some definite signs that we're not going to get back together so let's move on amicably is my opinion, but I think there is a mental chokehold on you when you don't have something in place that shows you are definitely apart."Although the pair decided to call it quits, Dina explained she has no bad feelings towards Clint. In fact, she said he's "probably the sweetest guy" she's ever met. "He is a loving, kind, low-key person, so my intuition was still great on marrying a good person," the journalist gushed.
By December 2014, Clint and Dina's divorce was finalized. The Dirty Harry star moved on with Christina and they made their first red carpet appearance together at t he 2015 Oscars. It wasn't long until the Academy Award winner moved his beloved into the same Carmel, California, home he used to share with Dina."The first time I saw the place I thought it was terrific," Clint gushed to Architectural Digest about his beautiful estate in August 2016. "Visually it was something else, and I thought it was the place I'd like to call home."
Maggie Johnson : Maggie is Clint's first wife. In 1953, they tied the knot and welcomed two kids together: daughter Alison Eastwood and son Kyle Eastwood. The two lovebirds stayed together for 31 years until they got divorced in 1984.//Roxanne Tunis : In 1959, Clint romanced stuntwoman Roxanne after they met on the set of the western TV show Rawhide. In June 1964, their daughter Kimber arrived in the world.
Sondra Locke : Sondra was in a relationship with Clint in the 1970s. The two actors have starred in many movies together such as The Outlaw Josey Wales, The Gauntlet and Sudden Impact. She died in November 2018 from cardiac arrest. // Jacelyn Reeves : Jacelyn and Clint had a brief fling in 1984. The duo are proud parents to their two kids — Scott Eastwood and Kathryn Eastwood.
Frances Fisher : Clint and Frances were dating from 1990 to 1995. In August 1993, they welcomed daughter Francesca Eastwood into the world. //Dina Ruiz : Clint and Dina were married from 1996 to 2014, and during that time, the couple welcomed a beautiful daughter named Morgan. After they got divorced, Dina went on to marry former basketball player Scott Fisher in 2016.///Erica Tomlinson-Fisher : Although there are no photos of Erica, the Mule star briefly dated her when he broke off his marriage to Dina, per reports. However, their love didn't last long because Clint settled down with Christina shortly after.
Why Tom Hanks likens the Clint Eastwood style to entwined horses ?
Veteran actor Tom Hanks has likened Clint Eastwood's directorial style to wrangling animals. Hanks worked with Eastwood for the first time on Sully, the story of a real-life feat of heroism in which his character, Chesley "Sully" Sullenberger, safely landed an endangered plane New York's Hudson river in 2009.
Hanks told the Graham Norton Show: "You certainly don't want one of those Eastwood looks. "He treats his actors like horses because when he did the 60s series Rawhide, the director would shout 'Action!' and all the horses bolted. So when he's in charge, he says in a really quiet soft voice, 'All right, go ahead,' and instead of shouting 'Cut!' he says 'That's enough of that.' It's intimidating as hell!"
Hanks also said that the real Sullenberger made for a strong presence on set, even criticizing Eastwood for his lack of punctuality when he was 20 minutes late. "Sully was very particular about how we portrayed the procedure and the emotions," said Hanks. "He pulled out this dog-eared, stapled and notated script that he had read. Postits, stapled index cards all over it – I'm sure his wife had even written 'No' across it in lipstick! We went through every page and every moment, every beat had been commented on. He had opinions."
Hanks and Eastwood campaigned for different sides during the recent US presidential campaign. The actor – who was even mooted by documentary-maker Michael Moore as a future Democrat candidate – was a vocal supporter of Hillary Clinton, frequently speaking of his lack of faith in her rival, Donald Trump, whom he described as a "self-involved" gas bags".
Eastwood, meanwhile, came out for Trump in August, saying the Republican was "on to something, because everybody's secretly getting tired of political correctness". "That's the kiss-ass generation we're in right now," he said. "We're really in a pussy generation." Eastwood also said he thought a lot of the backlash to Trump was misplaced.
"We see people people of being racist and all kinds of stuff. When I grew up, those things weren't called racist. "Everybody, the press and everybody's going, 'Oh, well, that's racist' and they're making a big hoodoo out of it. Just fucking get over it. It's a sad time in history."Following Trump's earlier , Hanks election to reassure his fellow Clinton supporters about the future. "We are going to be all right," he told an audience in New York. "We will move forward, because if we do not move forward, what is to be said about us?"