Clint Eastwood Made Son Scott 'Work For Everything'
With dozens upon dozens of movies to his name, Clint Eastwood's name carries a lot of weight, even only the surname. It could open doors easier than blinking and curry favors limited only by imagination. But, says son Scott Eastwood, his father still made him put in the work so he himself earned whatever he got.
Scott, 35, began his career in 2006 with the war film Flags of Our Fathers. It might be difficult searching the film credits and finding just who he played because he is not listed as an Eastwood. Why? It was more in keeping with the values he was taught coming into his own.
Scott Eastwood had to work for anything he wanted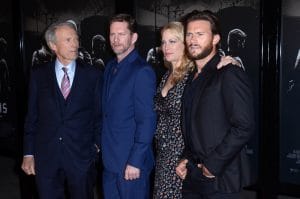 The Eastwood family / ImageCollect
"I've auditioned for pretty much every one of my father's movies," Scott once said in 2015. While the two have worked on projects together, even Scott has felt the cool sting of rejection; he was not brought on for 2014's American Sniper, for instance. Scott was subject to the same standards as anyone else. "My dad never gave me a cent," he shared. "He made me work for everything."
By the time he was 20, Scott knew to put in his own work under his own name and by his own merits. For that reason, his early projects list him as Scott Reeves, derived from his full name at birth, Scott Clinton Reeves. This would further help avoid nepotism.
Nothing to do but keep going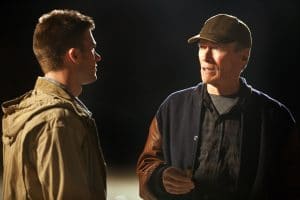 Scott has been in some of his father's films but he has been rejected too / ph: Keith Bernstein/©Warner Bros./courtesy Everett Collection
For Eastwood, quality took precedence over quantity. "My dad is a machine about food and exercise," Scott explained. "He showed me how to lift when I was 14 or 15 — the bench press and other basics. He made it clear it was more important to do the moves correctly than to put on more plates."
Eastwood has some 80 credits to his name for acting, directing, producing, and sometimes composing / ph: Bruce McBroom / ©Columbia Pictures / Courtesy Everett Collection
Scott has worked on finding a balance in that and has accumulated over 30 film credits so far. One of his biggest recent projects was 2018's highly anticipated Pacific Rim: Uprising. In 2022, he's due to appear in I Want You Back, a romantic comedy, which follows two friends who were both left by their respective partners and, fearing this, sabotage their subsequent relationships and try and win their exes back. Scott is cast as a character named Noah, listed fourth, implying he may be one of the (former or later) leading love interests.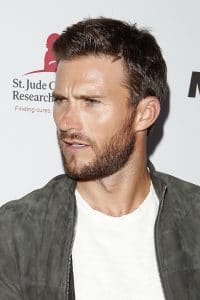 Scott Eastwood is next working on a romantic comedy due out in 2022 / ImageCollect
Clint Eastwood's special dating history with Hollywood beauties .
Actor Clint Eastwood is one lucky guy! He's dated a lot of gorgeous women in Hollywood, including his ex-wives Maggie Johnson and Dina Eastwood (née Ruiz). But no woman could ever make him feel as incredible as his current girlfriend, Christina Sandera, does."He's truly happy with her," an insider exclusively told Closer Weekly in May 2020. "She's fun, easygoing and his kids like her too. She's on an even keel like he is."
Christina came into the Gran Torino star's life after Dina filed for divorce from Clint in October 2013. Two months after she sent in the paperwork, the reporter went on Bethenny Frankel's former eponymous TV show to dish about her separation."I don't' think we will be getting back together," Dina said at the time. "That is why I filed for divorce. I think maybe a part of me was holding out, like 'What are we doing here?'
Then there have been some definite signs that we're not going to get back together so let's move on amicably is my opinion, but I think there is a mental chokehold on you when you don't have something in place that shows you are definitely apart."Although the pair decided to call it quits, Dina explained she has no bad feelings towards Clint. In fact, she said he's "probably the sweetest guy" she's ever met. "He is a loving, kind, low-key person, so my intuition was still great on marrying a good person," the journalist gushed.
By December 2014, Clint and Dina's divorce was finalized. The Dirty Harry star moved on with Christina and they made their first red carpet appearance together at t he 2015 Oscars. It wasn't long until the Academy Award winner moved his beloved into the same Carmel, California, home he used to share with Dina."The first time I saw the place I thought it was terrific," Clint gushed to Architectural Digest about his beautiful estate in August 2016. "Visually it was something else, and I thought it was the place I'd like to call home."
Maggie Johnson : Maggie is Clint's first wife. In 1953, they tied the knot and welcomed two kids together: daughter Alison Eastwood and son Kyle Eastwood. The two lovebirds stayed together for 31 years until they got divorced in 1984.//Roxanne Tunis : In 1959, Clint romanced stuntwoman Roxanne after they met on the set of the western TV show Rawhide. In June 1964, their daughter Kimber arrived in the world.
Sondra Locke : Sondra was in a relationship with Clint in the 1970s. The two actors have starred in many movies together such as The Outlaw Josey Wales, The Gauntlet and Sudden Impact. She died in November 2018 from cardiac arrest. // Jacelyn Reeves : Jacelyn and Clint had a brief fling in 1984. The duo are proud parents to their two kids — Scott Eastwood and Kathryn Eastwood.
Frances Fisher : Clint and Frances were dating from 1990 to 1995. In August 1993, they welcomed daughter Francesca Eastwood into the world. //Dina Ruiz : Clint and Dina were married from 1996 to 2014, and during that time, the couple welcomed a beautiful daughter named Morgan. After they got divorced, Dina went on to marry former basketball player Scott Fisher in 2016.///Erica Tomlinson-Fisher : Although there are no photos of Erica, the Mule star briefly dated her when he broke off his marriage to Dina, per reports. However, their love didn't last long because Clint settled down with Christina shortly after.
Why Tom Hanks likens the Clint Eastwood style to entwined horses ?
Veteran actor Tom Hanks has likened Clint Eastwood's directorial style to wrangling animals. Hanks worked with Eastwood for the first time on Sully, the story of a real-life feat of heroism in which his character, Chesley "Sully" Sullenberger, safely landed an endangered plane New York's Hudson river in 2009.
Hanks told the Graham Norton Show: "You certainly don't want one of those Eastwood looks. "He treats his actors like horses because when he did the 60s series Rawhide, the director would shout 'Action!' and all the horses bolted. So when he's in charge, he says in a really quiet soft voice, 'All right, go ahead,' and instead of shouting 'Cut!' he says 'That's enough of that.' It's intimidating as hell!"
Hanks also said that the real Sullenberger made for a strong presence on set, even criticizing Eastwood for his lack of punctuality when he was 20 minutes late. "Sully was very particular about how we portrayed the procedure and the emotions," said Hanks. "He pulled out this dog-eared, stapled and notated script that he had read. Postits, stapled index cards all over it – I'm sure his wife had even written 'No' across it in lipstick! We went through every page and every moment, every beat had been commented on. He had opinions."
Hanks and Eastwood campaigned for different sides during the recent US presidential campaign. The actor – who was even mooted by documentary-maker Michael Moore as a future Democrat candidate – was a vocal supporter of Hillary Clinton, frequently speaking of his lack of faith in her rival, Donald Trump, whom he described as a "self-involved" gas bags".
Eastwood, meanwhile, came out for Trump in August, saying the Republican was "on to something, because everybody's secretly getting tired of political correctness". "That's the kiss-ass generation we're in right now," he said. "We're really in a pussy generation." Eastwood also said he thought a lot of the backlash to Trump was misplaced.
"We see people people of being racist and all kinds of stuff. When I grew up, those things weren't called racist. "Everybody, the press and everybody's going, 'Oh, well, that's racist' and they're making a big hoodoo out of it. Just fucking get over it. It's a sad time in history."Following Trump's earlier , Hanks election to reassure his fellow Clinton supporters about the future. "We are going to be all right," he told an audience in New York. "We will move forward, because if we do not move forward, what is to be said about us?"
What are the highlights of Clint Eastwood's career journey spans 50 years?
As Clint Eastwood enters his eighth decade in the movies, WarnerMedia and Warner Bros. are celebrating the actor/producer/filmmaker with a series of initiatives, including Blu-ray and digital releases, a nine-episode docuseries, an HBO Max spotlight page, a curated exhibit of props and costumes spanning his 50-year association with Warner Bros.,
A theatrical re-release of select Eastwood films, and Clint Eastwood programming on Turner Classic Movies (TCM).This year marks the 50th year of Eastwood's partnership with Warner Bros. ("Dirty Harry"). Eastwood's most recent film Cry Macho was released theatrically and on HBO Max on Sept. 17.
From Sept. 9 through Oct. 31, HBO Max will launch a spotlight page featuring select Clint Eastwood films, including the recently-released Cry Macho and seven episodes of the "Clint Eastwood — A Cinematic Legacy" docuseries.WarnerMedia will launch "Clint Eastwood — A Cinematic Legacy" in Dallas, an exhibition of props and costumes from 50 years of filmmaking at Warner Bros. along with memorabilia from Clint Eastwood's personal collection.
Items include the Gran Torino car from the 2008 film Gran Torino, boxing gloves from 2004's Million Dollar Baby, Bradley Cooper's costume from 2014's American Sniper, the saxophone from 1988's Bird, Clint Eastwood's director's chair, and more.  The exhibition runs from Oct. 6 until Nov. 29 at the AT&T Global Headquarters Showcase in Dallas.Oct. 16 and Oct. 23, Turner Classic Movies (TCM) will air Clint Eastwood programming including feature films and two episodes of the docuseries per night.
This fall, CNN will feature editorial content highlighting Eastwood's career and the docuseries.Also this fall, in select theaters, Warner Bros. will re-release six of Eastwood's classic films theatrically, each one paired with an episode from the docuseries that highlights the feature film. The films include American Sniper, Gran Torino, Dirty Harry, The Outlaw Josey Wales, Unforgiven and The Bridges of Madison County.
The "Clint Eastwood – A Cinematic Legacy" docuseries will be available digitally and will also be available in select Blu-ray collections, including:"Clint Eastwood 50th MGM 4-Film Collection" (A Fistful of Dollars, For a Few Dollars More, The Good, The Bad and the Ugly, Hang 'Em High)"Clint Eastwood 50th 5-Film Collection" (Dirty Harry, Magnum Force, The Enforcer, Sudden Impact, The Dead Pool)"Clint Eastwood 50th 4-Film Collection" (The Mule, Gran Torino, American Sniper, Sully)"Clint Eastwood 50th 2-Film Collection" (The Outlaw Josey Wales, Pale Rider)"Clint Eastwood 50th 10-Film Collection" (Kelly's Heroes, Where Eagles Dare, The Outlaw Josey Wales, Pale Rider, Heartbreak Ridge, Unforgiven, Dirty Harry, City Heat, Gran Torino, American Sniper)