The iconic role John Wayne admits he made a "mistake" rejecting
While the complicated legacy of John Wayne continues to spark intense discussions on social media from time to time, his filmography remains full of several cinematic masterpieces that have weathered the test of time. Due to the nature of his political activities as well as the kind of characters he portrayed on the screen, Wayne transcended his occupation as an actor and actually became a symbol of American hegemony during especially volatile periods of geopolitical developments.
Ranging from John Ford to Howard Hawks, Wayne worked with some of the most talented filmmakers in Hollywood while cementing his status as the face of the industry. However, over the years, there were many iconic projects that he turned down as well. Including classics like High Noon and Stanley Kubrick's Dr. Strangelove, Wayne backed out of incredible opportunities due to his political convictions and demands for script changes.
While he didn't always regret the gems he missed out on, there's one particular film that Wayne admitted he made a "mistake" in turning down. That film was none other than Don Siegel's beloved 1971 neo-noir Dirty Harry, featuring Clint Eastwood in one of the most iconic roles of his long and illustrious career. It revolves around an unhinged cop who doesn't play by the rules, embarking on a disturbing journey to stop a demented psychopath.
According to the reports that emerged at the time, Wayne was very interested in the lead role and actually campaigned in order to get it. The role was offered to him, alongside other big names such as Frank Sinatra, Burt Lancaster, Steve McQueen and many more, before it eventually fell in Eastwood's lap. Looking back, it's obviously impossible to imagine anyone other than Eastwood as Harry Callahan because of the unique dynamism he brought to the role.
Although some sources reported that Warner Bros. went with Eastwood because they thought Wayne was too old for the part, Wayne also made the decision to back away from the project and pursue something else. That's exactly why he viewed Dirty Harry as a missed opportunity, especially because it was exactly the kind of role that appealed to him. When looking back on the chance, he said: "I made a mistake with that one."
Interestingly, Wayne also didn't like Eastwood's approach to westerns and wrote a letter claiming that High Plains Drifter didn't represent everything that made the genre so great. Eastwood once revealed: "John Wayne once wrote me a letter saying he didn't like High Plains Drifter. He said it wasn't really about the people who pioneered the West. I realised that there's two different generations, and he wouldn't understand what I was doing."
The 10 Best Books on John Wayne
There are countless books on John Wayne, and it comes with good reason, he was an actor who became a cultural icon through his starring roles in Western films and is widely regarded as one of the greatest male stars of classic American cinema.
"Courage is being scared to death, but saddling up anyway," he remarked.
In order to get to the bottom of what inspired one of history's most famous actors to the height of his craft, we've compiled a list of the 10 best books on John Wayne.
John Wayne: The Man Behind the Myth by Michael Munn

No legend ever walked taller than "The Duke." Now, author Michael Munn's startling new biography of John Wayne sets the record straight on why Wayne didn't serve in World War II, on director John Ford's contribution to Wayne's career, and the megastar's highs and lows: three failed marriages, and two desperate battles with cancer.
Munn also discloses publicly, for the first time, Soviet dictator Josef Stalin's plot to assassinate Wayne because of his outspoken, potentially influential anti-Communist views. Drawing on time spent with Wayne on the set of Brannigan – and almost 100 interviews with those who knew him – Munn's rare, behind-the-scenes look proves this "absolute all-time movie star" was as much a hero in real life as he ever was on-screen.
John Wayne: The Life and Legend by Scott Eyman
John Wayne died more than thirty years ago, but he remains one of today's favorite movie stars. The celebrated Hollywood icon comes fully to life in this complex portrait by noted film historian and master biographer Scott Eyman.
Exploring Wayne's early life with a difficult mother and a feckless father, "Eyman gets at the details that the bean-counters and myth-spinners miss…Wayne's intimates have told things here that they've never told anyone else" (Los Angeles Times). Eyman makes revealing connections to Wayne's later days as an anti-Communist conservative, his stormy marriages to Latina women, and his notorious – and surprisingly long-lived – passionate affair with Marlene Dietrich. He also draws on the actor's own business records and, of course, his storied film career.
"We all think we know John Wayne, in part because he seemed to be playing himself in movie after movie. Yet as Eyman carefully lays out, 'John Wayne' was an invention, a persona created layer by layer by an ambitious young actor" (The Washington Post). This is the most nuanced and sympathetic portrait available of the man who became a symbol of his country at mid-century, as well as a cultural icon and quintessential American male against whom other screen heroes are still compared.
John Wayne's America by Garry Wills
The Pulitzer Prize-winning author of Lincoln at Gettysburg brings his eloquence, wit, and on-target perceptions of American life and politics to this fascinating, well-drawn protrait of a twentieth-century hero. In this work of great originality – the biography of an idea – Garry Wills shows how John Wayne came to embody Amercian values and influenced our culture to a degree unmatched by any other public figure of his time. In Wills's hands, Wayne's story is transformed into a compelling narrative about the intersection of popular entertainment and political realities in mid-twentieth-century America.
John Wayne: American by Randy Roberts
"John Wayne remains a constant in American popular culture. Middle America grew up with him in the late 1920s and 1930s, went to war with him in the 1940s, matured with him in the 1950s, and kept the faith with him in the 1960s and 1970s…In his person and in the persona he so carefully constructed, middle America saw itself, its past, and its future. John Wayne was his country's alter ego."
Thus begins John Wayne: American, a biography bursting with vitality and capturing the changing scene in Hollywood and America from the Great Depression through the Vietnam War. During a long movie career, John Wayne defined the role of the cowboy and soldier, the gruff man of decency, the hero who prevailed when the chips were down. But who was he, really? Here is the first substantive, serious view of a contradictory private and public figure.
John Wayne: My Father by Aissa Wayne
In this absolute gem among books on John Wayne, Aissa Wayne delves into her father's childhood, his film career, and his life off the screen. The result is an affecting portrait that offers a new perspective on the humanity of one of America's most enduring heroes.
DUKE: The Official John Wayne Movie Book
This beautiful collector's book is a celebration of John Wayne and the films he made. It includes a foreword by Ann-Margret, an afterword by Leonard Maltin, and hundreds of photos from the set and behind-the-scenes.
From capsule reviews of Duke's lesser-known films to extensive analyses and behind-the-scenes stories of his fan-favorite work, this book details all 169 of Duke's movies, from long-forgotten gems to the Hollywood classics that made John Wayne into the world's biggest movie star. You'll also find hundreds of gorgeous full-color and black-and-white photos from the set, along with movie posters, lobby cards, costumes, collectibles and more, including a number of full-spread photos that showcase Duke in all his wide-screen glory.
Duke: In His Own Words
John Wayne was more than just an on-screen personality beloved by millions the world over. His movie persona was just that – a persona. The man behind the legend, whom friends and family called "Duke," "Everlovin'" and "Dad," was an even stronger example of old-school American masculinity than the characters he played on the screen. But until now, most only knew the man on the marquee.
With Duke: In His Own Words, the Wayne Family has opened their private archives to enable the creation of this amazing compendium of John Wayne's personal letters, telegrams, cards and memos. In these unaltered exchanges with people from every station of life and all corners of the globe, Duke's true identity jumps off the page. Whether he's writing to fans or family, platoons or presidents, he's always candid, colorful, and quick with a joke.
The John Wayne Code: Wit, Wisdom, and Timeless Advice
John Wayne was more than a movie star. He was a symbol for everything good and decent about America, inspiring everyday people to reach just a little bit more and try a little bit harder. During his 72 years and more than 150 movies, John Wayne imparted a seemingly-endless amount of advice, wisdom, and good old-fashioned common sense to his fans. In The John Wayne Code, that wealth of knowledge has been collected together for the first time by the people who loved and knew him best.
The Official John Wayne Big Book of Dad Jokes by Jeremy Brown
From giving as good as he got at the Harvard Lampoon to his comedic work in such films and TV shows as Donovan's Reef, North to Alaska, Rowan & Martin's Laugh-In, I Love Lucy, Dean Martin Celebrity Roast and The Red Skelton Hour, John Wayne was never shy about exhibiting his wry, knowing sense of humor.
It's this facet of Duke that The Official John Wayne Big Book of Dad Jokes captures. A father of six children himself, Duke was no stranger to making kids crack up (or at least trying to).
This book presents those stories of Duke as practical joker and willing victim, embedded within more than 400 clever, yet dreadful jokes, stories, riddles and puns. Perfect for family members of every age! Some of the jokes are Duke- and Western-themed, but most are simply good, original Dad jokes: some good, some bad, some awful, but all funny.
Readers will also find inside nearly three dozen fun photos of Duke exhibiting his good humor for all to see, laughing with his kids or fellow actors on set and behind the scenes, making this book a treasure for fans and fathers alike.
John Wayne Speaks by Mark Orwoll
With more than 1,100 impeccably sourced quotes from throughout John Wayne's 172-film career, John Wayne Speaks provides what has often been missing from other Duke Wayne reference books: accuracy, context, and comprehensiveness.
These quotations offer a deep dive into Wayne's films and acting persona – the iconic American man of action whose sense of values and decency are a veneer covering a boiling pot of determination, courage, outrage, and even violence. The quotes in John Wayne Speaks are at once inspirational, humorous, touching, and revealing.
Author and veteran journalist Mark Orwoll has created an overlay of categories into which each quote fits, making the manuscript easy for readers to find the type of quote – or even the exact quote, footnoted to identify its film – they may be searching for. Movie lovers will also appreciate the author's opinionated capsule reviews and production notes from Wayne's complete filmography.
John Wayne's scandalous divorce confirmed why wife almost shot him in jealous rage
John Wayne was seen as a bastion of conservative values, especially in the latter stages of his career. But when his career went stratospheric in the 1940 he was (behind closed doors) a well-known "hell-raiser" according to his daughter Aissa. His tempestuous 1946 marriage to second wife Esperanze 'Chata' Baur ended in a spectacularly tawdry court case that became so lurid that both sides quickly decided to settle before any more outrageous and potentially career-damaging details were aired in public.Wayne's first marriage to Josephine Saenz had yielded four children but become increasingly loveless and, reported by Aissa in her book John Wayne: My Father, increasingly sexless.
The Westerns actor had a lifelong love of Latin women. He was instantly smitten when he was introduced to smoldering aspiring actress Esperanza in Mexico by fellow Hollywood leading man Ray Milland.
However, the raven-haired beauty was already hiding scandalous secrets according to Aissa: "In truth, Chata was a dark, voluptuous, high-priced call-girl. By the time my father discovered the facts of her life, he'd fallen in love."
Wayne's friends tried to persuade him against marriage and director John Ford even apparently barely spoke to his long-time collaborator for two years when he ignored his warnings. Ultimately, everybody was proved right.
Aissa said: "For the seven stormy years they stayed married, they separated numerous times. When the marriage finally shattered, the allegations made for a lurid trial. Too much angry suspicion, too much hard liquor, and not enough fidelity."
Access to Wayne's testimony from the divorce trial makes for eye-popping reading where descriptions of the star constantly finding his wife and her mother drunkenly passed out at home were minor details.

John Wayne with his second wife Esperanza Bauer had a tempestuous marriage (Image: GETTY)
The most explosive section related to Chata's conviction that her husband was having an affair with co-star Gail Russell on 1947's Angel and the Badman, just one year into their marriage. Wayne came late one night from filming and was almost shot by his wife on their doorstep.
In court, Wayne said: "My wife refused to let me in. I could hear her and her mother talking about me loudly. I rang the bell but they wouldn't open the door. Then I broke a glass panel, reached in, and opened it myself. Chata and her mother, they came charging out. Chata had a forty-five in her hand. She and her mother were fighting over it."
Under oath, Wayne testified that Chat, again drunk, accused him of sleeping with Russell and then turned the gun on him and threatened to shoot.

John Wayne with his second wife Esperanza Bauer in 1951 (Image: GETTY)
Chata testified that she thought he was a burglar. Since both were under oath, one of them was lying in court.
Over the following days she accused her husband of infidelity and 22 acts of "physical cruelty" across the years. She repeatedly said that he had "clobbered" her and the phrase soon hit headlines. Wayne responded with 31 charges of his own and said he had only ever touched his wife to protect himself from her drunken attacks.
Both parties soon realised the bad publicity the trial was generating and settled for an "uncommon divorce' where neither side conceded to any of the charges.
 

John Wayne and daughter Aissa (Image: GETTY)

John Wayne with third wife Pilar in 1967 (Image: GETTY )
By the terms of the 1954 divorce, either party could remarry after 12 months. Wayne kept his sprawling Encino estate but agreed to pay off all of Chata's debts, in addition to giving her $150,000 ($1.45million today) upfront and a further $60,000 ($583,000 today) a year for six years.
Esperanza Baur had become a very wealthy woman. However, her addictions followed her and shortly after those payments ended she was found dead in a hotel room in Mexico City. The cause of death was given as a heart attack, but the room was strewn was alcohol bottles.
Wayne had immediately tied the knot for the third and final time to a beautiful 21-year-old actress Pilar Pallete. They had three children – Aissa, John and Marisa. Although they remained married until his death in 1979, they had separated in 1973, when he started an affair with his secretary Pat Stacy.
John Wayne and Montgomery Clift Were Paid a 'Startling' Amount for 'Red River'
John Wayne and Montgomery Clift were both monumental actors that had a true impact on Hollywood and the field of cinema. However, they had contrasting images and represented an entirely different type of movie star. It played out wonderfully on the silver screen in Red River, but one of the most surprising behind-the-scenes facts is that they were each paid the same amount in a "startling" sum for a newcomer.
John Wayne and Montgomery Clift faced off in 'Red River'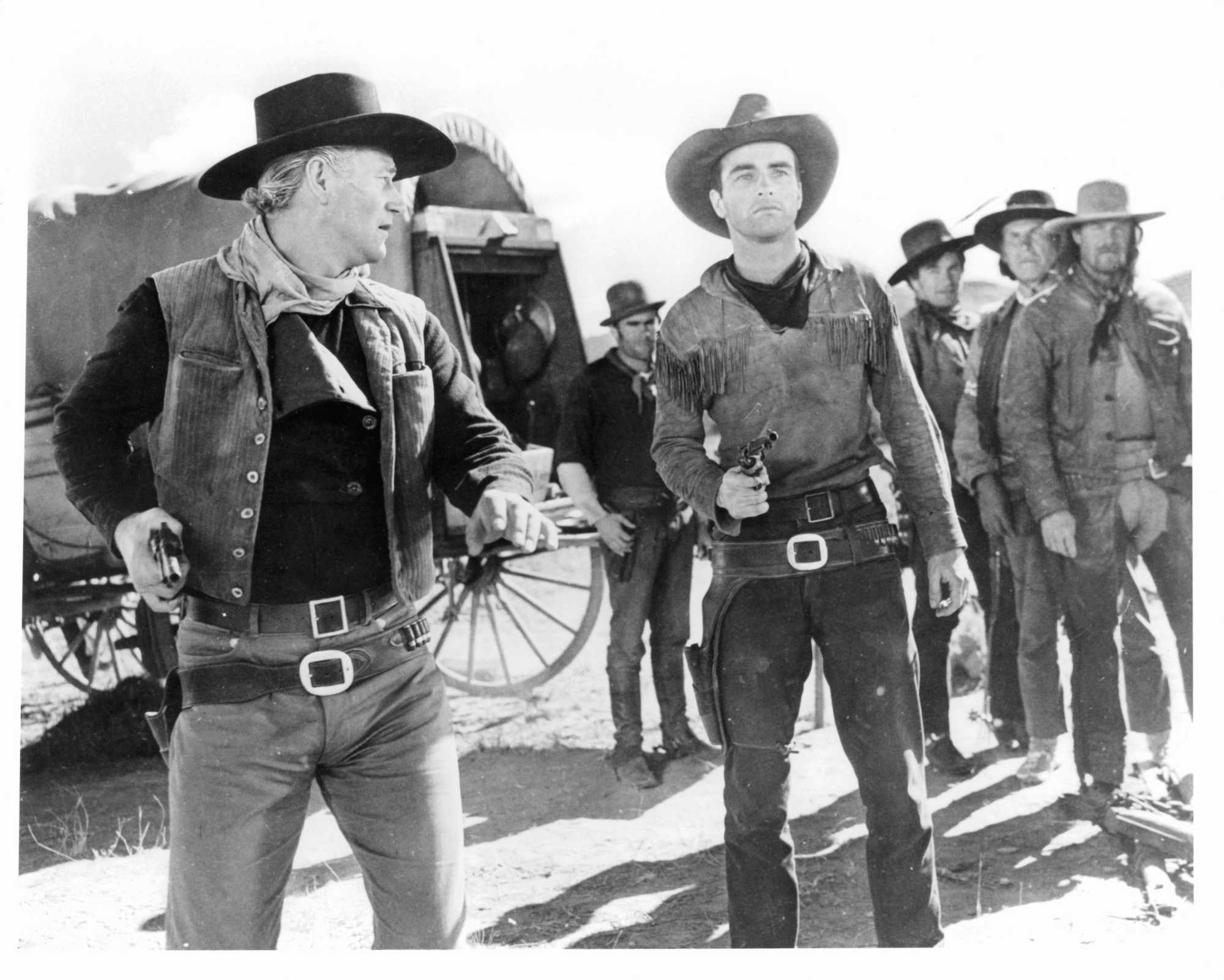 L-R: John Wayne as Thomas Dunson and Montgomery Clift as Matt Garth | United Artists/Getty Images
Howard Hawks' Red River hit theaters in 1948, putting Wayne and Clift against one another with their opposing characters. The story follows a stubborn Texas cattle ranch owner named Thomas Dunson (Wayne). He takes his job quite seriously, and has the help of his trailhand (Walter Brennan) and his protégé, Matt Garth (Clift), who Dunson raised since Matt was only a boy.
After the Civil War, Dunson struggled financially and needed to catch a break. Therefore, he comes up with the plan to lead a cattle drive headed for Missouri with the hopes of getting a better price for his sale. However, the old and young men refuse to see eye-to-eye, as they begin to butt heads along the journey, pitting them directly against one another.
John Wayne and Montgomery Clift were paid a similar amount for 'Red River'
Wayne and Clift entered the Hollywood system in different periods. The Western film star originally made his entrance into acting after working on the Fox lot in the props department. Legendary filmmaker John Ford saw something special in him, but he got his first leading role in 1930's The Big Trail. The movie bombed at the box office, but he finally found his first big box office hit with 1939's Stagecoach.
Meanwhile, Clift came from the world of theater before he made his debut in feature films. Red River marked his first Hollywood role, yet it didn't matter much when it came to the paycheck that he earned for playing Matt.
According to Todd McCarthy's Howard Hawks: The Grey Fox of Hollywood, Wayne was paid $50,000 for Red River, but he was given an additional $10,000 for every week over 12 weeks. He also earned 10% of the film's profits, which guaranteed him $75,000.
Meanwhile, Clift was offered the same amount of money as Wayne – $75,000. He was offered $50,000 at the base, but it went up considerably after adding up extra-week overages and a bonus.
The $75,000 in 1948 translates to around $936,000 in 2023. It doesn't sound like a lot compared to modern-day sums that major actors earn, but it was a lot for the time.
Wayne was already a considerable star by the time 1948 rolled around, but Clift was a new name. Hawks and others involved in production called it a "startling" sum to pay the young actor, but they knew that they found the right man for the job.
'Red River' was a monumental part of their careers
Red River proved to be a major moment in the careers of both Wayne and Clift, even though they were in vastly different positions. The Western movie star was playing a character older than his real-life age at the time, but it proved to be the role of a lifetime for him. Red River was the first time that Wayne felt like a "real actor," as he previously received an abundance of criticism for essentially playing the same character from one movie to the next.
Clift earned a lot of success off the back of Red River, earning his first Academy Award nomination for his second role in 1948's The Search. He would go on to earn another three Oscar nominations for A Place in the Sun, From Here to Eternity, and Judgment at Nuremberg, but he never won the golden statuette.