10 Favorite John Wayne's Most Frequent Female Co-stars
We thought we'd revisit one of our most popular articles which took a look at the subject of John Wayne's female co-stars. This time around we've put together a top ten list based upon the number of appearances the lucky ladies made when appearing opposite JW.
Hope you enjoy it.
Joanne Dru – Red River (1948) / She Wore a Yellow Ribbon (1949)
The actress first appeared opposite John Wayne in "Red River", with JW playing ruthless trail leader Thomas Dunson, offering to sire children with her in the manner of a bull mating with a heffer.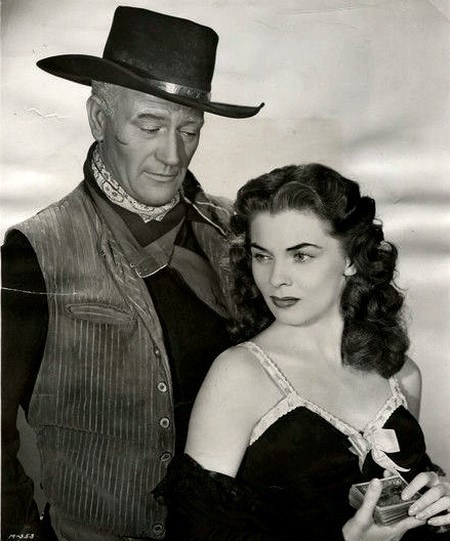 Not surprisingly Dru, as pioneer Tess Millay, spurns Dunson's offer and takes up with Dunson's orphaned friend Matt Garth instead, played by Montgomery Clift.
Our favourite scene in the film with Joanne Dru is when she gets pinioned to a wagon by an arrow through the shoulder but doesn't let on to anyone. A typically stoic Hawksian woman if ever there was one.
A year after the release of "Red River", the actress turned up in "She Wore a Yellow Ribbon", sharing a few scenes with Wayne who plays the ageing Captain Nathan Brittles, whilst Dru is the prevaricating love interest of both John Agar and Harry Carey Jr. Astonishingly she settled for the blank space that is Agar, and that is why Ms. Dru is last in this list.
Donna Reed – They Were Expendable (1946) / Trouble Along the Way (1953)
We're somewhat surprised Donna Reed isn't lauded as much as other actresses of her generation, seeing as she starred in two of the most famous Hollywood classics ever made, "It's A Wonderful Life" and "From Here to Eternity", the latter garnering her a Best Supporting Actress award in 1953.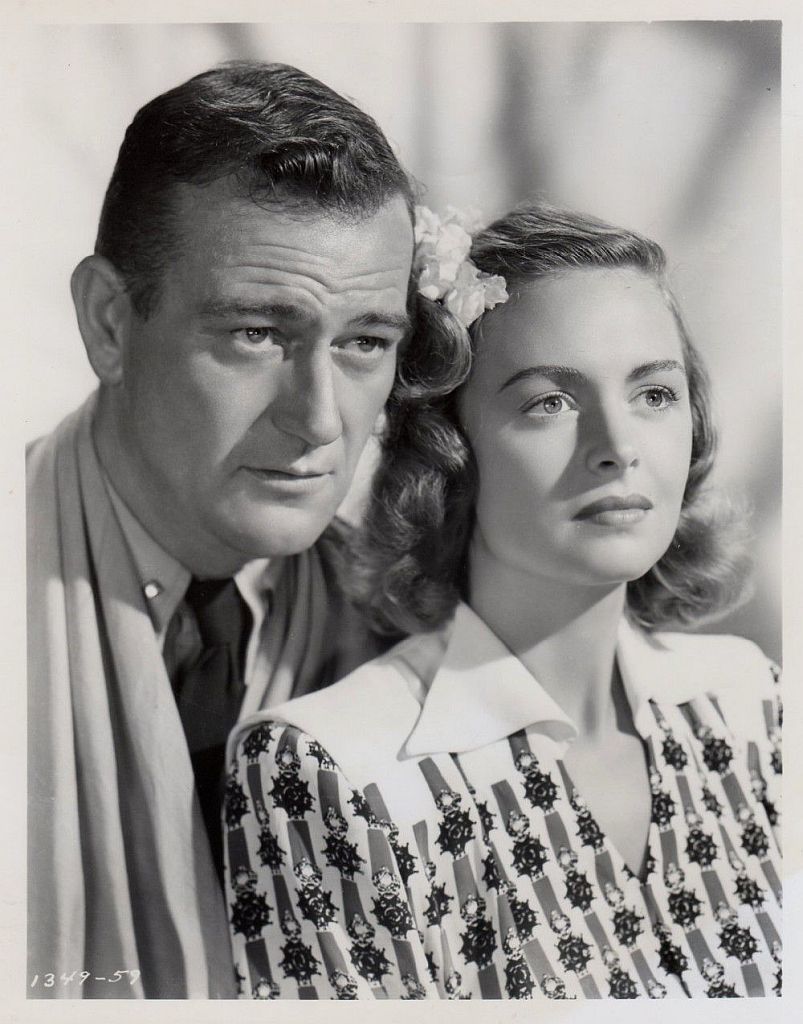 Along with those two films, her understated role as army nurse Sandy Davyss in "They Were Expendable" is also one of her best performances, romancing Wayne (as Lt. "Rusty" Ryan), both knowing their affair is doomed but taking it stoically as only lovers in ԝаr can.
Her role in "Trouble Along the Way", as a social worker prepared to split Wayne and his young daughter up, is rather more conventional. It's obvious she and her co-star will end up living happily ever after by the last reel but Reed is always worth watching, no matter what film she is in.
Gail Russell – Angel and the Badman (1947) / Wake of the Red Witch (1948)
Gail Russell was one of the most beautiful of Wayne's co-stars, but alas was also one of the most tragic, dying of alcoholism at the much too young age of 36. She really hit the big time in 1947 when she won the role of the young Quaker girl, Penelope Worth, in "Angel and the Badman", nursing wounded outlaw John Wayne back to health.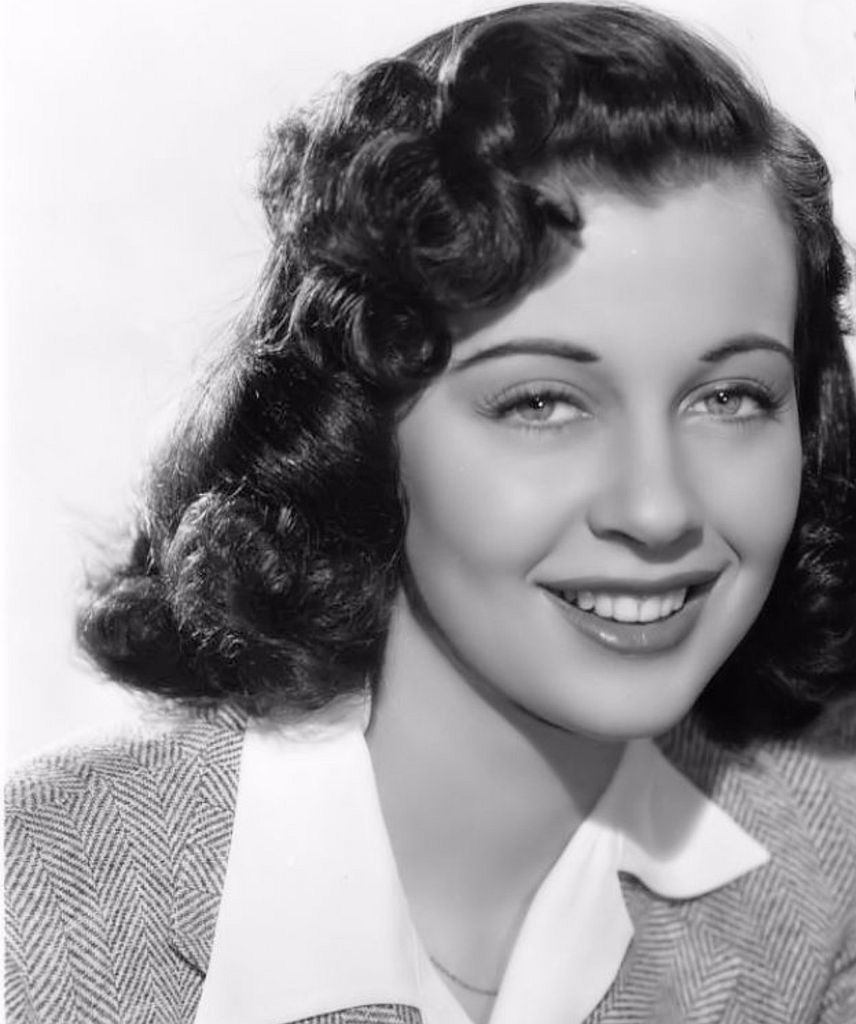 In the film, Russell comes across very well as the beguilingly innocent Quaker's daughter, possessing the acting ability to indicate there was something not so innocent stirring beneath the plethora of petticoats she sported.
A rumour went around that she and co-star Wayne were romantically involved once the camera stopped rolling, but both went to great pains to deny such a scurrilous accusation.
A year later, she teamed up once more with JW as the ill-fated Angelique in "Wake of the Red Witch", her teasing off-the-shoulder costume accentuating her smouldering onscreen appeal.
Her ԁеаtһ in the film appears to spur Wayne's character to the point of madness, Duke carelessly throwing his life away and drowning in the last reel as he tries to salvage treasure from the very ship he himself helped to sink, and all for the love of a good woman.
A few years after her career went into decline Wayne, like the good guy he obviously was, threw the actress a career life-line by giving her a co-starring role opposite Randolph Scott in the Batjac production of "Seven Men From Now".
She held her own amongst a cast that included a number of other later JW co-stars such as Stuart Whitman, Chuck Roberson and a particularly villainous Lee Marvin.
Sadly, her comeback was short-lived and Gail Russell eventually succumbed to the effects of alcoholism at the tender age of thirty-six. Her beauty is, however, forever preserved in her screen work, and especially in the two roles she played opposite John Wayne.
Patricia Neal – Operation Pacific (1951) / In Harm's Way (1965)
Next to Katherine Hepburn, Patricia Neal is probably the most award-laden of all Wayne's female co-stars with Academy, Tony and Global nominations to her name along with a BAFTA for her role opposite Duke in the Preminger ԝаr epic "In Harm's Way".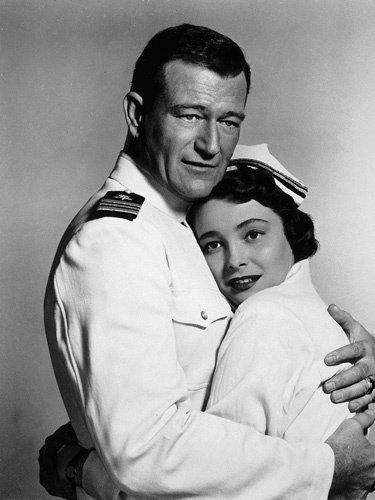 Prior to this, she appeared as Wayne's estranged wife in "Operation Pacific", giving a convincing performance as a Navy Nurse caught between the attentions of Duke as a submarine commander and Phil Cary as an annoying Navy pilot.
She's even better as a Navy Nurse – again – as Wayne's love interest in "In Harm's Way", strangely winning a Bafta award for Best Actress in a Foreign Film. There you have it. Back in the 1960s Americans were categorised as foreigners. Who knew?
Lauren Bacall – Blood Alley (1955) / The Shootist (1976)
Husky of voice and extremely easy on the eye, it was inevitable that Lauren Bacall would end up in the arms of John Wayne sooner or later, onscreen of course, appearing opposite JW for the first time in "Blood Alley".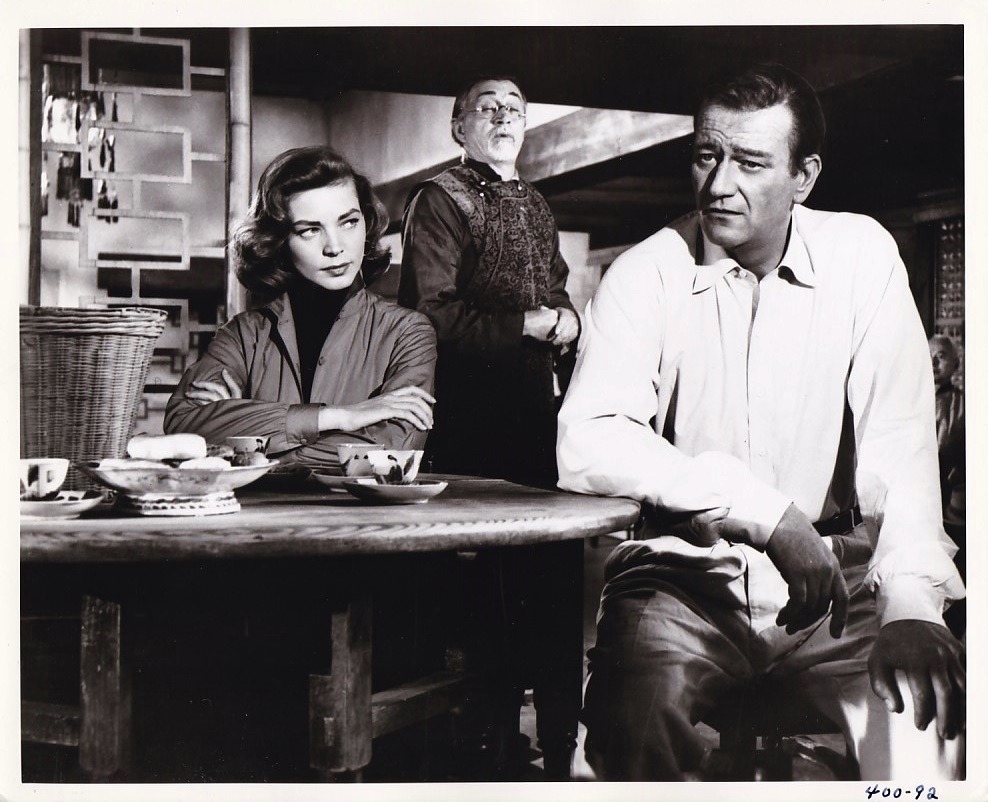 Wayne is in full commie-baiting mode as the captain of a steamer attempting to sneak a group of villagers out of communist-ruled China. On the way, he falls in love with medical missionary Bacall.
Unfortunately, this was another in a line of not-so-successful at the box-office movies that Duke managed to get involved in during the 1950s, along with other titles such as "The Barbarian and the Geisha" and "The Conqueror".
It's probably safe to say that it was her role as the widow Bond Rogers in Wayne's final movie, "The Shootist", that was definitely the better of the two films she appeared in opposite JW.
Although it's obvious she's not playing the love interest in this film, as one of our MostlyWesterns readers puts it, there is a "very strong affection, maybe even a love, that develops between gunfighter J B Books and Bond Rogers.
Book is clearly enjoying her company, and she his. When they go for the picnic, and the last time he leaves her home as they bid goodbye to each other, you know they're thinking that maybe in another time, another place, their friendship might've been different."
Bacall brings a quiet dignity to her role as a single mother attempting to keep her son, played by Ron Howard, who is enthralled by being in the company of a renowned gunslinger, on the straight and narrow.
We think her performance in "The Shootist" has been definitely underrated for far too long so it's time to put that right.
Susan Hayward – Reap the Wild Wind (1942) / The Fighting Seabees (1944) / The Conqueror (1956)
Hayward comes about six places down on the cast list for "Reap the Wild Wind", so her role is not that substantial.
She's just required to scream a lot as she drowns in the hold of a boat that has been scuppered by the dastardly Captain Jack Stuart, a rare villainous role for JW.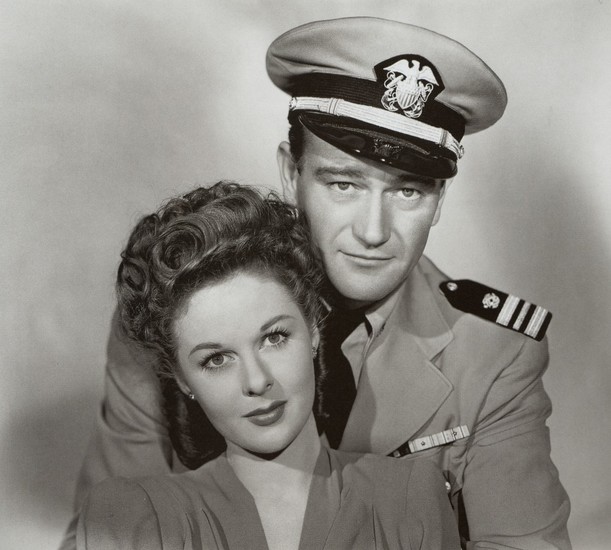 A couple of years later Hayward played opposite JW in "The Fighting Seabees", as a newspaper reporter. Although some of the posters and other promotional materials indicate that she's Duke's love interest, it appears as though her character isn't that interested in Wayne at all.
It's the blindingly boring Naval officer Dennis O'Keefe that she has the hots for, which works out well for everyone when Duke cops it in the climactic battle with the Japanese.
What can we say about "The Conqueror" that hasn't been said already?
It may be the worst film JW ever did but even the worst film has something to redeem it, and the presence of luscious-looking Miss Hayward goes quite a long way in compensating for the shortcomings of this misfired enterprise.
As Duke himself says in the film, 'I feel this Tartar woman is for me, and my blood says, take her'. We guess we'd feel the same way too if we were in Duke's fur-lined boots.
We won't go into the sad history of the fate of numerous members of the cast and crew, including Duke and Susan Hayward, most of whom it is suspected ԁıеԁ prematurely due to the film being shot in the Utah desert near where above-ground nuclear weapons had been tested a few years before.
Suffice to say that, for various reasons, "The Conqueror" isn't exactly the most loved of John Wayne's films but Susan Hayward goes a long way towards making the film at least watchable in parts.
Marlene Dietrich – Seven Sinners (1940) / The Spoilers (1942) / Pittsburgh (1942)
It appears to be a matter of public record that Mr. Wayne and Miss Dietrich enjoyed a "meaningful relationship" for nigh on three years whilst Wayne was married to his first wife, Josephine Saenz.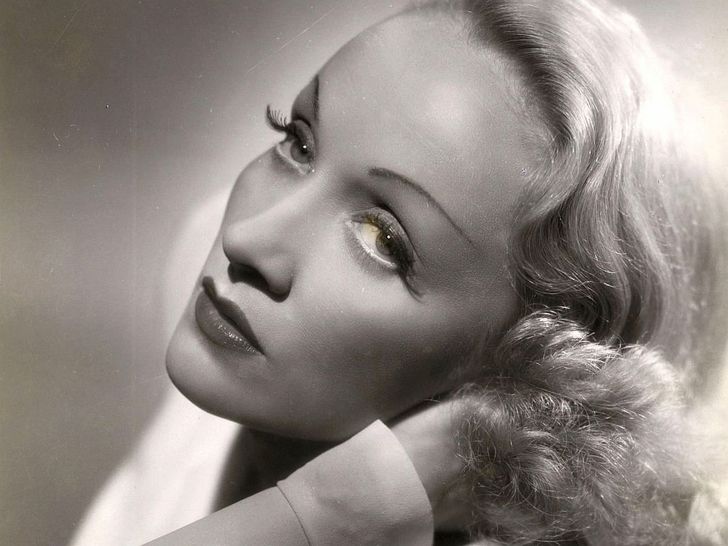 The couple first linked up, onscreen anyway, in "Seven Sinners", a comedy drama romance of sorts in which Dietrich played the improbably named torch singer Bijou Franche. She gets to perform a couple of musical numbers, one in which she indulges her onscreen penchant for cross-dressing, this time as a navy officer.
However, there's no kissing the girls in the audience, as she famously did in "Morocco".
Out of the three films that Dietrich appeared in opposite Wayne we reckon "The Spoilers" is probably the best, mainly because it's a Western with a good old punch up between Wayne and Randolph Scott.
In this one, she gets to play saloon owner Cherry Malotte. JW is third down the cast in a film that occupies much the same territory and story as "North to Alaska".
Wayne's a bit of a heel in this one, playing off one woman against the other, which gives the even-more villainous Randolph Scott, as a fraudulent gold commissioner, a chance to make a play for Marlene's Cherry. Now there's a double-entendre if ever I heard one.
The principal actors from the "The Spoilers" were reunited in "Pittsburgh", a rather heavy-handed saga based around the rise to success of a couple of coal miners, played by Wayne and Scott, who ends up helping the ԝаr effort once WWII breaks out.
It's also unintentionally hilarious, especially an early sequence in which Dietrich, dressed to the nines, as usual, helps to lift a huge wooden beam in a mine cave-in.
It turns out she's from a coal mining community as well, which is even more risible in a way. Still, the lady sure did know how to carry herself, even when dolled up for work on the coal face.
Claire Trevor – Stagecoach (1939) / Allegheny Uprising (1939) / Dark Command (1940) / The High and the Mighty (1954)
Claire Trevor qualifies as one of the most frequent leading ladies in the films of John Wayne, managing to get her man in three of the four films she appeared in with him.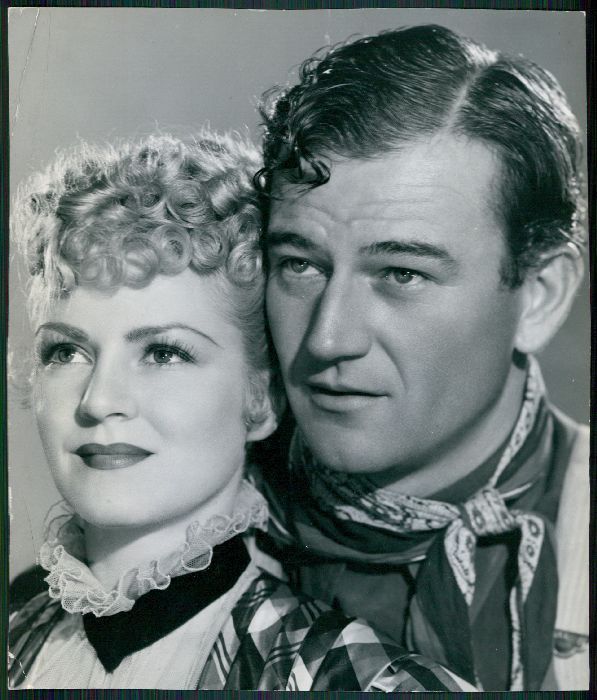 First up, of course, is "Stagecoach", in which she plays lady of the night Dallas, expelled from the town of Tonto for being too free and easy with her favours.
Although billed as the actual star of the film, Trevor is somewhat overshadowed by the rising fame of her co-star, in the role of the Ringo Kid.
That does not in any way diminish her performance in the film, as well as that of the other actors in "Stagecoach" such as Thomas Mitchell, John Carradine and Andy Devine. It's a great ensemble piece with both Wayne and Trevor complementing each other very well.
The billing situation also applies to the second Trevor / Wayne film they made in the same year, "Allegheny Uprising", although by now Wayne is most definitely the star of the show.
Miss Trevor is constantly kept out of the action and line of fire by JW in case she gets killed by the dastardly occupying British Army.
Next up, a year later, was "Dark Command", and damned if Claire Trevor still held bragging rights as the main star. However, it's still Wayne's show even if he isn't the star of it.
The pair met up one last time in "The High and the Mighty", another ensemble piece for which Trevor received her third Academy Award nomination, having won the Oscar for "Key Largo" in 1948. Claire Trevor was undoubtedly Wayne's best female co-star just before he hit the stardom trail in the mid to late 1940s, which is more than enough to place her near the top of our list.
Vera Miles- Rookie of the Year (1955) / The Searchers (1956) / The Man Who Shot Liberty Valance (1962) / The Green Berets (1968) / Hellfighters (1968)
Vera Miles is best known in the JW world for her role as Laurie Jorgenson in "The Searchers", the long-suffering girlfriend of Martin Pawley (Jeffrey Hunter), who leaves home to accompany JW on a five-year odyssey to help rescue the niece of Ethan Edwards from the Comanche chief Scar.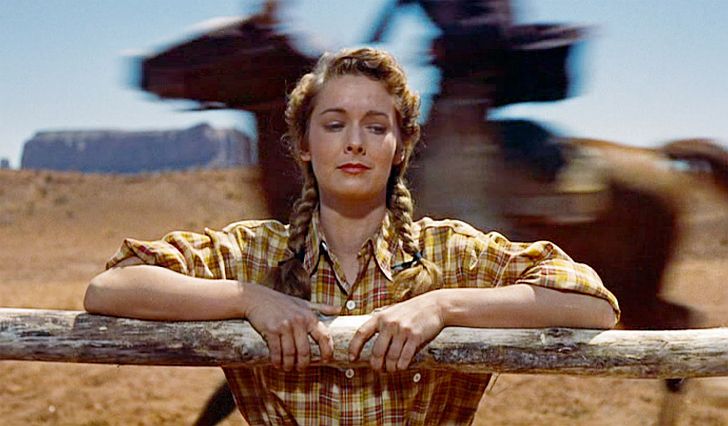 The actress had a much more robust role in "The Man Who Shot Liberty Valance" as Hallie Stoddard, forsaking Wayne's character, Tom Doniphon, for the more reserved, and by dint of having arrived from the East, civilised lawyer Ransom Stoddard, played by James Stewart.
It's only revealed right at the end of the film that Hallie did, in fact, love Tom Doniphon all along, taking home on the train the cactus rose that had been placed on his funeral casket.
Vera finally gets her man – sort of – in "Hellfighters", playing opposite Duke as the ex-wife of Chance Buckman, a character apparently based upon real-life oil-well firefighter Red Adair.
By the end of the movie, they realise they can't live without each other and everyone lives happily ever after. It's just a bit of a shame that her role didn't really give the actress enough opportunity to make that much of an impression in the film.
She also appeared in two other Wayne related productions, including "Rookie of the Year", a 30-minute TV movie directed by John Ford a year before she appeared in "The Searchers", with Wayne playing a sports reporter.
The actress was also cast as Duke's wife in "The Green Berets", and in a fair world she would tie with Maureen O'Hara for the number of times she appeared in a JW associated production, but unfortunately for Vera her scenes ended up on the cutting-room floor. In a list such as this though, there's no shame in coming second.
Maureen O Hara – Rio Grande (1950) / The Quiet Man (1952) / The Wings of Eagles (1957) / McLintock! (1963) / Big Jake (1971)
No prizes for guessing who occupies the number one slot in Wayne's list of leading ladies with whom he appeared with the most.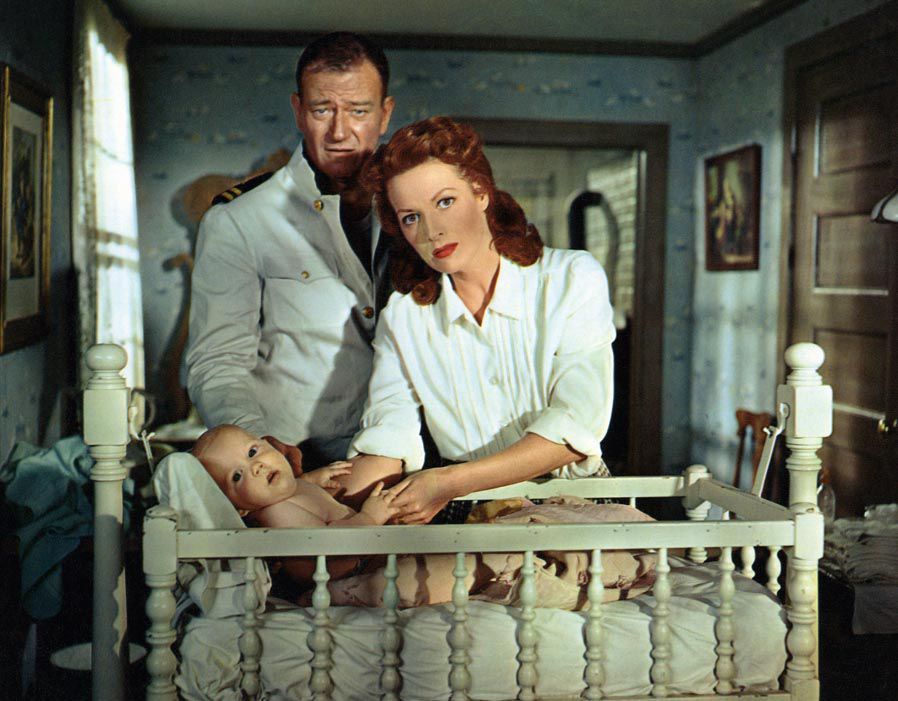 Maureen O Hara, once described, appropriately, as 'illegally beautiful', was also a very good actress and more than capable of holding her own onscreen opposite Wayne. Their first pairing was in John Ford's cavalry movie, "Rio Grande", in which O'Hara played the estranged wife of JW, here playing Capt. Kirby Yorke.
The couple are separated by the fact that Yorke fought for the North during the Civil ԝаr, whilst his wife owned a plantation in the South, which is always a recipe for disaster.
O'Hara's most enduring role opposite John Wayne is of course as Mary Kate Danaher in "The Quiet Man", the sparks that fly from their on-off romance in the film a real joy to behold.
It does seem to be Maureen O'Hara's lot though that the course of love with JW in all of the films she made with him never runs smooth.
In "The Quiet Man', even though the couple marry about halfway through the film, they still become estranged for a while until Wayne proves his love by whupping Mary Kate's thuggish brother-in-law, Red Will, played by Victor McLaglen.
The theme of estrangement also runs through "The Wings of Eagles", in which O'Hara plays the divorced wife of real-life script-writer Spig Wead.
It's a rare Wayne / Ford misfire, although O'Hara gets to share a few emotional scenes with her onscreen husband, but her character just kind of disappears from the story before the film reaches the end.
In "McLintock!", loosely based upon Shakespeare's "Taming of the Shrew", O'Hara and Wayne again start off as a broken couple until Wayne proves his love once more, this time by giving O'Hara a whupping instead.
The sexual politics of the film is not going to gain too many brownie points from feminists and the politically correct brigade of today, but back in the less enlightened early 1960s no doubt it was probably considered good clean fun.
In her last role opposite Wayne, "Big Jake", Maureen O'Hara's was cast yet again as the estranged wife, hiring her ex-husband to help retrieve their kidnapped grandson.
Her screen time doesn't add too much in the scheme of things but it was good to see the sparks still flying between the pair over two decades since they first appeared together in "Rio Grande".
Maureen O'Hara and John Wayne's popular screen partnership is up there with the likes of Hepburn and Tracy and Bogart and Bacall. Long may it continue to endure for many years to come.
Steve McQueen: We didn't get along,Brynner came up to me in front of a lot of people and grabbed me by the shoulder
YUL BRYNNER famously feuded with everyone from Steve McQueen to Ingrid Bergman, with an ego to match The King of Siam. His temper was legendary, his affairs were numerous – with men and women – and he famously flaunted his body in nude pictures. Even the reason behind his famous bald head was part of the man and the myth.
Whether thundering across the screen in The Magnificent Seven or scowling at the world in the King and I, Brynner was a unique screen presence. The self-proclaimed "Mongolian" star fought his way up from being an immigrant circus performer and loved to elevate himself to epic levels. When asked about his various conflicting dates of birth, he grandly replied, "Ordinary mortals need but one birthday." He liked it to be known that he prepared breakfast in a silk kimono, other stars commented how he was "never far from a mirror" and his on-set demands and dramas were legendary. But then, his whole life had been extraordinary, from nearly dying in a youthful trapeze accident to numerous bisexual affairs along the way to becoming more famous than the Siamese king he played so many times on stage and screen.
Brynner's iconic look was even a calculated ploy. He did not lose his hair but kept his head shaved because he enjoyed the attention he got for it when he debuted The King and I on Broadway in 1951. After that, he also demanded that he was never photographed with another bald man so that he always stood out in pictures.
The musical made his name but he chafed at taking second billing behind Gertrude Lawrence. When she died in 1952, he notoriously wept – but with joy because it meant his name would, at last, be top of the bill.
It was somehow fitting that he died just on October 10, 1985, just a few months after performing The King and I on Broadway – his 4,625th time taking the stage in his regal, spotlight role. For an actor who was obsessed his whole life with having top billing, he would have been far less pleased to know that he passed away on the same day as Orson Welles, and so was overshadowed in his final hour.
Brynner had grafted hard for his success and fought even harder to keep it. Raised in Beijing and abandoned by his father, his mother fled with her children to Paris in 1932, where talented acrobat Yul became a trapeze artist with the Cirque d'Hiver.
A horrifying fall in 1937 broke many bones in his body and left him unable to walk for eight months. He turned his attention to the stage and set sail for America in 1940.
During that first Hollywood decade of bit parts and odds jobs, he had an affair with handsome heartthrob Hurd Hatfield, who starred in 1945's The Picture of Dorian Gray, as well as 1961's El Cid opposite Charlton Heston.
Married four times, he also had affairs with men and women alike, from Marlene Dietrich, Joan Crawford and Judy Garland to artist Jean Cocteau.
Brynner's enormous success on Broadway brought him back to Hollywood as a star and he was determined to impress in every way. His obsession with his own appearance meant that he increased his work-out regime when he learned he was playing Pharaoh Ramses II opposite Heston's Moses in 1956's The Ten Commandments, so as not to be overshadowed by the strapping actor.
This meant he was in phenomenal shape when he starred as King Mongkut of Siam in the film version of The King and I that same year, going on to win the Best Actor Oscar.
His impressive physique was also bared for all to see when pictures surfaced of a naked shoot he had down with gay photographer George Platt Lynes.
In turn, Brynner was an accomplished photographer himself, taking noted snaps of famous friends like Frank Sinatra, Elizabeth Taylor, Anthony Quinn, Sophia Loren, Mia Farrow and Audrey Hepburn.
From the mid-1950s he instantly became established as a major Hollywood star, with roles, salary and ego to match. Unfortunately, he did not have the corresponding physical height, which lead to two of his most infamous showdowns with fellow Tinseltown legends.
Bergman was over an inch taller in flat feet than his own 5ft 6½in. When the Swedish actress politely asked him if he would like to use any props to stand on, Brynner hissed back: "I am not going to play this on a box, I'm going to show the world what a big horse you are." Horselike or otherwise, the actress went on to win her own Oscar for that role, her second of three in total.
Brynner's behaviour hit new "heights" on the 1960s sets for The Magnificent Seven, particularly centering on a running battle with co-star Steve McQueen, who wasn't particularly tall himself at 5ft 8in.
Whenever they were shooting outside, Brynner would scuff the earth and dirt into low mounds for him to stand on. McQueen, in return, would causally flatten them as he walked past.
Increasingly amused and irritated by Brynner's behaviour, McQueen would also play with his hat or belt whenever his co-star was talking in a scene to subtly pull focus. All those iconic shots of the square-jawed
star taking off his hat to shade his face or using it to scoop up water from river were mainly shameless scene-stealing tactics.
He later said: "We didn't get along. Brynner came up to me in front of a lot of people and grabbed me by the shoulder. He was mad about something. He doesn't ride well and knows nothing about guns, so maybe he thought I represented a threat. I was in my element. He wasn't. When you work in a scene with Yul, you're supposed to stand perfectly still, 10 feet away. Well, I don't wBrynner even hired an assistant with the sole job of monitoring McQueen's misdemeanours and counting how many times he fidgeted during scenes, playing his hat, belt or gun. The antics increasingly infuriated the rest of the cast, leading to considerable friction on set. Decades later, dying of cancer, McQueen called to apologise. Brynner forgave him but Charles Bronson never did.
That said, Brynner's own notorious behaviour never changed. In his early days of stardom, he insisted a special lift was installed at the Broadway theatre where The King and I was playing. Not just for him, but big enough for his white limousine – so he could drive in and out without being bothered by fans.
In 1965, he starred with Marlon Brando in the World War II ocean-bound action thriller Morituri and managed to eclipse his co-star by demanding a landing pad be built onboard the ship where they were filming, so his private helicopter could fly him back at the end of each day while his castmates were left, literally, all at sea..
PROC. BY MOVIES
Donald Sutherland : I was lying on my back on the bed when Jane came out of the bathroom
Donald Sutherland still remembers an intimate moment they shared fifty years ago . He said she "seduced" him but he was left "eviscerated" when their passionate two-year affair suddenly ended.
While filming Klute in 1970, Sutherland fell in love with fellow star and activist Jane Fonda, even though both were married at the time. In the 1960s and 70s he was at the heart of Hollywood activism, alongside an on-screen career that included provocative and seminal films like Don't Look Now and The Invasion of The Body Snatchers. They were matched body, mind and soul. For the next two years, they were together at the forefront of Hollywood support for the civil rights movement and opposition to the Vietnam War. The pair were just as passionate in private and Sutherland still dwells (often in no holds barred detail) on their intimate moments together.
Klute started filming in 1970. Fonda had been together with husband Roger Vadim, who directed her in 1968's Barbarella, since 1963. When rumours started spreading in 1970 that they had separated, her official spokesman quickly denied it.
However, Sutherland later described how it was his beautiful co-star who made all the moves on him: "We'd already been cast but had not started shooting, and one day, she made it very clear, via a somewhat provocative suggestion, that I should come home with her. And I just said… Ok.'"
It would mark the end of the actor's own second marriage to Shirley Douglas, which had produced twins Kiefer and Rachel
Kiefer revealed in 2014 that they had never discussed the affair but he imagined his father would say: "'I fell in love.' I understand that. People do. And when they're falling in love, they believe in everything so strongly and passionately, this kind of heightened experience, that it's very hard to judge somebody for it."
His father frequently and famously has talked about the love and the lust, famously declaring: "She had, at the time, the most beautiful breasts in the world."
Apparently, he followed that description with an anecdote so explicit it was not suitable for print. He did, however, wax lyrical in another interview about a naked moment that still has the power to stop his breath decades later.
Sutherland told GQ: "I was with Jane Fonda at the /Chelsea Hotel in 1970, maybe '71. It was a room with a big bed and, to the right, four or five stairs to a landing that led to the bathroom. There was a little oval window on the landing and there was a street light shining through that window though it seemed more like moonlight, so maybe it was the moon, I like to think it was the moon.
"I was lying on my back on the bed when Jane came out of the bathroom. She, too, was naked, and when the moonlight caught her perfect breasts I stopped breathing. Everything stopped. And then it started again. Now, when I see it in my memory, I stop breathing again."
It's easy to believe. The actress has maintained her extraordinary figure through the decades, although this year she finally allowed her natural grey hair to shine.
The affair was passionate and intense, although Fonda has been less vividly 'descriptive' over the years.
She said in her autobiography that he had, "Something of the old-world gentleman about him." The actress added that she found his "rangy, hangdog quality and droopy, pale blue eyes especially appealing."
Alongside both their successful Hollywood careers, the pair performed together at benefits for soldiers who opposed the Vietnam War and found themselves on CIA watchlists.
Although they seemed perfectly matched, the affair would suddenly burn out as abruptly as it started – leaving Sutherland devastated.
He said: "We got together shortly before we made Klute and then we were together until the relationship exploded and fell apart in Tokyo. And it broke my heart.
"I was eviscerated. I was so sad. It was a wonderful relationship right up to the point we lived together."
However, in 1972, Sutherland married French Canadian actress Francine Racette, after meeting her on the set of the Canadian pioneer drama Alien Thunder. It remains one of the longest and most stable marriages in Hollywood, and has produced three sons – Rossif Sutherland, Angus Redford Sutherland, and Roeg Sutherland.
After three high profile marriages to Roger Vadim, activist Tom Hayden and media tycoon Ted Turner, Fonda dated music producer Richard Perry until 2017 and has said she is now happily single.
The actress has also battled cancer three times. Last week she announced that, after undergoing multiple rounds of chemotherapy to treat Non-Hodgkin lymphoma, her cancer is now in remission.
PROC. BY MOVIES
Gene Hackman gave his first interview in a decade, telling The Post about his "checkered career of hits and misses
Hollywood legend Gene Hackman proved he's still in tip-top shape as he performed yard work at his ranch in Santa Fe, New Mexico, on Sunday.
The "Unforgiven" actor — who celebrated his 93rd birthday in January — looked fit and healthy as he brandished a shovel at his private estate.
Earlier in the day, the two-time Oscar winner was spotted fueling up for physical labor at a local Wendy's, where he ordered a meal at the drive-thru.
Hungry Hackman chowed down on his chicken sandwich in the fast food franchise's parking lot before pumping gas at a nearby station.
It was a rare sighting of the reclusive and retired star, who was last seen on-screen in the 2004 comedy "Welcome to Mooseport."
Despite being one of Tinseltown's powerhouse performers — appearing in classics such as "The French Connection," "The Conversation," "Superman," "Hoosiers" and "The Royal Tenenbaums" — Hackman has long shunned the bright lights of Hollywood.
The father of three, who has lived in New Mexico with his pianist wife, Betsy Arakawa, for decades, also abstains from giving interviews — except to The Post.
In late 2021, Hackman gave his first interview in a decade, telling The Post about his "checkered career of hits and misses."
Speaking on the 50th anniversary of "The French Connection" — the hit film for which he won his first Best Actor Oscar, in 1972 — the star stated: "The film certainly helped me in my career, and I am grateful for that."
The down-to-earth actor added that he wasn't a fan of rewatching his own flicks and hadn't seen the classic crime caper since 1971.
"[I] haven't seen the film since the first screening in a dark, tiny viewing room in a post-production company's facility 50 years ago," he told The Post.
Hackman — who previously resided in ritzy Montecito, California — has lived in Santa Fe since the 1980s.
The actor is also an architect and designer who has helped create more than 10 homes — including a New Mexico manse that was featured in Architectural Digest.
Since his retirement from Hollywood, the star also busied himself writing novels, including the 2013 police thriller "Pursuit."
In 2012, the actor was struck by a pickup truck while riding his bike in Florida. He was airlifted to the hospital and made a full recovery.
PROC. BY MOVIES